Posted on
Wed, Oct 12, 2011 : 2:57 p.m.
How is Michigan preparing for MSU? Head butts and practicing 'controlled anger'
By Kyle Meinke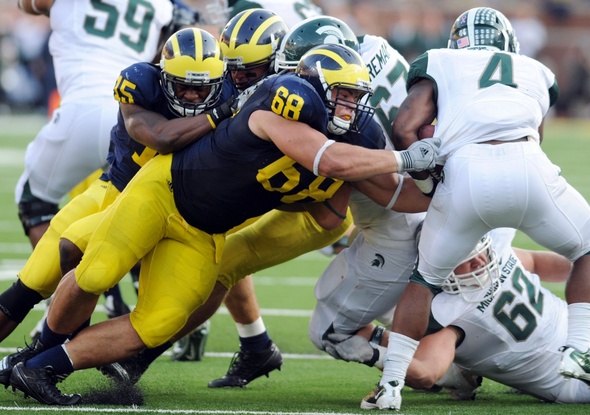 Melanie Maxwell I AnnArbor.com
Every player prepares for a game a little differently. Some, such as Michigan quarterback
Denard Robinson
, have to work to calm themselves down.
While Robinson still is searching for the key to settling his nerves, center David Molk has found what works for him.
He head butts a freshman.
"To get his anger out," defensive tackle Mike Martin said Wednesday. "When he goes out there, he can't have bad snaps. He has to execute. ... I don't know. Dave's crazy.
"They can't get away from it. I think he likes to grab (sophomore) Curt Graman, and it's just something that's going to happen."
THURSDAY LIVE CHAT
Come back to AnnArbor.com at noon Thursday for a live chat with Kyle Meinke. He'll recap the Wolverines' win over Northwestern, discuss news that emerged this week and preview the game against Michigan State on Saturday.
Martin, on the other hand, plays on the defensive line, which requires a high motor for four quarters. He likes to play with what he calls "controlled anger."
He'll need it Saturday when his No. 11 Wolverines (6-0, 2-0 Big Ten) take on No. 23 Michigan State (4-1, 1-0) at noon Saturday on ESPN.
The Spartans have three running backs who will get time, especially in the power-run game, and also feature a fifth-year quarterback in Kirk Cousins who can hurt Michigan if given time.
The defensive line will play a key role against the Spartans.
"I get excited when we run into a team that wants to run," he said. "Defensive line, you have to thrive on that. You have to be excited about a team saying, 'We're going to run at you every single and play and we're going to see if you can stop it.'"
Martin is a senior from Redford. He grew up watching this rivalry, and rooting for Michigan. He knows how much it means to the program and the people of this state that he beats the Spartans.
Only, he doesn't know what it feels like to beat them. Not yet. Michigan State has won the past three games in the series.
"When you come to Michigan, your legacy is how you do in big games against your rivals and how you do in the league," he said. "Saturday is a big step for us."
Martin said he relishes the fact the test will come on the road, in front of a crowd "that hates him."
"I absolutely love that," he said.
Not that he needs that any extra motivation. Not for this game.
"If you need motivation for this game, I feel bad for ya," he said. "I've been a Michigan fan my whole life. This has always been a big game for me — if I was 8 years old watching it, or now if I'm playing."
Kyle Meinke covers Michigan football for AnnArbor.com. He can be reached at 734-623-2588, by email at kylemeinke@annarbor.com and followed on Twitter @kmeinke.