Posted on
Sat, Nov 12, 2011 : 5:37 p.m.
In-game updates: It's Michigan at Illinois football
By Jim Knight
Melanie Maxwell | AnnArbor.com
FINAL SCORE: Michigan 31, Illinois 14
FOURTH QUARTER
Michigan 31, Illinois 14: Fitz Toussaint put Michigan in control with a 27-yard touchdown run. He has 192 yards rushing on 27 carries. Michigan recovered an onside kick and started its drive at the Illinois 40-yard line.
Michigan 24, Illinois 14: Jason Ford scored on a 1-yard run with 3:12 to play, capping an 80-yard, 18-play drive.
Michigan 24, Illinois 7: Devin Gardner stepped up in the pocket and found Martavious Odoms cutting across the middle for a 27-yard touchdown pass three plays after J.T. Floyd's interception.
Interception: J.T. Floyd intercepted a Nathan Scheelhaase pass at the Michigan 35-yard line and returned it to the 43 yards to the Illinois 22.
THIRD QUARTER
Michigan 17, Illinois 7: Nathan Scheelhaase ran left and found the corner of the end zone on a 13-yard run as Illinois put together its first sustained drive of the game, going 75 yards in 11 plays.
Michigan 17, Illinois 0: Brendan Gibbons kicked a 27-yard field goal as Michigan finally found a way to score from the red zone.
SECOND QUARTER
Halftime stats: Michigan has 249 total yards and Illinois has just 30. Michigan has held Illinois to minus-12 yards rushing. Michigan dominated time of possession, 20:52 to 9:08.
Missed chances: Michigan came up empty on three consecutive visits to the red zone. First, Illinois stopped Denard Robinson on the 1-yard line on a fourth-and-one play. On its next possession Michigan started on the Illinois 13 after recovering a fumble, but Robinson fumbled while being sacked. Next possession: Michigan drove to the Illinois 19 and Brendan Gibbons' 38-yard field goal attempt missed wide left.
Michigan 14, Illinois 0: Denard Robinson scored on a 2-yard run on a third-and-goal play to cap a seven-play, 41-yard drive. Michigan started with good field position after a 32-yard punt return by Jeremy Gallon.
FIRST QUARTER
First-quarter numbers: Michigan had 215 total yards of offense and Illinois was held to 13. Michigan had six first downs and Illinois had zero.
Michigan 7, Illinois 0: Denard Robinson zipped through the Illini line for a 9-yard touchdown run, two plays after Fitz Toussaint's 65-yard run put Michigan on the Illinois 15-yard line. A nice start for Toussaint, who has 71 yards on three carries.
Michigan starts on offense: The game is under way and Michigan opened on offense with the ball on its own 20-yard line.
PREGAME
From 6-0 to what?
The Michigan and Illinois football teams both need a victory to curtail talk of a second-half swoon. Illinois is 0-3 since it opened the season with six consecutive victories and has games against Wisconsin and at Minnesota after today.
Michigan is 1-2 since its strong start, and while it concludes the regular season with two home games, they're going to be against Nebraska and Ohio State. A loss at Illinois today will invite talk of a possible 1-5 finish.
The game starts at 3:30 p.m. (ABC), and we'll have updates throughout the game in this post.
In the meantime:
All about the game: Read our mega guide.
Join our live chat: Rich Rezler is your friendly host.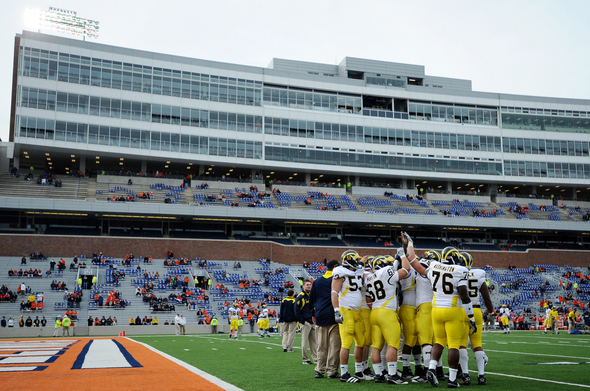 Melanie Maxwell | AnnArbor.com