Posted on
Sat, Nov 5, 2011 : 11:45 a.m.
In-game updates: It's Michigan at Iowa football
By Jim Knight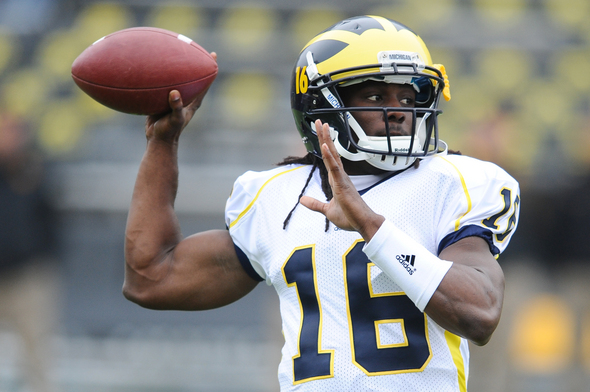 Melanie Maxwell | AnnArbor.com
FOURTH QUARTER
Final shot: Michigan drove the Iowa 3-yard line in the final seconds, but four consecutive pass plays — including a close call to Junior Hemingway that was reviewed — came up empty.
Iowa 24, Michigan 16: Kevin Koger caught a 7-yard touchdown pass from Denard Robinson. Robinson led the eight-play, 57-yard drive with runs of 2, 5 and 14 yards.
Iowa 24, Michigan 9: Nobody touched Marcus Coker on his second touchdown run of the day, a 13-yarder. Iowa controlled the clock with an 11-play, 62-yard drive that took 5:27.
THIRD QUARTER
Iowa 17, Michigan 9: Brendan Gibbons kicked a 32-yard field goal to cap a 10-play, 45-yard drive that included a 22-yard run by Denard Robinson.
SECOND QUARTER
Big interception: Christian Kirksey intercepted Denard Robinson's pass on the 1-yard line, ending a Michigan drive with 1:02 to play in the half.
Iowa 17, Michigan 6: Mike Meyer kicked a 42-yard field goal four plays after Denard Robinson lost a fumble on the Michigan 31-yard line. Robinson is off to a slow start. He's 5-of-11 passing with a touchdown and has rushed for minus 9 yards.
Iowa 14, Michigan 6: Iowa quarterback James Vandenberg led a 68-yard, 11-play drive that ended with a 1-yard pass to Brad Herman. The key play: Vandenberg hit Kevonte Martin-Manley with an 8-yard pass on a fourth-and-seven play from the Michigan 34-yard line. Vandenberg is 8-of-11 passing for 111 yards.
FIRST QUARTER
Iowa 7, Michigan 6: Denard Robinson scrambled in the pocket and found Fitzgerald Toussaint for a 5-yard touchdown as Michigan went 60 yards in 12 plays. Toussaint rushed six times for 35 yards on the drive. The extra point snap was botched.
Iowa 7, Michigan 0: Iowa marched 76 yards in six plays on its first possession as running back Marcus Coker bulled in on a 4-yard touchdown run. Coker ran four times for 12 yards. Iowa quarterback James Vanderberg connected on passes for 44 yards and 20 yards in the drive.
PREGAME
This one has to be about defense, right?
The Michigan football team brings Denard Robinson and an offense averaging 34.8 points and 441.2 points a game to Kinnick Stadium today to face Iowa.
Iowa averages 39.2 points a game at home, but has struggled against teams with a mobile quarterback. Last week, the Hawkeyes lost to Minnesota, 22-21, in large part because they couldn't contain quarterback MarQueis Gray, who passed for 193 yards and a touchdown and ran for 62 yards and a touchdown.
The game starts at noon (ESPN), and we'll have updates throughout the game in this post.
In the meantime:
All about the game: Read our mega guide.
Join our live chat: Rich Rezler is your friendly host.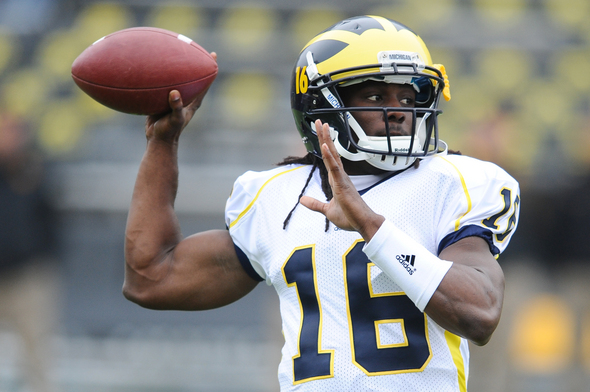 Melanie Maxwell | AnnArbor.com