Posted on
Sat, Nov 19, 2011 : 11:35 a.m.
In-game updates: It's Nebraska at Michigan football
By Jim Knight
Melanie Maxwell | AnnArbor.com
FINAL SCORE: Michigan 45, Nebraska 17
Fourth quarter
Michigan 45, Nebraska 17: Fitzgerald Toussaint raced 31 yards for his second touchdown of the game, one play after Michigan recovered a fumble by Taylor Martinez. Michigan is 9-2 overall, 5-2 in the Big Ten.
Michigan 38, Nebraska 17: Denard Robinson found Martavious Odoms in the end zone and hit him with a 38-yard touchdown pass. Robinson is 11-for-17 passing for 180 yards and two touchdowns. Michigan drove 86 yards in 10 plays. Michigan's drive was extended by a roughing-the-kicker penalty when Nebraska's Wil Richards ran into Michigan punter Will Hagerup. Robinson has 35 career touchdown passes, tying him in Michigan history with Tom Brady.
Third quarter
Michigan 31, Nebraska 17: Ameer Abdullah took a pitch from running back Rex Burkhead and ran 3 yards for a touchdown. Nebraska put together its best drive of the game, going 31 yards in seven plays and converting its first third-down play of the day.
Michigan 31, Nebraska 10: A fake field goal resulted in Drew Dileo racing 4 yards to the 1-yard line, setting up a touchdown run by Fitzgerald Toussaint, his eighth of the season.
Michigan 24, Nebraska 10: Denard Robinson ran right and found the corner of the end zone and scored second touchdown of the game on a 1-yard run. Michigan went 33 yards in seven plays after recovering a fumble by Nebraska's Kenny Bell on the second-half kickoff.
Second quarter
Michigan 17, Nebraska 10: A Denard Robinson drive. The Michigan quarterback scored on a 14-yard run up the middle, one play after rushing for 9 yards. Michigan went 74 yards in 12 plays.
Michigan 10, Nebraska 10: Brett Maher kicked a 51-yard field goal into a slight but steady breeze as the Cornhuskers tied the game. Nebraska only moved the ball 1 yard in four plays but took the ball over in Michigan territory after Terrence Moore intercepted a Denard Robinson pass at the Michigan 34.
First quarter
First-quarter numbers: Michigan has 151 net yards and Nebraska has 115. ... 54 of Nebraska's came on its last play of the quarter. ... Michigan dominated time of possession, controlling the ball for 11 minutes, 16 seconds to Nebraska's 3:44. ... Denard Robinson has 64 yards passing and 31 yards rushing.
Michigan 10, Nebraska 7: Brandon Kinnie was alone behind the Michigan defense and caught a 54-yard pass from Taylor Martinez and trotted into the end zone. It's the longest play the Michigan defense has allowed this season.
Michigan 10, Nebraska 0: Brendan Gibbons kicked a career-long 42-yard field goal, one play after Denard Robinson was sacked for a 13-yard loss. Michigan drove 30 yards in nine plays.
Michigan 7, Nebraska 0: Denard Robinson found Jeremy Gallon running across the back of the end zone with a 6-yard touchdown pass. Robinson set up the touchdown with a 46-yard, high, lofting pass that found Roy Roundtree. The drive took eight plays and went 79 yards.
Game under way: Michigan opened on offense and started at their own 32-yard line. Power is still out for much of the stadium, and Michigan is headed toward the scoreboard that is black and Denard Robinson is relying on officials signals to control the game clock. Michigan went three-and-out on its first drive.
Pregame
Both Michigan and Nebraska enter the game today at Michigan Stadium at 8-2 overall, 4-2 in the Big Ten.
Power or no power. Much of the power at Michigan Stadium went out about 90 minutes before kickoff, leaving scoreboards empty. The outage did not delay the game.
Statistically, the two teams are freakishly even. But this game is different for Nebraska, the first-year Big Ten member after the Cornhuskers ditched the Big 12.
Nebraska was supposed to enter the league and dominate the Legends Division. Instead, Michigan State is in control at 5-1 and the Cornhuskers, like Michigan, only have an outside shot at the division title.
From the Lincoln Star Journal:
Win today and admire the possibilities: Possibly still a trip to Indianapolis for the Big Ten Championship game. And if not that, possibly an at-large bid to a BCS bowl game. You'd hear no complaints about either of those scenarios. But … lose today and the Huskers could very well finish third in a Legends Division many believed was theirs to win in the preseason. A loss would guarantee a 12th straight season without a conference championship.
The game starts at noon, and we'll have updates throughout the game in this post.
In the meantime:
All about the game: Read our mega guide.
Join our in-game live chat: Rich Rezler is your friendly host.
Check out AnnArbor.com's Michigan Football News and views on Facebook. "Like" the page and sign up for your chance to win 4 Ohio State at Michigan football tickets.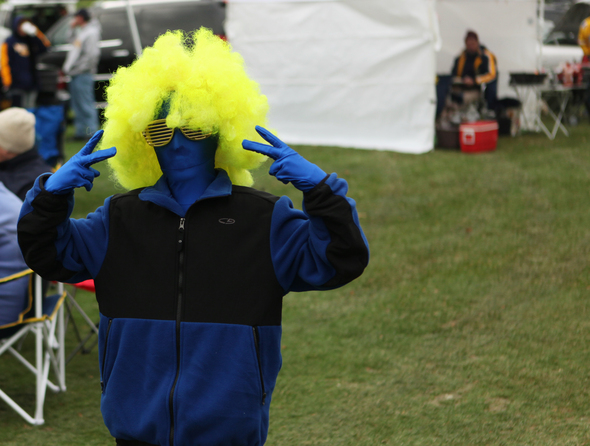 Jeff Sainlar | AnnArbor.com