Posted on
Sat, Nov 26, 2011 : 11:39 a.m.
In-game updates: Ohio State at Michigan football
By Jim Knight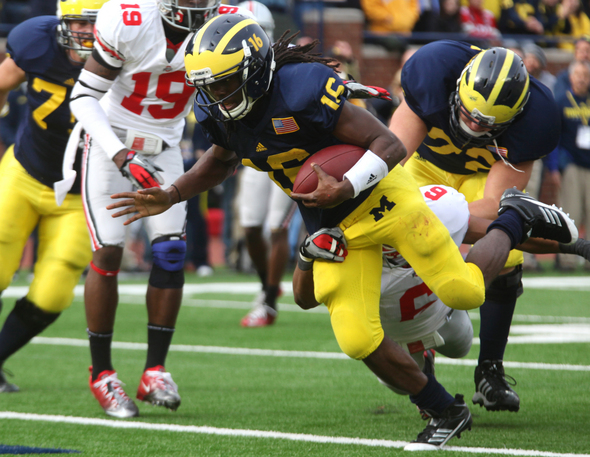 Jeff Sainlar | AnnArbor.com
FINAL SCORE: Michigan 40, Ohio State 34
FOURTH QUARTER
Michigan 40, Ohio State 34: Brendan Gibbons kicked a 43-yard field goal, capping a strange series for Michigan. Michigan thought it had a 5-yard touchdown run by Fitzgerald Toussaint, but a review showed he was down on the one-foot line. One play later, Michigan thought it had a 1-yard touchdown run by Denard Robinson, but two penalties put Michigan back on its own 26-yard line, setting up Gibbons' kick.
Michigan 37, Ohio State 34: Dan Herron ran 4 yards as Ohio State drove quickly — 80 yards in five plays in 1:23 — to keep the game tight.
Michigan 37, Ohio State 27: Denard Robinson lofted a soft pass to a wide-open Kevin Koger for a 4-yard touchdown pass. The big play of the eight-play, 75-yard drive: A 19-yard pass to Junior Hemingway on the second play.
Michigan 30, Ohio State 27: Drew Basil kicked a 21-yard field goal, one play after Braxton Miller was sacked for a 2-yard loss on the Michigan 4-yard line. Ohio State went 28 yards in six plays and started with good field position after Michigan punter Willl Hagerup fumbled a snap.
Today's attendance: 114,132. The season total: 897,627
THIRD QUARTER
Michigan 30, Ohio State 24: Denard Robinson found Martavious Odoms over the middle for a 20-yard touchdown pass. Michigan took the second-half kickoff and went 80 yards in 11 plays. Robinson has passed for two touchdowns and rushed for two, his seventh career game with four or more touchdowns.
SECOND QUARTER
Halftime stats: Ohio State has 214 total yards off offense, and 170 came in the second quarter. Michigan has 203 total yards of offense. Ohio State is 4-of-7 on third-down conversions.
Ohio State 24, Michigan 23: DeVier Posey caught a 43-yard touchdown pass from Braxton Miller with 1:21 to play in the first half. Ohio State drove 66 yards in six plays.
Michigan 23, Ohio State 17: Denard Robinson ran up the middle for a 6-yard touchdown run. Michigan went 80 yards in nine plays. The big play: A Fitzgerald Toussaint 46-yard run on the fourth play of the drive.
Ohio State 17, Michigan 16: Braxton Miller ran, spun and found the end zone on a 19-yard run. Miller's touhdown came three plays after Ohio State forced Denard Robinson to fumble on the 31-yard line.
Michigan 16, Ohio State 10: Drew Basil kicked a 45-yard field goal, capping a nine-play, 42-yard drive.
FIRST QUARTER
First-quarter stats: Michigan has 144 total yards of offense and Ohio State is at 98. Ohio State has been called for three penalties; Michigan zero. Michigan quarterback Denard Robinson has 43 yards passing and 52 yards rushing.
Michigan 16, Ohio State 7: Junior Hemingway shook off Ohio State safety C.J. Barnett and caught a 26-yard pass in the end zone from Denard Robinson. It's the 36th career touchdown pass for Robinson, putting him seventh all-time at Michigan, one spot ahead of Tom Brady. Michigan went 52 yards in eight plays.
Michigan 9, Ohio State 7: A holding penalty resulted in a safety for Michigan. Ohio State quarterback Braxton Miller, in his end zone and looking to throw deep, missed his throw before the penalty was called.
Michigan 7, Ohio State 7: Denard Robinson, free after a good fake, ran untouched down the left sideline for 41 yards, two plays after Jordan Kovacs helped Michigan to good field position with a sack of Braxton Miller. It was Denard Robinson 34th career rushing touchdown, tied with Rich Leach at Michigan. And he now is eighth on the Michigan rushing list, just past Billy Taylor, who is at the game today.
Ohio State 7, Michigan 0: Corey Brown was wide open for a 54-yard touchdown pass from Ohio State quarterback Braxton Miller on the first series of the game. The Buckeyes went 80 yards in six plays. Miller was 3-of-4 passing on the drive for 65 yards. It was Brown's first touchdown reception of the season and just his 13th catch. He's missed several games with an injury.
PREGAME
For the first time since 2004, the Ohio State football team isn't going to at least share the Big Ten Conference title.
And last season's crown was just temporary for the Buckeyes, who vacated the title as part of its self-imposed NCAA sanctions.
Ohio State enters Michigan Stadium today for its game against Michigan with a 6-5 record and carrying a two-game losing streak. Michigan is 9-2 (5-2 Big Ten) and favored by 7.5 points in a rivalry game it hasn't won since 2003. It hasn't scored more than 10 points in The Game since 2006.
We'll provide scoring updates throughout the game in this post. In the meantime:
Join our live chat: Rich Rezler is your friendly host.
Catch up with AnnArbor.com's coverage of the week: Read the mega guide.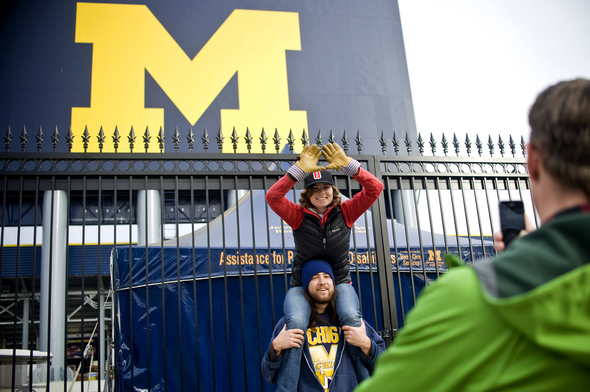 Joseph Tobianski | AnnArbor.com