Posted on
Fri, Feb 3, 2012 : 5:59 a.m.
Infusion of 4 'see ball, hit ball'-type linebackers makes position Michigan football team's deepest
By Kyle Meinke
Turning down free food is bad business. The same goes for linebackers.
You can never have too much of either.
Mark Smith, who coaches the position for the Michigan football team, returns each of his starters next season, and he didn't need four more. But, he wasn't about to say no when Royce Jenkins-Stone, James Ross, Joe Bolden and Kaleb Ringer agreed to join the Wolverines' 2012 class.
That is shaping up to be a source of strength for the program's future.
"It creates that depth and that competition that we're looking for," Smith said Wednesday. "Everybody's a better player when they feel like they're being pushed. If you feel like no one's behind (you), you get comfortable."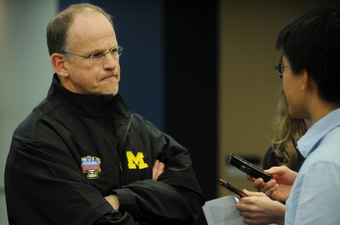 Melanie Maxwell | AnnArbor.com
Michigan's linebacker class
Joe Bolden
Size: 6-2, 225
High school: Colerain
City: Cincinnati
Stars: Three
Ranking: No. 4/7 OLB


Royce Jenkins-Stone
Size: 6-2, 215
High school: Cass Tech
City: Detroit
Stars: Four
Ranking: No. 2/9 MLB


Kaleb Ringer
Size: 6-0, 219
High school: Northmont
City: Clayton, Ohio
Stars: Four
Ranking: No. 17/35 MLB


James Ross
Size: 6-0, 209
High school: St. Mary's
City: Orchard Lake
Stars: Four
Ranking: No. 14/7 OLB


NOTE: All rankings are Rivals/Scout
Starters
Jake Ryan, Kenny Demens
and
Desmond Morgan
return next year. Demens became a star in the middle last season, where he led the Wolverines in tackles and called most of the defense's plays. Ryan (redshirt freshman) and Morgan (true freshman) flourished alongside him.
Each primary backup also will be back, and redshirt freshman Antonio Poole will be added to the mix, so it's likely redshirts will be awarded to multiple incoming freshmen. Smith said those decisions have not yet been made.
If Michigan can redshirt a player such as Jenkins-Stone, or Ross, that is a terrific luxury that shows how far the Wolverines have come defensively. Either would have played in previous years because of need.
Now, Michigan can take its time developing the younger guys without rushing them onto the field as stop-gaps.
Of course, if they're good enough to play? Well, then they'll play.
"One thing we sell these kids on is there is no entitlement, there is no ownership (of starting spots)," Smith said. "Just because you've been here the longest, or you've played here the most, doesn't' mean you're playing next Saturday. You've got to earn that spot again."
Bolden and Ross are four-star prospects who are ranked in the top-15 nationally as outside linebackers.
Bolden, as well as Ringer, will be ahead in their development as early enrollees. The Ohio natives already are on campus and working with strength and conditioning coach Aaron Wellman.
Smith said Ringer and Bolden played high school ball in a system similar to Michigan's 4-3, which should help them assimilate. The hardest part of the transition will be picking up the language of the defense, he added.
Smith said a position hasn't been determined for Ringer and Bolden, but did say they would be at middle or weak-side linebacker.
Jenkins-Stone, a fearless hitter from Detroit, also could play either of those spots. He is ranked as the country's No. 2 middle linebacker according to Scout and No. 9 according to Rivals.
"He will run and hit, and that's kind of what you kind of want linebackers to do," Michigan coach Brady Hoke said.
Ross, also from Detroit, could play in the middle, but he might be best served on the weak-side because of his size (6-foot-1, 215 pounds).
"He's a guy who is, 'See ball, hit ball,'" Hoke said. "He has very good football sense and instinct, when you look at a linebacker."
Together, the four are ranked by Rivals as the country's fourth-best linebacker class, trailing just Alabama, Texas and LSU. That makes it Michigan's strongest linebacker class since the ranking started in 2002.
Smith said what attracted him to the four was each showcased the kind of instinctual play that allowed Ryan to go from an unheralded 2010 recruit to one of the team's best players as a redshirt freshman in 2011.
Hoke calls Ryan an "unorthodox" player, but doesn't do much tweaking with him because he continues to make good football plays. Smith sees that in the four newcomers as well.
"You never want to take away a kid's creativity," Smith said. "Obviously, they have to work within the framework of the defense — they can't just run around and do their own thing. But, you also don't want to make them robots.
"I tell 'em, 'Hey, if you feel something pre-snap, you make the decision. Just make sure you're right more than you're wrong, because if you make too many bad decisions, I'm going to say I don't know you.'"
Kyle Meinke covers Michigan football for AnnArbor.com. He can be reached at 734-623-2588, by email at kylemeinke@annarbor.com and followed on Twitter @kmeinke.