Posted on
Mon, Sep 13, 2010 : 5:04 p.m.
Injuries hurt Michigan football team's linebacking corps, defensive end transfers, David Molk's feelings on AP poll and more
By Pete Bigelow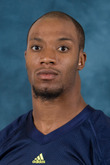 The Michigan football team lost two linebackers Saturday, one probably for the season and one for a few days.
Backup Mike Jones broke a leg against Notre Dame and coach Rich Rodriguez said Monday that Jones will probably not play again this season. Brandon Herron sprained an ankle, and could play against UMass this Saturday.
J.B. Fitzgerald can play both positions and is listed as a potential backup behind Craig Roh. Rodriguez said that Mark Moundros, Kenny Demens and Kevin Leach are flexible enough to play multiple linebacker positions.
Michigan's coach is more hopeful that he'll get wide receiver Junior Hemingway and running back Fitzgerald Toussaint back for this week's game.
He's especially eager to get Hemingway back, because Martavious Odoms and Darryl Stonum are playing at least 80 snaps per game, Rodriguez estimated.
"We don't have a lot of depth there," he said. "That's too many snaps."
Rotation at running back
In the preseason, Rodriguez said he'd like to establish a consistent rotation of three or four running backs. Aside from Denard Robinson, he's almost exclusively used Michael Shaw and Vincent Smith in the backfield.
Toussaint's re-entry on the depth chart would be a step toward diversifying that position. But he's not the only one who could see more time.
Rodriguez said Michael Cox, Stephen Hopkins and Teric Jones, who converted from safety only weeks ago, are all "closer" to playing.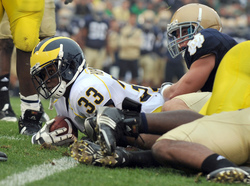 Lon Horwedel | AnnArbor.com
Jumbo formation suceeds
Speaking of Hopkins, he scored his first career touchdown on his first career carry Saturday, a one-yard plunge in the first quarter.
"Every time he carries, he scores," Rodriguez joked. "He's got a pretty good average going."
Hopkins' lead blocker on the play? Defensive tackle Will Campbell.
Between Hopkins (6-foot, 227 pounds) and Campbell (6-foot-5, 333 pounds), the Wolverines had 560 pounds of backfield power available. Rodriguez liked Campbell's Refrigerator Perry impersonation.
"Will will probably tell you he knocked a guy into the stands," Rodriguez said. "He did a nice job. … We've got some other plans, maybe, for him doing some stuff like that."
Attrition on defensive line
Defensive end Anthony LaLota asked for and received his release from Michigan on Monday. The 6-foot-4, 270-pound defensive end redshirted last season and had not played this year.
He's the third player to leave Michigan since summer camp began. Cornerback Justin Turner transferred to West Virginia in the preseason and Vladimir Emilien left last week for an unknown destination.
The touchdown that wasn't
At the end of T.J. Jones' 53-yard touchdown run during the third quarter of Saturday's game, video evidence showed the Notre Dame receiver dropped the ball between the 1- and 2-yard lines.
Rodriguez said Monday that he didn't know about the potential game-turning play until after the game.
"From my vantage point, I couldn't have told you what was happening," he said. "From what I understand, NBC didn't have the replay available at the time and the game officials didn't review it."
He said he'd use the play as a "teachable moment" for the Wolverines, and remind them to recover any loose balls in that sort of situation -- if a potential fumble like that remains unclaimed, possessions stays with the offense.
Per Rodriguez's policy, Michigan players always hand the ball to an official after they score -- or think they have.
Underdog at heart
Michigan was ranked in the top 25 for the first time this season Sunday, entering the poll at No. 20. The Wolverines, however, would have preferred staying under the radar.
"I'd rather not be ranked," center David Molk said. "I don't like the attention that comes with all of it. I'd rather be left alone."
Lon Horwedel | AnnArbor.com
Diamonds in the rough
Michigan held its third annual tryouts Monday afternoon and more than 30 students were expected to participate.
"I think there's going to be a lot of kickers, and there always is anyway," said Rodriguez, who could use one right now after Brendan Gibbons' 1-for-4 start to the season on field-goal attempts.
"I always get excited," said Rodriguez, who walked onto the West Virginia football team as a college student himself. "Maybe there's another Kovacs in there."
Two years ago, the Wolverines found safety Jordan Kovacs in the student-body tryout. He walked on, and found his way into a starting job in 2009 that he hasn't relinquished.
Ratings rise on TV
Television ratings for the Michigan-Notre Dame game on Saturday generated a 4.5 overnight rating and a 10 share, which were 67 percent ahead of last year's week two game between the Irish and Michigan State, and 13 percent higher than the Michigan-Notre Dame matchup of 2008.
Pete Bigelow can be reached at (734) 623-2556, via email at petebigelow@annarbor.com and followed on Twitter @PeterCBigelow.