Posted on
Wed, Aug 18, 2010 : 5:44 p.m.
Injury to Troy Woolfolk likely to leave Michigan football team thin at corner and on leadership
By Michael Rothstein
Troy Woolfolk isn't an All-American cornerback. More known for speed than cover skills, he likely wouldn't be the top corner on most teams in the Big Ten. He hasn't intercepted a pass in three seasons on the Michigan football team. In that time, he has 60 career tackles. Six Wolverines had more than that last season. But for Michigan, he was indispensible in a thin secondary. When he went down in Tuesday's practice with an injury - a dislocated ankle, according to one report - the worrying started.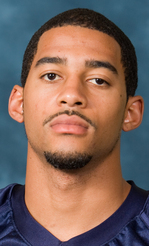 His father, former Michigan halfback
Butch Woolfolk
, told AnnArbor.com Wednesday there is no timetable for his son's return. But dislocated ankles are scary injuries. Recovery times vary. Tennessee Titans running back
Stafon Johnson
dislocated his ankle Saturday evening. He had surgery and Titans coach
Jeff Fisher
told The Tennessean he could be out eight to 12 weeks.
Even if Woolfolk is able to return to the field, there is no guarantee that speed - his trademark - will immediately return with him.
One thing is certain. His absence, for however long, creates a gaping hole in the Michigan secondary. Due to transfers (J.T. Turner), discipline (Boubacar Cissoko), the NFL (Donovan Warren) and not even reaching Ann Arbor (Demar Dorsey and Adrian Witty), the Wolverines have lost five possible 2010 cornerbacks. That's five players who, if even three were enrolled at Michigan, could have left Woolfolk playing safety instead of being the team's top corner. That's a depth destruction that would crush almost any team in the country over a four-year period.
Of the 16 defensive backs Michigan recruited on scholarship starting with the 2007 class, nine remain. Five are true freshmen, including cornerbacks Cullen Christian and Courtney Avery. Both have potential and might be pushed into playing early whether they are ready or not. One, sophomore Mike Jones, was converted to linebacker. Woolfolk's loss is more than a meaningful body. This is a team that is sorely hurting for stewardship on the defensive side. There was no question Woolfolk was the unquestioned leader of the Michigan secondary. He was the face of the Michigan defense. He may not have been the captain in name - that went to linebacker Mark Moundros - but he was being looked at for a lot of on-field responsibilities. "I have a little help out there (in the secondary)," Woolfolk said at Big Ten media days earlier this month. "But it is still my responsibility, my job to help out the defense, the DB aspect of the defense, to make plays." There's a decent chance Moundros won't be on the field this fall as he competes with Obi Ezeh and Kenny Demens for playing time at linebacker. It left much of the on-field leadership to the chatterbox in the corner. They needed him there. Defensive linemen Mike Martin and Ryan Van Bergen are good players who are capable of being leaders. But often they are going to be unable to see the majority of the field and make the necessary changes in a defense on the fly. Ezeh would be a candidate, but he's fighting to get on the field after a sub-par 2009. Woolfolk didn't have those problems. His place on the defense was secure and most of his fall camp - besides the typical betterment of himself - was spent tutoring J.T. Floyd and the rest of the secondary. That's a role he'll likely have to fill from the sidelines. "We'll have more bodies with the freshmen coming in but true freshmen coming in and playing, especially at corner, makes you nervous," Michigan coach Rich Rodriguez said at Big Ten media days earlier this month. "This is going to be a very important camp for coach (Greg) Robinson, coach (Tony) Gibson to develop some guys at safety and corner that we can get ready to play with." Now the most glaring hole on Michigan's team is bigger than ever.