Posted on
Tue, May 4, 2010 : 2:12 p.m.
Inside or out, Roy Roundtree is Michigan football team's go-to receiver
By Dave Birkett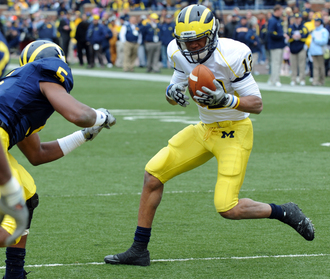 One of the Big Ten's most productive slot receivers last year, Roy Roundtree is bracing for a part-time position change.
Roundtree and fellow slot receiver Martavious Odoms practiced some at outside receiver this spring, and with lingering injury and production concerns at that position, both should contribute there this fall for the Michigan football team.
Originally recruited as an outside receiver, Roundtree said he's fine with his new dual role and doesn't expect it to lessen the impact he has on Michigan's offense.
"I just told Coach if he needs me outside, then I'll play outside. If he needs me inside, then I'll play inside," Roundtree said. "You got to know the defense no matter what position you play. When I'm outside, I still got to read the corner, I still got to read the safeties, and inside I got to read the safeties, I got to read the corners. It's the same at both positions."
Roundtree established himself as Michigan's go-to receiver with a memorable final month last year.
He caught four passes for 92 yards against Illinois; torched Purdue, the school he was once committed to, for 10 catches and 126 yards; had seven receptions for 56 yards against Wisconsin; and nine more catches for 116 yards against Ohio State.
He finished the season with a team-leading 32 catches for 434 yards despite just two receptions in Michigan's first eight games.
"I can't slack off," Roundtree said. "I'm like a team leader now, and it's not my freshman year no more or sophomore (year). I'm a junior now, so all the younger wide receivers look up to me."
So why mess with success and move him outside?
For starters, Michigan is hardly settled at outside receiver. Junior Hemingway and Je'Ron Stokes missed most of spring practice with injuries, Darryl Stonum is a proven return man but still-developing pass catcher, and true freshman Jerald Robinson left spring fourth on the depth chart.
The slot position, meanwhile, might be the strength of Michigan's offense this year. Odoms led the Wolverines with 49 catches two season ago and finished third last year - his knee injury against Penn State preceded Roundtree's emergence - and backups Terrence Robinson and Jeremy Gallon both look like fall contributors.
Robinson, like Roundtree a third-year sophomore, has just one career catch, but offensive coordinator Calvin Magee said he's finally healthy and pushing for playing time.
"He's been what we thought he was when we recruited him," Magee said last month. "He can do a lot of different things in there."
Gallon "had a really productive spring," Michigan coach Rich Rodriguez said, and at a minimum should return punts and kicks this year.
"He's a talented guy and we can move him around a little bit," Rodriguez said. "There's no question he'll be in the rotation."
So will Roundtree, who caught a 97-yard touchdown pass in Michigan's spring game and expects better things this fall.
"We just know that we got to push each other and we know that this year we really got to push ourselves," he said, "because it's Michigan and how we've been playing is really not our Michigan Wolverine team."
Dave Birkett covers University of Michigan football for AnnArbor.com. He can be reached by phone at 734-623-2552 or by e-mail at davidbirkett@annarbor.com. Follow him on Twitter @davebirkett.