Posted on
Thu, Nov 18, 2010 : 3:14 p.m.
Interception was long time in making for Michigan senior James Rogers
By Pete Bigelow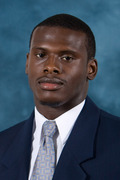 With two seconds remaining in the first half, Purdue quarterback Sean Robinson side-stepped the Michigan rush and launched a Hail Mary down the right side of the football field.
Instructions from the Michigan sideline were pretty standard for the situation: Bat the ball down and end the half.
From senior James Rogers' vantage point, the football arced so high that the play resembled a punt return. It hung in the air for what seemed like forever, a cornerback's version of a fat fastball over the plate.
"Honestly, I can tell you that what was going through my mind was 'I'm not batting this ball down, and I'm not taking a knee," he said. "I don't get that opportunity to carry the ball anymore, so the first thing through my mind was 'let's see what I can do with this thing.'"
He darted ahead 11 yards and cut toward his left, before ending his involvement in the play with a lateral to Carvin Johnson.
For most, the play meant a few excitable seconds before halftime arrived without incident. For Rogers, it was the first interception of his journeyman career.
"Finally," he said.
Rogers will be among those honored against Wisconsin on Saturday when Michigan's senior class plays its final home game (12 p.m., ESPN).
It's a small, 12-man class, one thinned over the years amid a seismic switch in coaches and philosophies. Rogers probably had valid reasons to consider joining the ranks of the departed, but he never considered leaving.
"Once I came here, I knew I was going to leave this university with my degree," he said. "I was never going to leave this school. Football and getting on the field has been an extra benefit to what I have been doing."
'Whatever you need me to do'
"Let's see what I can do."
Rogers attended the Michigan Football Summer Camp directed by Lloyd Carr during the summer between his junior and senior years at Lamphere High School in Madison Heights.
He garnered some attention before that summer on the recruiting circuit as a high school receiver, most notably from Colorado. But at camp, he beat the field by a sizable margin in the 40-yard dash. Carr called him up to his office.
As a little kid, Rogers played pee-wee football for the Madison Heights Wolverines, wearing the same winged helmet he does now.
"He called me up and asked me if I wanted to be a Wolverine," Rogers said. "I didn't hesitate. I was like, 'I'm here.'"
He entered his freshman season with the Wolverines as a receiver. "Let's see what he can do," assistant coach Ron English said almost immediately upon his arrival, and asked him to move to cornerback. When Rich Rodriguez arrived in the winter of 2007, he needed an influx of receivers for the spread offense, and asked Rogers to move back to receiver. He obliged.
In 2008, he started two games at wide receiver and stayed there until the midpoint of the 2009 season, when he returned to cornerback and found a stacked depth chart.
"Coach Rod and them, when they got here and went to the spread, I said I'd do anything," Rogers said. "Then, when we got kind of low on DBs, they asked me again to come back over, and I said, 'Coach, whatever you need me to do, I'll do it.'"
It seemed like Rogers' presence on defense would be a mere footnote, but an unprecedented barrage of injuries, departures and academic casualties left the 6-foot-1, 188-pound career reserve in an unlikely position at the start of the 2010 season - the starting lineup.
From special teams to the FBI
All the while, Rogers has been no stranger to the football field. He made his mark as a special teams leader, and takes as much pride in his role on special teams as he does on defense. Much like his first career interception Saturday, Rogers maintains a clear image in his mind of the events that transpired his freshman year in a big special-teams moment.
Michigan had just taken a late lead against Illinois, and Rogers helped the Wolverines hang onto it on the ensuing kickoff.
"I was down the field before anybody even turned around to block me, and I made the tackle within the 10-yard line," he said. "It set our defense up in perfect field position, and we went on to win that game."
Rogers wants to give the NFL a shot next spring. But he's never depended on that future, which is part of the reason why he always accommodated the constant flux in position. "It's just the reality, I guess, knowing that in the NFL, most players only last three years, even if I did make it there," he said.
What Rogers has focused on since his sophomore year has been preparing to be an FBI detective, an aspiration that grew out of a chance viewing of The First 48, a television show on A&E that follows real-life homicide investigations in the critical first 48 hours of cases.
"My old roommate was Martell Webb my sophomore year, and he was watching it one time," Rogers said. "And I was like, 'Are those real live cases?' He's like, 'Yeah,' and now I'm watching it any time it comes on."
He's seen every episode at least once, and although he cannot officially apply to the FBI until he's 24, he's done a mentorship program with the Detroit Police Department.
He's watched a few First 48 episodes of crimes in Detroit. Those hit a little close to home, which is one reason he plans to never leave. "My family is down there, and I don't want them around this kind of stuff," Rogers said. "So if I can help get those guys off the street, that's what I want to do. … I'm a Michigan man. I was born in Michigan, went to college here and lived here my whole life. There's nothing better."
Pete Bigelow covers Michigan football for AnnArbor.com. He can be reached at (734) 623-2556, via email at petebigelow@annarbor.com and followed on Twitter @PeterCBigleow.