Posted on
Wed, Feb 1, 2012 : 5:13 p.m.
Introducing each Michigan football recruit, according to coach Brady Hoke
By Kyle Meinke
The Michigan football team inked a top-10 recruiting class today, and coach Brady Hoke gushed about those who have joined the program.
He also noted how much more enjoyable — and easy — the recruiting process was, given a full year to get to know players before they committed. He didn't have that luxury last year, when he took over in January and had to quickly finish off the class in less than a month.
"You have a chance to start on guys, and we started on the '13 class already," Hoke said at a news conference Wednesday. "Having a whole year to get to know families, to make those relationships, and to touch people and really find out as much as you can about a guy from the academic to the character side of it, you know, their love and passion for the game and understanding the value of a Michigan degree is all part of it, definitely helps."
Hoke discussed each player during his news conference. His thoughts on each of the commits: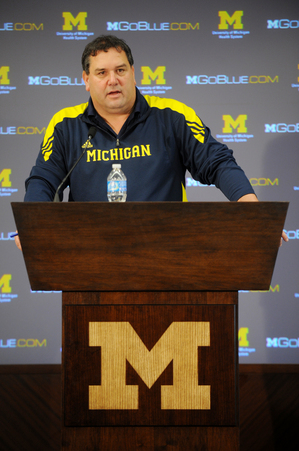 Melanie Maxwell | AnnArbor.com
Blake Bars, OL from Nashville, Tenn:
"Blake Bars is a big offensive tackle. ... He's a guy that we really liked early in the recruiting, and gives us more size up front in what we want to do."
Ben Braden, OL from Rockford: "Ralph Munger, his coach, is one of the legendary coaches in the state of Michigan. But, again, (Braden's) another big-bodied guy who has got a lot of range and a guy we really think is going to be, like all of them, a good player and will play for Michigan."
Jehu Chesson, WR from St. Louis: "Jehu Chesson, 6-3 ... guy that we targeted early. You can imagine we target most of these guys early. But, really, he's got a lot of the range to him, his hand-eye skills and how he handles the ball."
Jeremy Clark, S from Madisonville, Ky.: "He's a guy that we had in camp and watched run around and watched his film and thought he was a great fit."
Amara Darboh, WR from Sierra Leone and West Des Moine, Iowa: "Amara Darboh, again, is another lengthy receiver. ... He's a guy that we thought could go up and get the ball. He had good numbers, if you want to call them that, when you look at speed and his length and everything like that."
Devin Funchess, TE from Farmington Hills: "I think on here it says 205. He's more 220 now. He's a very athletic tight end, a guy who can play your 'move' tight end. A guy you get down near the red zone you can put him on the outside. He catches the ball extremely well with his hands, but you can put him in the red zone and throw the ball up to him."
Allen Gant, DB from Sylvania, Ohio: "That name might be familiar. His father, Tony, played here, played for Coach (Bo) Schembechler. Allen is a big safety. He's a guy who has got a knack for the football."
Matt Godin, DL from Novi: "Tom Mach, who has been coaching (at Detroit Catholic Central) a long time, has produced a lot of great players. Matt is a big defensive lineman that we're really excited about."
Willie Henry, DL from Cleveland: "(He) is a young man that we kind of got on late. We're very happy we got on him late, to be honest with you. He's very athletic, and he's a young guy who is a very good football player."
Sione Houma, FB from Salt Lake City: "Within the offense, we really need to get ourselves some fullback-type bodies. He's extremely strong, physical guy."
Royce Jenkins-Stone, LB from Detroit.: "He's a guy who committed early to us. He's a very talented young man. He will run and hit, and that's kind of what you kind of want linebackers to do."
Drake Johnson, RB from Ann Arbor: "(He) is a guy who's had tremendous numbers. He's a bigger back. He'll be a 215-pound back, probably, 220. He is a physical runner, and really (good) hand-eye skills, catching the football. We had him at camp and got to really test him in some of those areas. In the offense, you've got to have backs who are big enough to protect and big enough and good enough from an athletic standpoint to catch the ball out of the backfield. We really like what Drake does."
Kyle Kalis, OL from Lakewood, Ohio: "He's a powerful, strong, road-grating type of offensive lineman that we want to have in the offense. He's very talented."
Erik Magnuson, OL from Carlsbad, Calif.: "We've been recruiting him for a couple years because we were trying to get him to go to San Diego State. There is a lot of familiarity. He had come to a bunch of practices and it was a great fit for us and a great fit for him."
Dennis Norfleet, RB from Detroit: "(His recruitment) happened at the end. One reason was when you look at it, we had a couple scholarships left that we had either sign over with or we would make sure that we could have him in this class. The other part of it was our needs when we lost Darryl Stonum. This guy is a guy who returns kicks. He's got speed. He's a guy who can do a lot of things catching the football. He runs the football. He's an athlete. We're really impressed with him."
Mario Ojemudia, DL from Farmington Hills: "He's a very talented rush end. He's very quick, we like how he comes of the ball and, again, well-coached. John Herrington over there does a tremendous job, and has for years."
Ondre Pipkins, DL from Kansas City, Mo.: "Pee Wee, is a big man. He's a big man in the middle, which you need on defense. Play three or one shade. We're very excited about him."
Terry Richardson, DB from Detroit: "Another Cass Tech young man who is well-coached by Thomas Wilcher, state championship football team. There's been a lot of connection obviously with Michigan and Cass Tech over the years, and Terry is a corner that we think is going to do a great job for us."
James Ross, LB from Orchard Lake: "He's a guy who is, 'see ball, hit ball.' He has very good football sense and instinct when you look at a linebacker. I think that's important."
Tommy Strobel, DL from Mentor, Ohio: "He's another defensive end. He's a guy that we really liked from the get-go and is really a guy that we expect big things out of."
A.J. Williams, TE from Cincinnati: "(He) is a big tight end out of Sycamore High School in Cincinnati, Ohio. He's very physical young lad at the point of attack; but at the same time, he's tremendously skilled running routes and catching the football."
Chris Wormley, DL from Toledo, Ohio: "Joe Palka, his coach (at Whitmer High School), is one of the better coaches in the state of Ohio. He just took the Saline coaching job not too long ago. But he's an extremely talented young man. He's very long, very physical. We're excited that he's there."
Kyle Meinke covers Michigan football for AnnArbor.com. He can be reached at 734-623-2588, by email at kylemeinke@annarbor.com and followed on Twitter @kmeinke.