Posted on
Thu, Nov 4, 2010 : 8:02 a.m.
Is the 3-3-5 the source of Michigan's defensive woes? Brandon Graham thinks so
By Pete Bigelow
As the standout performer on the Michigan football team's defense for several seasons, Brandon Graham says he knows the cure for the unit's season-long troubles.
"They just need me around," he laughed.
Amid the growing concern about the team's beleaguered defense, on pace to allow a school-record 360 points this season, Graham voiced support for defensive coordinator Greg Robinson.
But last year's first-round draft pick of the Philadelphia Eagles said the team's new 3-3-5 defense is part of the problem.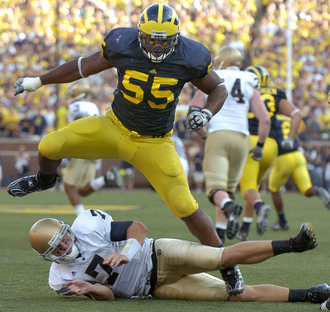 Lon Horwedel | AnnArbor.com
"It's tough to see the boys struggling, knowing that Michigan, for all them years, was prided on defense," he said. "They just have to find that niche. The 3-3-5, I don't think it's a good look, especially for the type of stuff we see in the Big Ten."
Graham has watched the Wolverines' games this fall and spent his NFL off week visiting friends and resting in Ann Arbor. He said it was a mistake for the team to switch to its fourth defensive system in as many seasons.
"I'm surprised they didn't stick with what Coach Robinson was running," Graham said of the 3-4 the team deployed in 2009, its first year under Robinson.
Instead, coaches turned toward the 3-3-5 after the defense finished that season allowing an average of 393.3 yards per game.
Robinson had run a version of the 3-3-5 as a member of the New York Jets coaching staff in 1994, but Michigan coach Rich Rodriguez had run it recently at West Virginia and felt more comfortable with that defense.
"Let Coach Robinson play his defense," Graham said. "Let him do what he knows. He was thrown off, I would say. I know the 3-3-5 is what he (Rodriguez) has been doing for so long. He's just got to adjust to the Big Ten." For his part, Rodriguez, whose team faces Illinois on Saturday (noon, ESPN) said the scheme is overrated. "The scheme itself has had success against a lot of good football teams," he said. "But it's the execution of schemes. We've got to execute the right way."
With seven true freshmen playing on defense this season, including six in the secondary, Michigan has endured all sorts of growing pains.
The Wolverines (5-3 overall, 1-3 Big Ten) have allowed an average of 480.5 yards in four conference games and surrendered more than 500 yards three times this season.
They may have reached a low point last Saturday when third-string Penn State quarterback Matt McGloin, starting his first career game, led the Nittany Lions to 435 offensive yards.
The 41 points they scored were the most Michigan has allowed this season.
"I don't have any grand, magic wands to wave," Rodriguez said Tuesday. "We're all trying as hard as we can."
He has simplified the defense as much as possible to accommodate the learning curve of the many freshmen. He has made changes in the starting lineup, promoting Kenny Demens at middle linebacker and Ray Vinopal at safety.
He's switched players' positions, moving Carvin Johnson to safety, Cam Gordon to linebacker and Quinton Washington to defensive tackle.
Rodriguez said Tuesday he'll make no changes on his coaching staff.
Robinson has fallen under particular scrutiny as the Wolverines defense has deteriorated over a three-year span.
In 2008, the year prior to his arrival, Michigan ranked 68th in the country, allowing 366.9 yards per game. In 2009, his first year in Ann Arbor, the team allowed 393.3 yards per game and ranked 81st.
Through eight games this year, the Wolverines are allowing an average of 440.9 yards per game, which ranks 106th in the FBS.
Coincidentally, the man Robinson replaced at Michigan, Scott Shafer, took over defensive coordinator duties at Syracuse, where Robinson had previously served as head coach.
In his four years as Syracuse head coach, the defense went from being ranked 61st in yards-per-game allowed to 101st. In two years under Shafer, the Syracuse defense has climbed from 101st to 13th in the country.
Robinson has declined several requests for comment this season.
"His defensive schemes work," said defensive end Greg Banks. "It's just the players. We have to take more pride in what he's teaching. It's because we're missing tackles. We're not capitalizing on third and long. We're not helping him out."
Graham echoed the support.
"I think Coach Robinson is real good," he said. "He was somebody who really tried to teach you the game. 'These are why we're calling these plays or these blitzes now.'"
Graham said his concerns were purely schematic.
"You've got to have four down linemen. You've got to," he said. "Or five. You've got to stop them holes, and you got to get to the quarterback. You got to trust the cornerbacks are going to do their job."
Pete Bigelow covers the Michigan football team for AnnArbor.com. He can be reached at (734) 623-2551, via email at petebigelow@annarbor.com and followed on Twitter @PeterCBigelow.