Posted on
Wed, Nov 30, 2011 : 2:36 p.m.
It's official: Michigan's Brady Hoke earns coach of the year award for 3rd time in 4 years
By Kyle Meinke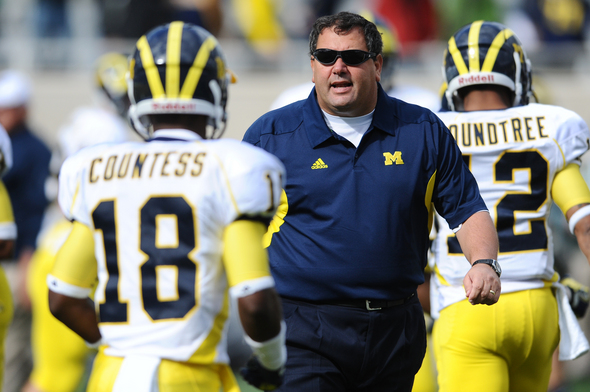 Melanie Maxwell | AnnArbor.com
No team in the Big Ten Conference surpassed expectations more than Michigan.
That makes first-year Wolverines coach Brady Hoke a logical choice to become Big Ten Coach of the Year.
And now, he is.
Hoke was named on Wednesday afternoon the Big Ten's Dave McClain coach of the year by the league's media and earned the inaugural Hayes-Schembechler trophy from the coaches after guiding Michigan to a 10-2 regular season.
The coaches' trophy is named, in part, for former Michigan coach Bo Schembechler, whom Hoke calls a mentor from his time as an assistant at the school from 1995-2002.
Hoke is Michigan's first coach of the year since Gary Moeller in 1991 and '92.
"Any type of awards that are given, whether it's the Heisman Trophy or best taper — if you're taping ankles — we have a great staff and we have a great group of kids," Hoke said on Monday.
"My point is, it's never one person or one guy. It's everybody involved in the program. Jon Falk and how he gets the guys ready from the equipment standpoint to Paul Schmidt in the training room, and the people who take pride in feeding those kids and all that stuff. I've got the greatest job in the world. It's fun. It's fun being with those kids."
Hoke also was the Mountain West Coach of the Year at San Diego State last season and the Mid-American Conference Coach of the Year at Ball State in 2008. So, he's won coach of the year honors three times in four years.
One of Hoke's three captains, senior center David Molk, said he earned it.
"He deserves it," said Molk, who on Monday was named the Big Ten's Offensive Lineman of the Year. "I love him, he's a great coach, he's a great mentor, he's a great friend.
"He's every single thing you want a college coach to be, and he does it flawlessly."
Hoke has pulled all the right strings since being hired in January. He lured a top-five recruiting class to Ann Arbor, then went 10-2 in his first season and led the Wolverines to their first win against Ohio State since 2003.
He is the second Michigan coach to win at least 10 games in his first season. The other was Fielding Yost, who won 11 in 1901.
Hoke is the fifth Big Ten coach to win at least 10 games in his first season.
He went 6-2 in Big Ten play, matching former coach Rich Rodriguez's three-year win total, and has positioned his team for a possible BCS bowl. It is not expected to play in a worse bowl than the Capital One, which is the league's second tie-in.
Does that make this season a success?
"No, because we didn't win the (Big Ten) championship," Hoke said in a video released by the school Wednesday. "I think we made some growth, I think those guys playing their last football representing Michigan. I think they did a tremendous job.
"But the expectation here is to win Big Ten championships, and we didn't do it. So, we've gotta get ready after this bowl game and win it next year."
Hoke is the second former Michigan assistant to earn coach of the year honors Wednesday. He joins Eastern Michigan's Ron English, a defensive coordinator for Lloyd Carr who was named the Mid-American Conference's top coach.
Kyle Meinke covers Michigan football for AnnArbor.com. He can be reached at 734-623-2588, by email at kylemeinke@annarbor.com and followed on Twitter @kmeinke.