Posted on
Tue, Aug 21, 2012 : 9:45 a.m.
Jake Ryan, Devin Gardner among possible Michigan football breakout players to watch in 2012
By Nick Baumgardner
Melanie Maxwell | AnnArbor.com
Every year, it's someone.
In 2010, Michigan football quarterback Denard Robinson went from exciting to dynamic in just one afternoon.
In 2011, the Wolverines began the season with immense uncertainty behind Robinson in the backfield, but ended the year with Fitz Toussaint becoming the first Michigan running back since 2007 to eclipse the 1,000-yard mark.
Every year, at least one player goes from good to great. Or, at least, from unknown to productive.
Who makes the jump this season? Who goes from solid to superstar? Who goes from the bench to the top of the depth chart?
We debate:

Kyle Meinke

No. 1 Jake Ryan
Michigan had gone three-and-out on its first drive of the Sugar Bowl, and Virginia Tech countered by driving 59 yards on eight plays. It had the ball on the Wolverines' 4-yard line.
The Hokies' star tailback, David Wilson, took the handoff -- and went backward, with Jake Ryan hounding him deep into his own backfield. Ryan eventually corralled him for a 22-yard loss and Virginia Tech settled for a field goal.
And that's exactly what Jake Ryan does for you: Makes plays.
It's a little unconventional to go with a returning full-time starter as a breakout player, but I think Ryan is poised to become one of the best playmaking linebackers in the Big Ten -- and eventually, maybe the country.
He finished with 37 tackles last year, which was just tenth on the team and last among the starting linebackers. Even backup linebacker Brandin Hawthorne had more.
But Ryan's worth wasn't measured in overall plays, but in impactful plays. He was brilliant in opponents' backfields, and finished with 11 tackles for loss -- nearly a third of his overall tackles.
That was more than the other starting linebackers combined, and trailed only defensive end Ryan Van Bergen on the team.
And he was a redshirt freshman.
He was good from the start, and great by the end. His best game of the year was on the big stage against Virgina Tech, when he set career highs for tackles (seven), solo tackles (six) and tackles for loss (four). He also had one sack.
Ryan often was called an "unorthodox" or "instinctual" player by coaches last year, which basically was their way of saying he was a hell of a player despite poor technique. And now, he's had an offseason to refine that technique.
With the Wolverines' starting linebackers back intact, operating the same 4-3 defense as last year, Ryan will make a leap. With a rebuilt and inexperienced defensive line in front of him, he'll be expected to make more plays.
And that's what he does. He's a playmaker, and could become Michigan's best defensive player this season.
No. 2 Devin Gardner
Michigan lost receivers Junior Hemingway and Darryl Stonum this offseason. Roy Roundtree, the most experienced returner, had knee surgery. Jeremy Gallon is coming off a nice season, but is undersized to play outside.
The Wolverines need a guy with size. Gardner has size, and he will play receiver this year. That, as well as Gardner's usual backing of Denard Robinson at quarterback, means the junior will be more involved than ever before in his -- so far -- quiet career.
3. Thomas Gordon
Gordon had impressive numbers last year, but coaches weren't pleased with his consistency, especially in practices. He eventually had to split reps with Troy Woolfolk, who moved to safety after losing his cornerback job.
But Woolfolk's gone and Gordon is the clear starter next to Jordan Kovacs in the Wolverines' defensive backfield. His playmaking ability is superb, and he was key to Michigan's knack for takeaways.
He recovered a Big Ten-best four fumbles last year, and he also had two forced fumbles and an interception. That's seven takeaways.
Minnesota, as a team, had nine.
Nick Baumgardner

No. 1 Devin Gardner

Before anyone starts to get riled up, let me explain how I'm justifying Gardner as my top breakout performer in 2012.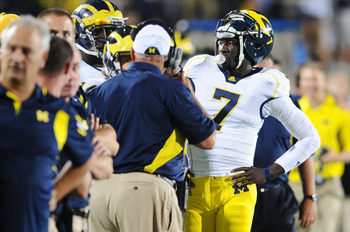 Melanie Maxwell | AnnArbor.com
I'm not ready to say the current quarterback-wide receiver hybrid will put together an All-Big Ten season, not by a long shot. But given Michigan's consistent outside the box thinking as it relates to Gardner's usage, I believe 2012 will be the season the 6-foot-4, 203-pound athletic monster sees the field.
And sees it a lot.
Al Borges nailed it several weeks ago when he said that "it's probably not good coaching" to have Gardner standing with a headset on the sideline all season. And he's right. Gardner's too big, too quick and too rangy to go unused.
We have no idea how prolific Gardner is at wide receiver right now, because Michigan hasn't allowed us to see it. But given Roy Roundtree's injury, Jeremy Gallon's size and the considerable amount of unproven talent at wideout -- if Gardner can find a way to get open and avoid drops, he'll see plenty of snaps at receiver.
Borges has promised nothing, but hasn't ruled anything out, either. He could be a weapon in the red zone, and literally anywhere else on the field if he progresses quickly.
And, more than that, Gardner could still see snaps in Borges' deuce package as a quarterback. The Michigan offensive coordinator says he has plans to expand that formation this season, and Gardner still figures to play a role there.
Bottom line: Gardner appears just too athletically gifted to sit out large chunks of the season again. He might not be dominant, he might struggle with his new position -- but he will be given plenty of snaps to figure it out. One way or another.
No. 2 Blake Countess
Forty-four tackles, six pass breakups and a forced fumble in just six starts as a freshman last season.
Countess was given the John F. Maulbetsch award during the spring, awarded to a freshman based on "desire, character, capacity for leadership and future success both on and of the field" and has spent the summer with a business-like attitude. He could go from a freshman surprise to a sophomore standout in 2012.
No. 3 Desmond Morgan
Kyle went with Jake Ryan on his list, and while I can't disagree, I think it's fair to make a case for Morgan here as well.
As a freshman, he started just seven games, but still finished fifth on the team in tackles. A star in the making? Possibly.
---
Did we miss someone? Screw up our lists? Make you angry?
Let us know whether you agree, disagree or have something to add. Got a favorite pick for Michigan's best breakout performer in 2012?
We're all ears.
Nick Baumgardner covers Michigan football and basketball for AnnArbor.com.