Posted on
Wed, Nov 2, 2011 : 11:02 a.m.
Freshman linebacker Jake Ryan is becoming Michigan's mane man despite 'unorthodox' style
By Kyle Meinke
Joseph Tobianski | AnnArbor.com
He's a Michigan linebacker who prefers war documentaries to ESPN.
Jake Ryan also hasn't cut his long, blond locks in almost a year-and-half, inspiring several veteran teammates to begin following his lead. Ryan Van Bergen's even named his mop "Flow" — not "The Flow," just Flow, he says — and Mike Martin picks out his hair before big games.
Ryan, by the way, is just a redshirt freshman. And, quirky as he might be, the Michigan football team quickly has taken to his unconventional style — off, as well as on, the field.
"My boy Jake can be — what's the right word? — he makes plays maybe unorthodox, sometimes," coach Brady Hoke said.
That tidily sums up Ryan's young career at Michigan.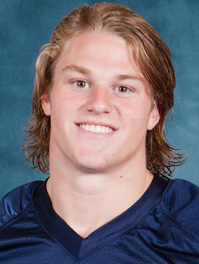 The redshirt freshman linebacker from Westlake, Ohio, generated a buzz by playing well in the spring, but was expected to be slotted behind sophomore Cam Gordon this season at strong-side linebacker. When Gordon suffered a back injury, however, Ryan was thrust into the spotlight.
Ryan started the opener against Western Michigan, and deflected a pass that was intercepted and returned for a touchdown. He hasn't looked back since.
He has 19 tackles, but his real impact has been in making big plays. He is second on the team with five tackles for loss, has one sack and recovered two fumbles. In last week's 36-14 win against Purdue, Ryan had a pivotal tackle for loss on which he knifed by his man and tripped up the rusher with one arm.
It led to a goal-line stand.
Michigan will need Ryan to continue to make plays as it hits the road to play Iowa at noon Saturday on ESPN. The Hawkeyes (5-3, 2-2) are rushing the ball well — tailback Marcus Coker had 252 yards last week against Minnesota — and are unbeaten this year at home.
Ryan's biggest mistakes have come in the running game, where he has had some struggles holding containment. He's shown improvement, though, as have middle linebacker Kenny Demens and new weak-side linebacker Desmond Morgan, a true freshman.
Defensive coordinator Greg Mattison said that comes from picking up cues from the offense and anticipating what it will do, which helps to eliminate "false steps."
THURSDAY LIVE CHAT
Come back to AnnArbor.com at noon Thursday for a live chat with Kyle Meinke. He'll recap the Wolverines' win over Purdue, discuss news that emerged this week and preview the game against Iowa on Saturday.
"I wasn't very pleased at all early," Mattison said of the linebackers in general. "I was really, really upset with them. ... When you're a young, inexperienced guy, you have to be totally locked into your (cues)."
Michigan has two inexperienced linebackers in Ryan and Morgan, which could become a concern as the No. 13 Wolverines (7-1, 3-1) make a push for the Legends Division title. Mattison, though, said the linebackers made a big jump during the off week two weeks ago, and that carried over into the Purdue week.
Michigan held Purdue to 89 rushing yards because of the freshmen linebackers, not despite them. Morgan led the team with nine tackles and showed good instincts.
Ryan, meanwhile, excelled while not always being in the right spot, or making the right read. He's only a freshman, after all. He doesn't even really look like a prototypical linebacker, despite being 6-foot-3, 230 pounds.
"You don't really look at Jake Ryan and think, 'Wow, he's an intimidating linebacker,'" Van Bergen said. "There's certain guys you would say that about, but he's not one.
"He's also not someone you look at and say, 'Wow, he might be one of the faster guys on the defense,' and that's also the case. He's unbelievably fast and quick."
Does Ryan use that perception as motivation?
"Yeah, it's always a motivation that people say that," Ryan said. "But, God blessed me with these gifts, and I'm just using them to the best of my ability."
Ryan has used his athleticism, as well as his instincts, to become one of Michigan's biggest surprises of the season. He's turning out to be a playmaker largely because of his high motor and habit for being in the right place at the right time.
"His nose for the football is unbelievable," Van Bergen said. "Sometimes, he's not in the right spot, but because he's going 100 mph ... he just goes flying by safeties trying to make plays.
"If you're going to make a mistake, make it going 1,000 mph, and that's what Jake does, and that's why you see so many plays where he's disrupting something."
Ryan might be a little unorthodox, but Michigan won't mind as long as he continues to make plays.
Kyle Meinke covers Michigan football for AnnArbor.com. He can be reached at 734-623-2588, by email at kylemeinke@annarbor.com and followed on Twitter @kmeinke.