Posted on
Mon, Aug 20, 2012 : 9:45 a.m.
Jerald Robinson hoping to end questions about Michigan's thin wide receiver group
By Nick Baumgardner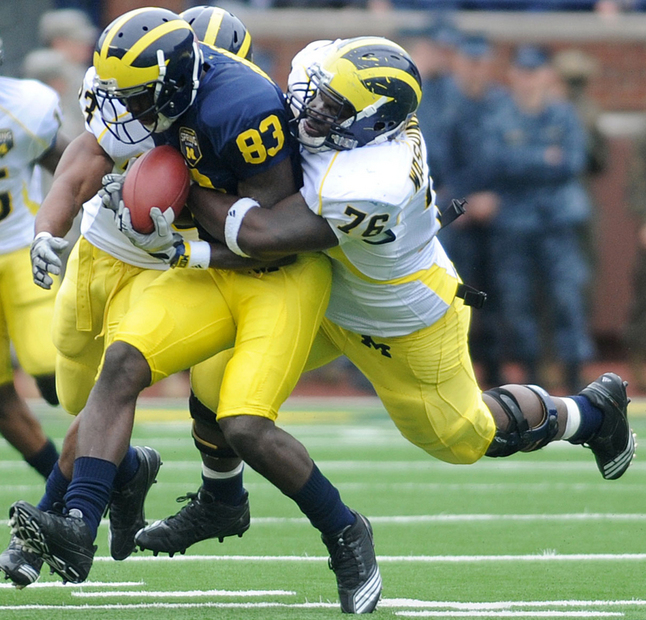 Angela J. Cesere | AnnArbor.com
In the beginning, everyone starts with nothing.
Michigan football wide receiver Jerald Robinson, of course, is no different.
The redshirt sophomore is aware of how many career catches he has to this point in his career (zero), and he's aware that people have targeted Michigan's receiving group as one of the team's thinnest positions.
But he's also aware that starts mean nothing, and finishes mean everything. Desmond Howard had just nine catches before his junior season, Braylon Edwards only had three as a freshman.
Everyone starts with nothing, but those who take advantage of an opportunity are the ones who get remembered. For Robinson, that opportunity begins on Sept. 1 -- and he couldn't be more excited about it.
"At Michigan, you had all these receivers that came through here and the expectation is so high," Robinson says. "And every day you've got to come out here and work 100 times harder than those guys did.
"I want to be that guy one day."
For the first time in his career at Michigan, Robinson is about to get his chance to do just that.
With the graduation of Junior Hemingway and the dismissal of Darryl Stonum, the Wolverines will enter 2012 with just three truly battle-tested wide receivers.
One, Roy Roundtree, is currently rehabbing from arthroscopic knee surgery. And the other two, Jeremy Gallon and Drew Dileo, don't possess near enough size to fill Michigan's massive void for a big, physical downfield pass catcher.
Robinson, however, does.
Despite never catching a college pass, the 6-foot-1, 215-pounder possesses all the physical tools to fill the void Hemingway left as a big-play threat.
But now comes the hard part. He has to turn physical promise into game-time production.
"I think we've got to put enough pressure on him and get him out of his comfort zone," Michigan coach Brady Hoke said of Robinson. "You test him as best you can, and then he's just got to go out there and do it. There's no other way.
"We can put him in situations, test him, make him uncomfortable and see how he reacts, but at the same time, he's just got to do it."
Robinson was one of Michigan's pleasant surprises for his on-field improvement during spring practice, but during the offseason, he made headlines for a completely different reason.
The untested wide receiver faced one misdemeanor charge of malicious destruction of property after damaging an Ann Arbor parking structure gate in early February. His case dragged on throughout the summer before he entered a guilty plea to the misdemeanor charge earlier this month.
He'll be sentenced in September, and if he doesn't violate probation, the charge won't likely appear on his record. It's not something Robinson's of, but also something he's not dwelling on either.
"Right now, I'm just worried about this camp and Sept. 1 and Michigan football," Robinson said. "I never really felt like I took any steps backward or anything, I'm just going to continue to work hard like I've been doing."
On the field, Robinson's focused on getting better each day. Receivers coach Jeff Hecklinski and offensive coordinator Al Borges believe Robinson has what it takes to take the next step, but he understands he has to prove it.
He's never made a catch, his offseason wasn't exactly calm and he'll start the 2012 season with plenty of unanswered questions.
He'll start the year with nothing.
But he can't wait to find out what he'll finish it with.
"It's a great honor to be a receiver here at Michigan, it's a blessing and it's a great opportunity for all of us," he says. " But at the same time, it's just the expectation here to work hard every day. And that's what we do.
"No slackers. That's my motto. No slackers."
Nick Baumgardner covers Michigan sports for AnnArbor.com. He can be reached at 734-623-2514, by email at nickbaumgardner@annarbor.com and followed on Twitter @nickbaumgardner.