Posted on
Thu, Oct 27, 2011 : 5:58 a.m.
Jerry Kill's big deal offers Minnesota a chance at stability and other notes
By Nick Baumgardner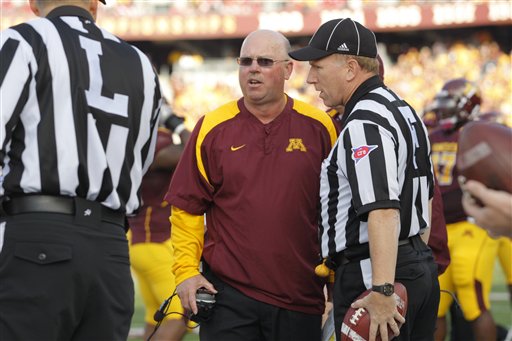 Associated Press
At first glance,
Minnesota's
announcement this week that football coach
Jerry Kill
has been signed to a lengthy seven-year contract is a head-scratcher.
Under Kill this season, the Golden Gophers have one win and they rank last in the Big Ten in total offense, scoring offense, scoring defense, pass efficiency, third-down conversion rate, sacks by, interceptions by, first downs and turnover margin.
With no disrespect to Indiana, Minnesota is the league's bottom feeder.
So why offer your coach a long-term contract in the midst of a dreadful season?
Easy.
Stability, believe it or not, can still be a good thing.
Since 2006, Minnesota has had four head coaches. Its record in that span? 34-51.
The only way programs like Minnesota or Indiana (which gave first-year coach Kevin Wilson a seven-year deal) ever pick themselves up off the mat and become competitive is through stability.
Look at the programs around the league that have been consistently competitive through the past three decades.
Ohio State: Three coaches in 23 years. Wisconsin: Two coaches in 21 years. Iowa: Two coaches in 32 years. Michigan: Five coaches in 42 years. Penn State: One coach in 45 years.
The idea of college football being a win-now-or-get-out game only exists in certain corners of the country. If you go 3-9 in Ann Arbor? You're going to struggle to keep your seat safe. If you have a losing record at Texas? You might want to keep an eye on the real estate market. If you can't field a bowl-eligible club in South Bend, or Columbus, or Gainesville? … You get the point.
Minnesota doesn't fall in those categories. Neither does Indiana, or Purdue, or Illinois, for that matter. In order for those schools to become consistent and push the Big Ten back into the conversation of "which conference is best," stability is needed.
Maybe Kill isn't the right guy. Maybe he continues to struggle. And surely, if he has more seasons like his first, he'll be out the door before his seven-year window closes.
But there isn't a gun to his head. He isn't being pressed into taking short cuts.
All he's asking for is time.
And, refreshingly enough, his wish seems to have been granted.

Sky high: No. 9 Michigan State (6-1, 3-0 Big Ten)

Thanks to a desperate heave, a failed pass breakup by a wide receiver turned defensive back and a heads up catch by a former quarterback, the road to the Big Ten championship looks like it may go through East Lansing.
Penn State also is unbeaten in league play, but the Nittany Lions edged Purdue and Northwestern the past two weeks.
The Spartans, meanwhile, knocked off archrival Michigan and stunned league favorite Wisconsin on a last-second Hail Mary pass.
If Michigan State can beat No. 13 Nebraska on the road this week, the tough stuff will be over. The Spartans finish the season with home games against Minnesota and Indiana, and road trips to Iowa and Northwestern.

Rock bottom: Illinois (6-2, 2-2)
The easy path would be to go with Minnesota or Indiana here, as both the Hoosiers and the Golden Gophers continue to see who can lose their Big Ten membership the fastest.
But we're not interested in the easy path this week.
After sitting in the "Sky High" seat just two weeks ago, the Illini have had a quick fall from grace.
A loss against struggling Ohio State was bad enough, but getting run over by Purdue last week?
For the love of Chief Illiniwek, that's unacceptable.
Illinois is bowl eligible and could have a very good season. But Ron Zook and company will have to act like that trip to West Lafayette never happened (I think we can all sympathize there?) and face a three-game stretch against Penn State, Michigan and Wisconsin.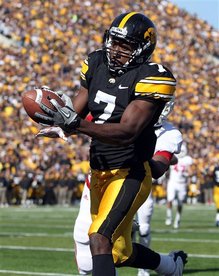 Associated Press
This week's heavy lifter:
Marvin McNutt, Iowa senior WR
Marvin McNutt's six catches for 184 yards and three touchdowns against lowly Indiana last week is good enough for this honor. But, in addition, he also became Iowa's all-time leader in receiving touchdowns.
McNutt has 24 touchdown grabs for his career, passing former Hawkeyes Danan Hughes and Tim Dwight.
You should remember Dwight, Michigan fans. He was that short guy who almost ruined the Wolverines perfect season in 1997.

Standout stats:
22
Career wins as a starting quarterback by Michigan State senior
Kirk Cousins
, the most by any starting signal caller in MSU history.
9
Sacks allowed by Northwestern in a loss to Penn State last week. The Wildcats have allowed a Big Ten-worst 24 sacks in seven games this season.
17.9
Career yards per catch average for Iowa senior receiver Marvin McNutt, the NCAA's active career leader in that category.
16.3
Points per game scored by Wisconsin junior running back Montee Ball. The Big Ten's rushing touchdown leader, and an obvious man-crush candidate of the B1G Notes staff.

Quotable

"We do have some attrition, guys going by the wayside. But I'm kind of a stickler on you gotta go to class, you gotta go to study hall, you gotta practice hard, and we do some mandatory drug testing. Some things are happening where some guys don't want to stay with us. I think as it goes through, we're kind of cleaning up the house a little bit." — Indiana coach Kevin Wilson on his weekly radio show about the attrition his 1-6 team has gone through. According to the Bloomington Herald-Times, more than 15 scholarship players have left the program since Wilson took over on Dec. 7.

Off the cuff

Who says quarterbacks aren't the most important players on the field?
They're so important, in fact, that two former signal callers-turned-wide receivers helped determine the look of the Big Ten title picture as we know it a week ago.
Prior to Michigan State's Hail Mary heave to beat Wisconsin last week, the Badgers removed a defender and put sophomore receiver Jared Abbrederis deep as an extra leaping defensive back. Near the line of scrimmage, Michigan State's outside receiver was senior Keith Nichol.
Abbrederis is a former high school option quarterback who originally came to Wisconsin to run track, but eventually walked onto the football team and switched to receiver. Nichol is a former standout high school quarterback who transferred to Michigan State from Oklahoma and lost a quarterback battle with current Spartan starter Kirk Cousins.
If Abbrederis decided to pursue a college career at quarterback, he's never inserted into the game last weekend, he doesn't get the chance to miss-time a jump that could have easily batted down the miracle play and a true defensive back possibly has enough strength to keep Nichol from pushing into the end zone.
If Nichol beats out Cousins earlier in his career for the quarterback spot, he's never standing at the 1-yard-line waiting to make the catch of his life.
Even when they're not planted in the spotlight, quarterbacks still get all the headlines, all the girls and all the discussion.
Nick Baumgardner covers Michigan basketball for AnnArbor.com. He can be reached at 734-623-2514, by email at nickbaumgardner@annarbor.com and followed on Twitter @nickbaumgardner.