Posted on
Wed, Jan 5, 2011 : 6:46 p.m.
What's next? Jim Harbaugh name still comes up often for Michigan, even if Dave Brandon thinks he's headed to NFL
By Pete Bigelow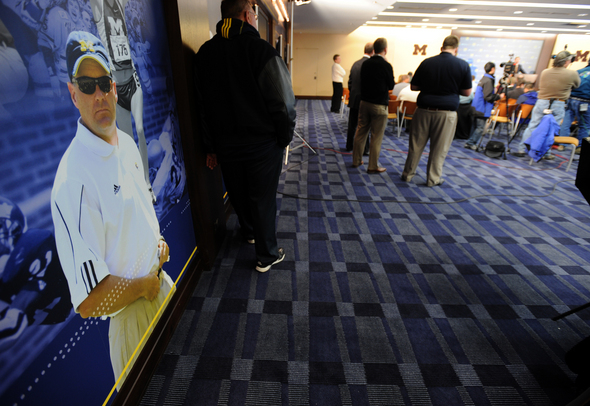 Lon Horwedel | AnnArbor.com
For a guy supposedly not coming to Ann Arbor, Jim Harbaugh sure got plenty of air time during Wednesday's press conference announcing the firing of football coach Rich Rodriguez at Michigan.
"There has been a lot of Jim Harbaugh noise out there," athletic director Dave Brandon said. "I'm not deaf to hearing it."
For good reason.
Stanford's rise toward the top of the polls has coincided with Michigan's tailspin over the past three seasons. Considering Harbaugh's ties to the Wolverines, the comparison has been hard to ignore.
The charismatic former Michigan quarterback took over a one-win program at Stanford in 2006, and the Cardinal improved each year. With an Orange Bowl win Monday, Stanford finished with a 12-1 record.
With Michigan searching for a coach after Rodriguez was fired Wednesday following a tumultuous three-year stint and a 15-22 record, Harbaugh is a wildly popular choice.
Brandon doused that enthusiasm Wednesday. "I personally believe Jim Harbaugh is heading to the NFL," he said. "But that's my opinion, as opposed to any qualified judgment."
Yet he did not rule out a pursuit of the Stanford coach. Brandon said he has spoken to Harbaugh many times over the past three years, but never in a specific conversation about replacing Rodriguez, never with a specific contract offer.
On Wednesday, the first-year athletic director was coy on the subject of whether he'd pursue Harbaugh. "I have talked to Jim Harbaugh," he said. "I will continue to talk to Jim Harbaugh. He's a Michigan man." Rodriguez's made $2.5 million per year as Michigan's coach - a figure that puts his salary at roughly the college football average, and one that may be less than half of what Harbaugh could earn in the NFL.
Harbaugh's agent could not be reached for comment.
No matter who the next coach is, Brandon acknowledged Wednesday the next Wolverines football coach will get a raise.
"We've traditionally been in the middle of the pack. That's been our tradition," he said. "I don't necessarily believe that's appropriate.
"It's my point that there's a market out there and you pay for value, and the marketplace dictates what the price tags are."
A national search will begin immediately. Brandon sketched out the prerequisites for the job. The ideal candidate will be someone who can handle expectations of winning regular Big Ten championships, be capable of modifying their on-field schemes for existing personnel and someone who wins their share of what Brandon described as "red-letter" games.
Under that guideline, Brandon said Rodriguez went 3-15 in such games against Notre Dame and primary Big Ten opponents.
The new coach will almost certainly have prior head-coaching experience, although Brandon said that experience did not necessarily have to come at a BCS-caliber school.
That would leave the possibility open for a coach such as San Diego State's Brady Hoke, a former assistant coach at Michigan under Lloyd Carr who has a 47-50 overall coaching record.
Previously at Ball State, he inherited a program reeling from NCAA violations. In six seasons, he turned the program around, coaching the Cardinals to a 12-1 record in 2008.
Hoke not only has ties to Michigan, he's got ties to Harbaugh. Hoke served as a defensive line coach under Jack Harbaugh, Jim's father, during the mid-1980s at Western Michigan.
The bulk of Hoke's experience as an assistant came as a defensive line coach, which could be important to Brandon.
Asked whether the he'd be inclined to hire a defensive-minded head coach after the Wolverines just endured the worst defensive season in school history, Brandon said, "Is there a thought of a defensive-minded head coach? There's a thought of getting a defensive-minded everything. I want the ball boys to be defensive minded."
As for the offensive-minded Rodriguez, Brandon said Michigan would pay his $2.5 million buyout.
Brandon said he made his decision to fire Rodriguez only late Tuesday night following a three-and-half hour meeting that was the culmination of a thorough review of the football program.
"I have nothing bad to say about Rich," Brandon said. "When you consider the drama he has dealt with on this campus, I think he has handled himself in an amazingly controlled and measured way."
Pete Bigelow covers the Michigan football team for AnnArbor.com. He can be reached at (734) 623-2551, via e-mail at petebigelow@annarbor.com and followed on Twitter @PeterCBigelow.