Posted on
Wed, Nov 9, 2011 : 1:48 p.m.
Michigan football coach Brady Hoke on Joe Paterno's retirement: 'I have the utmost respect for Coach Paterno'
By Kyle Meinke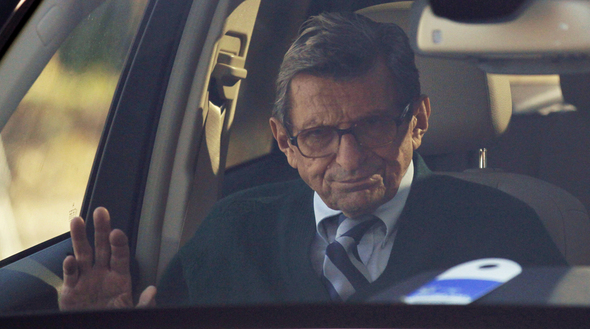 AP Photo
For two days, Michigan football coach Brady Hoke refused to comment on the alleged child-sex scandal at Penn State.
But in the wake of the Nittany Lions' legendary head coach, Joe Paterno, announcing today he would retire at the end of the season, Hoke broke his silence.
He opened his scheduled Wednesday news conference by saying he'd like to make a brief statement, and it went like this:
"The one thing I can tell ya is I have the utmost respect for what Coach Paterno has done on the field. It's really a situation that's obviously unfortunate, but it's one that does not affect us and we have to worry about Michigan, and the decisions we make, and getting ready for this week, going to Illinois and winning a football game."
The Wolverines visit Illinois at 3:30 p.m. Saturday on ABC.
When Hoke later was asked for an anecdote or personal memory of Paterno — the first-year coach also was a Michigan assistant from 1995-2001 — he declined to comment.
"We're not talking about that," he said.
Paterno, the Penn State football coach who preached success with honor for half a century but whose legend was shattered by a child sex abuse scandal, said he was "absolutely devastated" by the case, in which his one-time heir apparent, Jerry Sandusky, has been charged with molesting eight boys over 15 years, including at the Penn State football complex.
THURSDAY LIVE CHAT
Come back to AnnArbor.com at noon Thursday for a live chat with Kyle Meinke. He'll recap the Wolverines' loss at Iowa, discuss news that emerged this week and preview the game against Illinois on Saturday.
It's a scandal that is rocking college football.
The decision to retire by the man affectionately known as "Joe Pa" brings to an end one of the most storied coaching careers, not just in college football, but in all sports. Paterno won 409 games, a record for major college football, and is in the middle of his 46th year as coach.
His figure patrolling the sideline — thick-rimmed glasses and windbreaker, tie and khaki pants — was as unmistakable at Penn State as its classic blue and white uniforms and the name Happy Valley, a place where no one came close to Paterno's stature.
"The Big Ten trophy is the Stagg-Paterno Trophy, and I think that says it all, in how much he's given to college football," Michigan senior defensive lineman Mike Martin said.
Paterno said the school's Board of Trustees, which had been considering his fate, should "not spend a single minute discussing my status" and has more important matters to address.
The beloved 84-year-old Paterno has been engulfed by outrage that he did not do more to stop Sandusky after a graduate assistant came to Paterno in 2002 after allegedly having seen the former assistant coach molesting a 10-year-old boy in the Penn State showers.
"This is a tragedy," Paterno said in a statement. "It is one of the great sorrows of my life. With the benefit of hindsight, I wish I had done more."
Paterno met with his coaching staff and players in the football building at Penn State for about 10 to 15 minutes Wednesday, a team meeting players described as being very emotional.
Paterno met with his coaching staff and players for about 10 to 15 minutes in an auditorium of the football facility. Standing at a podium, he told them he was leaving and broke down in tears.
Players gave him a standing ovation when he walked out.
Junior quarterback Stephon Morris said some players also were nearly in tears as Paterno spoke.
"I still can't believe it," Morris said. "I've never seen Coach Paterno like that in my life."
Asked what was the main message of Paterno's talk, Morris said: "Beat Nebraska."
The retirement announcement came three days before Penn State hosts Nebraska in its final home game of the season, a day set aside to honor seniors on the team.
Penn State has bounced back from a mediocre 2010 season to go 8-1 this year, with its only loss to powerhouse Alabama. The Nittany Lions are No. 12 in the AP college football poll.
"It's something that's been talked about a lot, it's all over the place, but we as a team haven't really discussed it much," Michigan offensive lineman Patrick Omameh said. "We're just trying to keep our focus on the task at hand, and that's Illinois this week.
The Associated Press contributed to this report.
Kyle Meinke covers Michigan football for AnnArbor.com. He can be reached at 734-623-2588, by email at kylemeinke@annarbor.com and followed on Twitter @kmeinke.