Posted on
Tue, Apr 24, 2012 : 5:58 a.m.
Steve Watson sets Michigan football record for positions played, looking for just 1 in NFL
By Kyle Meinke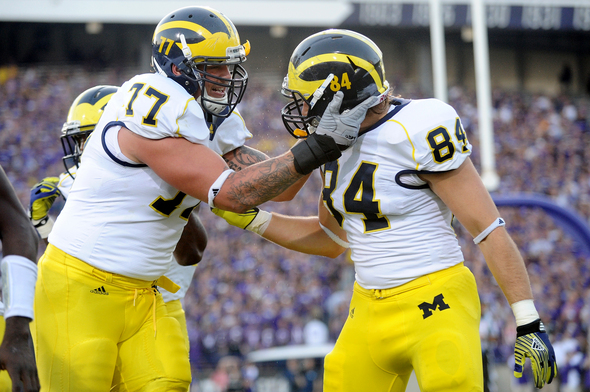 Melanie Maxwell | AnnArbor.com
Steve Watson's friends cut grass to earn spending money when they were kids growing up in Denver. Others babysat at the neighbor's, or got a paper route.
Not Watson.
He was a ball boy for the Denver Broncos, who employed his father, Steve Watson Sr., as an assistant coach. He patrolled the sidelines on game days, sometimes holding the cords to the coaches' headsets. When Ed McCaffery got a new pair of cleats, Watson would grab them and run laps to break them in.
He even was the door guy for the craps games in Shannon Sharpe's room during training camp.
"It was like a dream, man," Watson said recently. "You see it in movies, or whatever, but I lived it. Shannon was my idol growing up, a Hall of Famer, and then there he was. Eddie Mac, him and I were close. I remember getting weightlifting tips from Bill Romanowski."
Watson eventually bloomed into a big-time tight end himself at nearby Mullen High School -- he was ranked among the top 20 players in the country at his position -- and signed to play for the Michigan football team.
He prepared for the Wolverines' preseason camp by catching passes from quarterback Jay Cutler.
"I was going to be like my idols," Watson said. "I thought I was on my way."
Then, life happened.
Watson had to redshirt his first season after injuring his knee. Then his coach, Lloyd Carr, retired and was replaced by Rich Rodriguez, who didn't feature tight ends in his offense.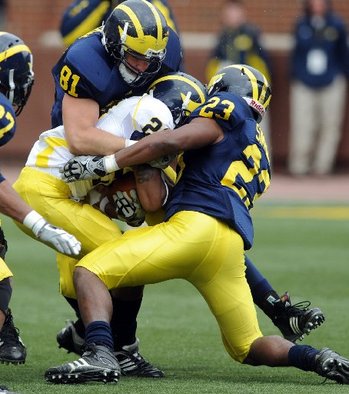 AnnArbor.com file photo
Watson went on to play a dizzying five positions at Michigan -- moving from tight end to linebacker to defensive end to defensive tackle to fullback and then back to tight end.
He played in games at all five positions. That's believed to be a modern school record, according to Michigan historian Greg Dooley of MVictors.com.
It's not the kind of history Watson expected to set when he joined the Wolverines, thinking he was on the inside track to joining his idols in the NFL.
"It's frustrating," he said. "You try to say it's not, that it's not hard at all. That you did the right thing, because it was for the team.
"But damn, when you really start to feel like you're getting good at something, and then to have to learn everything all over again (at a new position), and you're standing on the sidelines watching everyone else, that's hard, and it'd be a lie to say it wasn't."
With 22 spots for 115-plus players, and only one football, it's a reality that some players rise into the limelight, and most fade into footnotes. Watson became the latter, while classmates such as defensive lineman Mike Martin and center David Molk carried Michigan to an 11-2 record as seniors.
Martin now is the Wolverines' most attractive prospect for this week's NFL Draft, which runs from Thursday through Saturday. He is projected to be selected in the second or third round, with Molk expected to be land somewhere in the middle to late rounds.
Receiver Junior Hemingway and tight end Kevin Koger also could be selected. Otherwise, they will be priority free agents.
As for Watson?
His NFL aspirations took a hit as he bounced all over the field, becoming a jack of many positions but a master of none. Yet, he still has raw measurables that make him a desirable pro commodity.
That showed at the Wolverines' pro day last month, when Watson ran a 4.60-second 40-yard dash and posted 26 repetitions in the bench press. Both would have placed fourth among tight ends at the main NFL Scouting Combine in Indianapolis.
Watson has little shot of being drafted, but he said he has received heavy interest as a free agent from the Indianapolis Colts, Pittsburgh Steelers and Denver Broncos, as well as cursory interest from a handful of other clubs.
If he lands with an NFL team, it would be sweet vindication after his college career was derailed by a carousel of position changes.
It started in his first preseason camp with Rodriguez in 2008, when he still was hindered by the knee injury he suffered as a true freshman. He played poorly, and one day was called into offensive coordinator Calvin Magee's office.
"Coach Magee told me at the time, basically, that I had no chance of playing at Michigan at all, and that I basically sucked," Watson said. "He said, 'You can transfer, if you want to. I don't think you're ever going to play here.'"
Watson calls it the worst day of his career.
Then came that fateful day after the 2008 season when Greg Robinson was hired as Rodriguez's new defensive coordinator. He didn't have many connections to Ann Arbor, but Watson had known Robinson since he was a child growing up in Denver.
Robinson was a Broncos assistant from 1995-2000. His daughters even babysat Watson.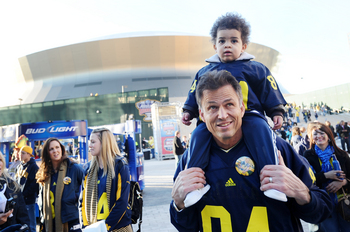 Melanie Maxwell | AnnArbor.com
Little did Watson know, though, that Robinson would change the course of his entire career by asking him to make that first position change, from tight end to linebacker.
"I didn't know what to do," Watson said. "I had never played defense before in my life. A lot of guys had transferred when Coach Rod got there, and I considered that too.
"But I talked with my dad. He said, 'You know, I think you should do this, because it's what is best for the team. Do it with everything you got, and earn yourself some playing time.'"
It didn't exactly work out that way.
Turns out, consenting to the first position change was a harbinger of things to come. He was later told to move to defensive end, then defensive tackle. And he wasn't the only one bouncing around, as Michigan's defense floundered.
"These coaches, I don't know what they were doing, but every week, they felt like because we were getting beat, they had to switch their strategy," Watson said.
When Brady Hoke was hired to replace Rodriguez before last season, Watson told him he wanted to return to tight end. Hoke originially granted the request, but had to rescind when fullback John McColgan suffered a concussion in camp.
Without a true backup, Watson again was on the move. He played three games at fullback.
When McColgan returned to full health, Watson finally returned to his natural position of tight end. He appeared in 10 games there, and started four as Michigan opened in two-tight end sets. They were the only starts of his career.
After shuffling between five positions, never playing more than a year at any of them, Watson's moment of glory came in the second week of the Big Ten season, when Michigan traveled to Northwestern for its first road game of the year.
Watson scored the Wolverines' first touchdown on a 9-yard pass from quarterback Denard Robinson. It turned out to be the only catch of Watson's career.
"I was screaming, I was jumping. I remember thinking 'Hell yeah!' At least, I thought I was doing all this," Watson said. "But apparently, I didn't say a word. Kevin Koger still says I'm the first person he's ever celebrated with in the end zone who didn't say a word.
"The amount of stuff that was going through my head at the time, and the amount of stuff I had gone through in my past, it was just like a giant weight had been lifted off my shoulders. I almost get emotional thinking about it right now. And I guess I didn't realize it, but I just stood there."
Watson has been humbled in his journey. And hardened. The machinery of college football was not kind to him.
Do the pros await? He's a long shot, but long shots sometimes deliver.
Watson only has to look across the dinner table to see one. His father wasn't invited to any postseason workouts or games after his senior season at Temple in 1979, and he thought his career was over. He went to Florida on vacation with friends, ready to move on with his life.
But then he received a call, after a receiver was injured just a couple days before the Shrine Game. So he flew to Palo Alto, Calif., where he happened to catch the eye of a scout.
He went undrafted, but signed as an undrafted free agent by the Broncos. He got his first bit of action when he happened to be standing next to Denver coach Dan Reeves when another receiver suffered an injury.
"Coach Reeves turns around, he looks at me, he looks behind me, he looks to the other side of me and then with this look -- and I remember this like it was yesterday -- it was a look, like, 'I can't believe I have to put you in there, but get in there,'' Watson said.
"If it hadn't been for Rick Upchurch getting hurt, I'd just be a memory."
He went on to become the fifth-leading receiver in Broncos history.
The younger Watson knows his chances are slim of ever making it in the pros. But that's all he's seeking.
A chance.
"I took some shots throughout my career," Watson said. "I went from thinking I was a great player to wondering whether I could survive. But I was never going to give up on the thought I was going to make it."
Kyle Meinke covers Michigan football for AnnArbor.com. He can be reached at 734-623-2588, by email at kylemeinke@annarbor.com and followed on Twitter @kmeinke.