Posted on
Sat, Dec 31, 2011 : 5:59 a.m.
Michigan receiving corps is a 'nasty crew' because of their punishing blocking style
By Kyle Meinke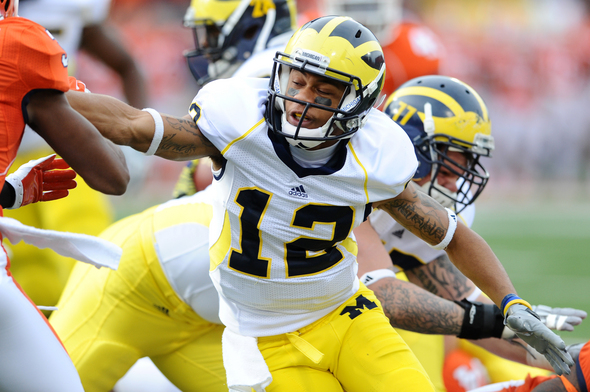 Melanie Maxwell | AnnArbor.com
NEW ORLEANS — Michigan receivers coach
Jeff Hecklinski
looked around the film room before the Nebraska game, and made a simple request.
"'Hey, somebody needs to knock (star linebacker LaVonte David) out of the game,'" recalls Roy Roundtree. "'Who's it going to be?'"
"We all looked around like, 'Challenge is in the air'" Roundtree said.
It was the junior who answered the call.
"It was a screen play, and I went to go crack him, and I got him good," Roundtree said Friday during the team's bowling trip to Mid City Rock 'n' Lanes in New Orleans. "He ran off to the sideline, took his helmet off and took a knee.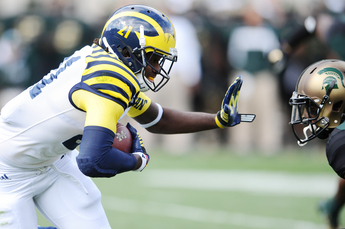 "He was out for about two plays, and we ran it up the middle for a touchdown. So, I guess I did my job."
The Michigan football team's receivers have posted diminished stats almost across the board this year, with only receiver Jeremy Gallon exceeding expectations among the regulars.
Roundree's numbers have plummeted the most, going from a 72-catch, 935-yard season a year ago to just 18 catches for 345 yards this year.
The Trotwood, Ohio, native had the worst statistical season of his career — including his freshman season, when he grabbed 32 passes for 434 yards and three scores.
That decline is a function of a lot of factors outside of Roundtree's control, such as the change in offense and the often-erratic passing of quarterback Denard Robinson.
There also has been a greater emphasis on the running game, where Michigan has two 1,000-yard rushers for the first time since 1975. That means there were fewer opportunities for the receivers as a group, not just Roundtree.
Senior Junior Hemingway led the Wolverines with 32 catches for 636 yards and two touchdowns.
But to the receivers, there is more than one way to judge their performance, and they've maintained all year that, to them, blocking their position is just as important — or more important — than racking up receptions.
In fact, the only statistical goal they set for themselves weekly is for "pancake blocks," which tracks the number of defenders knocked on their butts.
Such as the one Roundtree delivered on David.
"If it's a run, we're gonna block 100 percent every time and try to embarrass the DBs and try to put them on their back," Hemingway said. "We try to be a nasty crew, try to be the best blocking receiving corp in the nation and, when it's time to make our plays in the receiving game, we can do that too.
"We're just multi-dimensional when it comes to playing receiver."
Virgina Tech has noticed, and is bracing for, that dimension when the teams square off Tuesday in the Sugar Bowl (8:30 p.m., ESPN).
"They're not good blockers, they're great blockers," Hokies defensive coordinator Bud Foster said.
Roundtree said they're great at it because of the new coaching staff's emphasis on blocking.
"Coach Hoke emphasized if you don't block, you're not gonna play," Roundtree said. "So, I'm not one of the biggest guys, but I'm going to go out there and block my tail off … marking sure no one touches my quarterback or my running back."
Kyle Meinke covers Michigan football for AnnArbor.com. He can be reached at 734-623-2588, by email at kylemeinke@annarbor.com and followed on Twitter @kmeinke.