Michigan wide receiver Darryl Stonum wants to prove he is prepared to live up to big-play potential
Posted on Thu, Sep 2, 2010 : 11:38 a.m.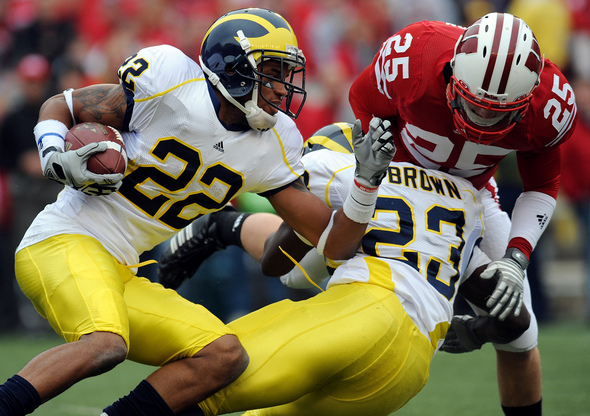 Darryl Stonum's big-play potential has traditionally come in small spurts rather than the steady stream his Michigan football coaches would prefer.
His 27 career receptions are a mixture of routine short-yardage efforts peppered with the occasional jaw-dropping offensive explosiveness.
Since the end of his sophomore season, Stonum has been driven to prove himself as a reliable playmaker. But rather than limit his production to himself, he is determined to take the rest of the Wolverines' corps of outside receivers to a higher, eye-catching standard.
"I think a lot of people have the misconception that this offense is mostly about the slot and the running backs and the quarterbacks running," Stonum said this week. "And we kind of take that to heart.
"In camp, we wanted to prove to the coaches that we could be go-to-guys and that we can make those big plays and that we can produce."
Last season, Stonum watched as the bulk of Michigan's passing offense ran through senior Greg Mathews and freshman Roy Roundtree, who combined for 61 catches and 786 yards and three touchdowns. At times, he struggled to break out of his teammates' shadow, making more of a name for himself on special teams.
Stonum sparked Michigan's early-season upset of Notre Dame with a 94-yard kickoff return. But when the Wolverines' comeback required a dramatic cap, it was Mathews who was called upon to make a catch in the back of the end zone, motivating Stonum to work harder to eventually play a more significant role.
He arrived at fall camp in shape and began catching passes more consistently than at any other time during his career. For the first time, he grasped not only the basics of Michigan's offense, but understood the intricacies the system.
"It's a great feeling to be in the meeting rooms when the coaches teach the younger guys and we're sitting there like, 'Oh, I already know that,'" Stonum said. "Now, I'm starting to understand why coaches call certain plays. I'm getting comfortable on offense to know why they call a certain play against a certain defense. Instead of them calling a play and me just running it, I understand where I need to be and I understand my job."
His hard work has paid off. Along with being among Michigan's most experienced receivers along with Matavious Odoms and Junior Hemingway, Stonum is along the Wolverines' most respected.
But like with his receiving responsibilities, leaving a positive impression on his coaches required work.
In early June, Stonum spent three days in the Washtenaw County Jail for a probation violation stemming form a 2008 charge of operating a vehicle while visibly impaired.
"I know I haven't been the greatest off the field, but I'm trying to improve on that," Stonum said. "I'm glad all that's behind me. It was just something I went through in the past, and we've decided to leave that in the past and look forward to the future."
Rodriguez has noticed a marked difference, both in the way Stonum handles himself and in the way he has worked to become more consistent. Rodriguez characterizes Stonum as a more mature receiver who has demonstrated the traits he expects out of a third-year player.
"This is the most consistent we've had Darryl on a day-to-day basis," Rodriguez said this week. "He's going to be a big factor for us. He's a very talented guy that has a renewed sense of hunger."