Posted on
Thu, Apr 8, 2010 : 6:23 a.m.
Kelvin Grady splitting time between slot receiver and running back
By Michael Rothstein
The ever-evolving career of Kelvin Grady appears to be making another, this time smaller, twist.
The former Michigan basketball point guard-turned-football slot receiver is spending part of Michigan's spring football practice at running back.
"I think his true love is tailback," Michigan coach Rich Rodriguez said. "So we're doing a little bit of both."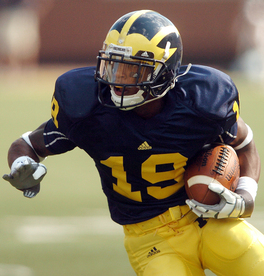 Melanie Maxwell | AnnArbor.com
The 5-foot-10, 167-pound redshirt junior caught 10 passes for 102 yards and a touchdown last year, his first playing football since he starred at East Grand Rapids High School as he transitioned from football to basketball.
It is unknown whether Grady will continue to play basketball at Michigan. He spent his first two years on scholarship for basketball with the Wolverines, left the team after last season and ended up on a football scholarship.
Midway through the 2009-10 basketball season, Grady returned as a practice player, sharing a locker in Michigan's lockerroom, but never dressing or sitting on a bench during a game due to hours restrictions.
Rodriguez said he doubted Grady would return to basketball in 2010-11, but wasn't sure of what Grady was going to do.
The third-year Michigan football coach's philosophy on dual-sport athletes, though, is simple - if they contribute, they can play.
"My philosophy on guys playing other sports is as long as they can handle it academically, first off, and then two, if they are contributing," Rodriguez said. "If they just out there on another team and at the end of the bench and not scoring or contributing in a meet or a game, then they ought to focus on the sport they are contributing. That's just a personal philosophy.
"If they are contributing and playing and helping and scoring points, whether it is track or basketball or what have you, that's fine."
Michael Rothstein covers University of Michigan basketball for AnnArbor.com. He can be reached at (734) 623-2558, by e-mail at michaelrothstein@annarbor.com or follow along on Twitter @mikerothstein.