Posted on
Wed, Nov 17, 2010 : 2:55 p.m.
Kicker likely to remain same for Michigan football team, Denard Robinson nears record and Wolverines injury report
By Pete Bigelow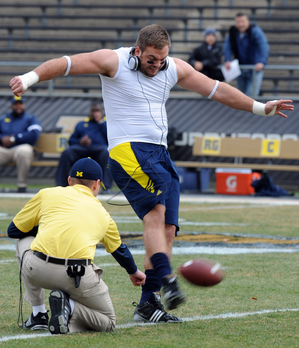 Melanie Maxwell | AnnArbor.com
As he watched defensive tackle Ryan Van Bergen practice field goals during warm-ups before last week's game against Purdue, one thought ran through Rich Rodriguez's mind.
"I hope he doesn't hurt his toe," Michigan's coach said Wednesday.
Translation: No, Rodriguez has never seriously considered augmenting his kicking rotation with Van Bergen, who kicked at Whitehall High School before concentrating on defense.
For now, Rodriguez said Wednesday that he's still inclined to keep Seth Broekhuizen as the Wolverines' starting kicker after watching him compete against Brendan Gibbons in practice this week.
That endorsement came with a caveat: Rodriguez will not make a final decision for Saturday's game against Wisconsin (noon, ESPN) until pre-game warm-ups.
In the meantime, both kickers will alternate working with the first team during practice.
Broekhuizen missed a 42-yard field-goal attempt and an extra point against the Boilermakers. On the season, the two kickers have combined to make four of 12 attempts, including 0-for-4 beyond 40 yards.
"The frustrating part with me and the athletes is that they've done really well in practice," Rodriguez said. "Seth, I have a lot of confidence in him, and Brendan has had his moments as well."
Robinson nears a record After rushing for 68 yards against Purdue, Michigan quarterback Denard Robinson stands closer to the all-time college football record for rushing yards by a quarterback in a single season.
He enters Saturday's game 77 yards shy of former Air Force quarterback Beau Morgan, who ran for 1,494 yards in 1996.
Robinson ranks as the nation's second-leading rusher. He has 1,417 yards on the season, and trails Oregon's LaMichael James by 5 yards.
Injury report Defensive tackle Mike Martin (ankle) practiced fully Tuesday, and is expected to be ready for Saturday's game. Linebacker Jonas Mouton (chest) has still been limited in practice, but Rodriguez also expects him to play against Wisconsin.
The only other concerns for the Wolverines are left tackle Taylor Lewan and running back Michael Shaw, who both displayed symptoms consistent with a concussion Saturday.
Rodriguez didn't know when Lewan was injured, but thought it might have come in the first half.
Early against the Boilermakers, Lewan, 6-foot-8 and 294 pounds, scooped a Vincent Smith fumble off the soggy field and rumbled for an 11-yard gain.
"He was laughing with the guy yesterday about that, how he was keeping it high and tight," Rodriguez said. "He probably heard me yelling at him to get down. But he is a good athlete."
Quotable "It goes fast and slow at the same time. You think about all these things that happened, and it's like I did a lot here. But at the same time, you feel like you just got here and you remember it so vividly." - senior left guard Steve Schilling, who will play in his final career home game Saturday. Pete Bigelow covers Michigan football for AnnArbor.com. He can be reached at (734) 623-2556, via e-mail at petebigelow@annarbor.com and followed on Twitter @PeterCBigelow.