Posted on
Mon, Aug 1, 2011 : 2:41 p.m.
Freshman Matt Wile may be answer for Michigan football team's wobbly kicking game
By Kyle Meinke
CHICAGO — First-year Michigan coach Brady Hoke has no qualms with playing true freshmen if they give him the best chance to win football games.
That just might be the case at kicker this season.
Matt Wile is ranked the No. 4 kicker in the country among incoming freshmen, and could help shore up the Wolverines' woeful unit, which finished 120th out of — yep, you guessed it — 120 teams last year.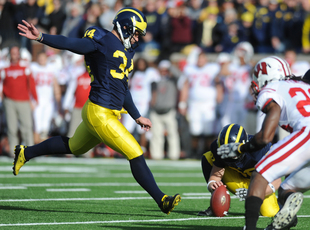 File photo
Would Hoke have any reservations playing the true freshman for Michigan's season opener Sept. 3 against Western Michigan?
"No, not really," he said. "You know what? He'll grow up fast, and that's part of it. From what I know about Matt, and obviously we know him pretty well, he's got some sand to him, and that's good."
Kicker was considered one of the weakest positions on the roster at the end of last season — and then 2011 prospect Matt Goudis decommitted after Michigan fired Rich Rodriguez.
It didn't take long for Hoke to fill the spot, though, and he did so with something of a familiar face.
Wile is from San Diego, and Hoke coached the past two seasons at San Diego State. Wile's father was a doctor for the Aztecs and attended Michigan.
Wile, who will be a fifth-generation Michigan student, made nine of 11 field-goal attempts with a long of 48 yards as a junior, and was 10-of-13 with a long of 49 yards as a senior at Francis W. Parker in San Diego.
This certainly is a logical fit for the kid with a big leg, but coaches are wont to preserve the psyche of their kickers. A few bad games have a way of affecting long-term performance with some young kickers.
LIVE CHAT ON FRIDAY
The
Big Ten football media days
are behind us and the first day of fall practice is just around the corner. Seems like an ideal time to host a live chat.
Come back to AnnArbor.com at noon Friday to discuss the upcoming Michigan football season with beat writer Kyle Meinke.
Hoke knows this.
"Kicking on State Street's different than kicking on Main Street, and we got to make sure … how (players are) going to perform when there's 110,000, 113,000 people," he said. "There's a psychology to all of it."
Still, Wile will at least be given a shot to earn the kicking duties because of the lack of depth at that position.
The Wolverines return both of last year's starters — but that isn't necessarily a plus when the pair made just four of 14 field-goal attempts, last in Division I.
Sophomore Seth Broekhuizen was the team's leader, and was 3-of-9. Sophomore Brendan Gibbons was 1-of-5.
Things became so harrowing, Rodriguez was forced to go for it on fourth down more than he would have liked — even with his team within reasonable field-goal range — and even staged an open tryout to students in the middle of the season.
Gibbons was a well-respected recruit coming out of high school. Scout ranked him the No. 11 kicker in the country, and he was 8-for-8 with a long of 51 yards as a high school senior.
Things snowballed for Gibbons, though, and for Broekhuizen, a walk-on from Holland.
Michigan now must try to restore confidence in its kicking game.
"You have to," Hoke said. "I was talking to (Nebraska coach) Bo Pelini, and he had to build a confidence in his defense. And we have to do that too (with the kicking game).
"The only way you build that confidence is you make the kicks. At the end of the day, that's where it comes through."
Who gets the first shot at making those kicks?
Fall camp starts Aug. 8.
Kyle Meinke covers Michigan football for AnnArbor.com. He can be reached at 734-623-2588, by email at kylemeinke@annarbor.com and followed on Twitter @kmeinke.