Posted on
Mon, Sep 20, 2010 : 5:42 p.m.
Left tackle job up for grabs on Michigan football team, Tate Forcier still in this year's plans and more
By Pete Bigelow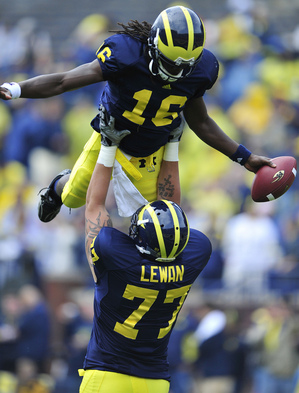 Melanie Maxwell | AnnArbor.com
As a long-time friend,
Craig Roh
is happy to see teammate
Taylor Lewan
climbing up the depth chart of the Michigan football team. As his practice opponent, it means some frustration.
"He's finding a happy medium between being aggressive and holding a lot," said Roh, who attended Chaparral High School in Scottsdale, Ariz., with Lewan.
Coaches like that aggressiveness.
Lewan, 6-foot-8 and 294 pounds, played the last 20 offensive snaps of the UMass game at left tackle, and he could unseat Mark Huyge as the starter there.
"He's played well, to the point that it's Huyge or Lewan," coach Rich Rodriguez said Monday. "That's definitely to be determined later in the week." In summer camp, Lewan, a redshirt freshman, saw action at both right and left tackle. But since the start of the season, he's exclusively worked in practice on the left side of the offensive line.
He debuted against Notre Dame, playing all of one play. Against UMass on Saturday, he got his first significant playing time -- and taste of the Big House crowd.
"It felt great," Lewan said. "You never realize what it's like until you're in front of 100,000 fans. … I'm excited to keep playing."
Bowling Green QB doubtful
When Bowling Green comes to Ann Arbor on Saturday, it will likely be without one of its most productive players.
Redshirt freshman quarterback Matt Schilz, who started the first three games of the season, suffered a sprained shoulder in the Falcons' 44-28 win over Marshall and is unlikely to play against Michigan.
"It's a little bit of a fluid situation," Bowling Green head coach Dave Clawson said. "It depends on where Matt is. My guess is that he's not going to be available this week."
Schilz has completed 70 of 108 passes for 664 yards, two touchdowns and four interceptions this season. His replacement, 6-foot-6 redshirt sophomore Aaron Pankratz, went 5 of 8 with a touchdown and an interception against Marshall.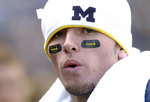 Forcier remains part of plan
Despite the fact one quarter of the season is gone and Devin Gardner is the only backup quarterback to see action this season, Rich Rodriguez says Tate Forcier remains part of his 2010 plans.
Asked Monday if he would consider red-shirting the sophomore who started all 12 games last season, Rodriguez said, "No, Tate is probably in the mix still to play. I've been pleased with his attitude, and he's still getting better, as is Devin."
Rodriguez anticipates there will be situations where the Wolverines use multiple quarterbacks in a game. He just hasn't had the chance yet, given the way the first three games have transpired.
Injury report
Rodriguez expects freshman safety Marvin Robinson will play against Bowling Green. Hybrid safety-linebacker Carvin Johnson is questionable. Linebacker Brandon Herron remains doubtful.
Running back Fitzgerald Toussaint didn't play against UMass, but is probable for the Bowling Green game. Rodriguez hopes to add Toussaint, Michael Cox and/or freshman Stephen Hopkins to his running back rotation.
A matter of personal preference
Doug Rogan replaced Drew Dileo as the Wolverines' holder on field-goal attempts and extra points Saturday. Rodriguez said the change was a matter of personal preference.
Brendan Gibbons, who kicked for Michigan for much of the first two games, likes working with Dileo, while redshirt freshman Seth Broekhuizen prefers Rogan.
Pete Bigelow can be reached at (734) 623-2556, via email at petebigelow@annarbor.com and followed on Twitter @PeterCBigelow.