Posted on
Tue, Jan 17, 2012 : 5:59 a.m.
Like his mentor LaMarr Woodley, Michigan football recruit Ondre Pipkins could play right away
By Kyle Meinke
Related story: Pipkins surpasses Kyle Kalis as Michigan's top football recruit, according to Rivals' latest ranking

The Michigan football team graduates three of its four starting defensive linemen, which means a lot could be put on the young shoulders of incoming freshman Ondre Pipkins.
Some already are penciling the defensive tackle into the lineup, with starters Mike Martin and Will Heininger departing. He's hearing the same thing.
Including from his future boss, Wolverines defensive coordinator Greg Mattison.
"Talked to Coach Mattison today, he said I could come in and start right away," Pipkins said in an interview last week. "He said I'm going to play right away. I'm hearing that a lot."
MEET ONDRE PIPKINS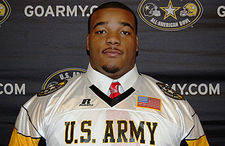 Courtesy U.S. Army All-American Bowl
When asked what he liked to do with his free time, Michigan recruit Ondre Pipkins (@PeeWee9456) first mentioned tweeting, and he's proven to be prolific on the social-media platform.

He recently answered fans' questions for nearly six hours, providing a snapshot of his personality off the field. Some highlights:

Planned arrival in Ann Arbor: June.

Planned major: Business administration.

Closest friends in 2012 class: James Ross, Royce Jenkins-Stone.

Favorite Michigan memory: LaMarr Woodley returning a fumble for a touchdown against Notre Dame in 2006.

Michigan number: 56 (in honor of Woodley).

Players he's most excited to play with: Will Campbell and Kenny Demens.

Weirdest thing he heard from a recruiter: "I like big, angry black guys on my D-line."

Pregame playlist: Pop Evil's "In The Big House," Young Jeezy's "The Real Is Back," T.I.'s "Look What I Got," Jadakiss' We Gonna Make It," LL Cool J's "I'm Bad" and NWA's "F*** The Police" and "Straight Outta Compton."

Favorite NFL team: Pittsburgh Steelers.

The only returning starter on the defensive line is weak-side end Craig Roh. The top candidates to play tackle will be the inconsistent Will Campbell and inexperienced Quinton Washington. Coaches are high on both, but neither has yet proven he can be a full-time starter.
Coaches can't comment on recruits until they sign letters of intent, but it's clear Pipkins will challenge Campbell and Washington for snaps. At 6-foot-3 and 320 pounds, he's considered one of the most college-ready recruits in Michigan's 2012 recruiting class, and he plays a position that has been decimated by turnover.
Related: Get to know the members of the Michigan football team's 2012 recruiting class
It seems Pipkins will get a crack at matching his mentor, former Michigan great LaMarr Woodley, who played each game his freshman season and started two. He was named to the Big Ten's all-freshman team and went on to become one of the school's all-time best defensive lineman.
Pipkins preps in Kansas City, but, like Woodley, originally hails from Saginaw. His father, Al Pipkins, coached Woodley and former Michigan linebacker Roy Manning at Saginaw High.
"They're like family to me," Pipkins said.
Woodley, whom Pipkins first met when he was 3, went on become an All-American at Michigan and is an all-pro defensive end for the Pittsburgh Steelers.
Pipkins hopes to have a similar career arc, but adds, with characteristic bravado, that he also won't settle for simply being as good as the second-leading tackler in team history.
"My goal is to be better," Pipkins said. "That's what I'm aiming for."
Pipkins remains close to Woodley and Manning, who was an offensive graduate assistant coach for the Wolverines this season. They offered him guidance during the recruiting process.
"I can call (Woodley) and ask him questions on anything," Pipkins said. "He's just an awesome guy, and I'm glad to have him in my circle.
"Same thing with Roy Manning. I can call him any hours of the night. If I have a problem, I can call him and we just talk for hours. He's there for me."
It's no surprise, then, that Pipkins grew up a Michigan fan. Factor in his connections to the school and state (his father still lives in Saginaw), and it's little wonder the Wolverines were able to snag the burgeoning recruit, despite an impressive offer sheet that included schools such as Alabama, Florida, Ohio State and Oklahoma.
It's a good break for Michigan, as Pipkins is one of the fastest-rising prospects in the country. Ranked by Scout as the No. 188 overall recruit in April, Pipkins shot up to No. 65 in the latest player rankings released last week.
He was one of six players to earn a fifth star in Rivals' final player rankings, which were released Monday.
Pipkins is pegged as the No. 7 defensive tackle in the country, and was named a captain of the West team for the U.S. Army All-American Bowl earlier this month.
---
Pipkins showed off his personality in this video with
GoBlueWolverine.com's
Sam Webb at the U.S. Army All-American Bowl.

Kyle Meinke covers Michigan football for AnnArbor.com. He can be reached at 734-623-2588, by email at kylemeinke@annarbor.com and followed on Twitter @kmeinke.