Posted on
Tue, Nov 8, 2011 : 6:37 p.m.
Like Michigan, Illinois and Ron Zook working on fixing slow starts
By Nick Baumgardner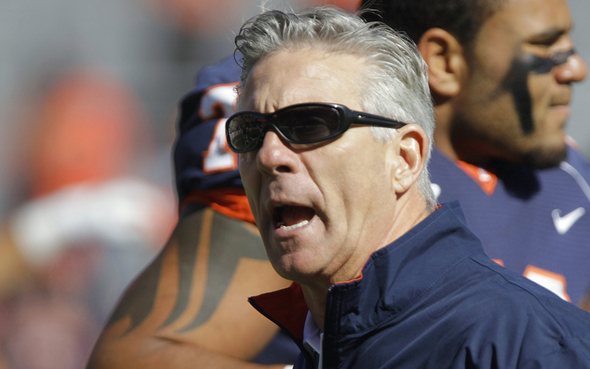 Associated Press file photo
The Michigan football team has struggled coming out of the gate of late, falling behind early in its last two games.
Its opponent for Saturday, Illinois, has been going through the same situation. The Illini have not scored a first-half point since beating Indiana on Oct. 8.
Much like Michigan coach Brady Hoke, Illinois coach Ron Zook has few answers for the issue.
"We have the first 12 plays that are pretty much scripted and they know what they're going to do and we've probably had more mistakes in those plays than we did once we got going," Zook said Tuesday during the Big Ten coaches teleconference. "I wish I had an answer."
Losers of their last three, the Illini spent last week going over their early-game issues, trying to break down what's gone wrong.
Against Ohio State on Oct. 15, Illinois fell behind 17-0 before finally scoring a touchdown late in the fourth quarter. In a loss to Purdue on Oct. 22, Zook and company went down 21-0 before putting up 14 points in the game's final eight minutes. And two weeks ago against Penn State, Illinois did in fact score first, but not until the 3:32 mark of the third quarter.
"We went back and broke all those things down and wanted to make sure our guys come out of the gates loose and ready to play," he said. "We wanted to take the pressure off them and just let them go."
Michigan has had similar woes this season, falling into holes early against Western Michigan, Notre Dame, Eastern Michigan, Northwestern, Purdue and Iowa.
The difference between Michigan and Illinois, though, has been the Wolverines' ability to rebound.
Michigan dug out of a 14-0 hole to beat the Fighting Irish, trailed by 10 at the break before knocking off Northwestern and allowed Purdue to score on the game's first drive before winning in a blowout.
The same can be said for the WMU (seven-point hole) and EMU (three-point hole) games. Michigan trailed early before ultimately recovering to win.
The only time Michigan hasn't erased an early deficit was last week, when it fell behind 17-6 early against Iowa in a 24-16 loss.
"This game's not going to be over until it's over," Zook said. "They had a chance (at Iowa) to win on the last play of the game. Every point you can get in this game, you're going to need to get it as soon as possible.
"But, again, it's not going to be over until it's over."
Zook said his lesson on playing a full 60 minutes shouldn't have to be harped on much this week, especially given last season's 67-65 triple overtime loss to Michigan in Ann Arbor.
The Illini led 45-38 with 11:35 to play in the fourth, but ultimately couldn't hang on, losing one of the more talked-about games in college football a season ago.
"It's not going to be over until it's over," Zook said. "(Michigan) is a football team that's come back several times, from the Notre Dame game on. They're not going to quit.
"And our team can't quit."
Nick Baumgardner covers Michigan sports for AnnArbor.com. He can be reached at 734-623-2514, by email at nickbaumgardner@annarbor.com and followed on Twitter @nickbaumgardner.