Posted on
Mon, Nov 22, 2010 : 12:15 p.m.
Live updates from Michigan football coach Rich Rodriguez's Monday press conference
By Jeff Arnold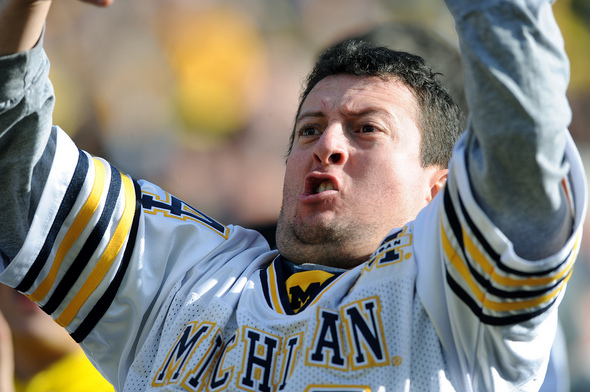 Lon Horwedel | AnnArbor.com
The Game is upon us.
Although the Michigan football team is bowl eligible at 7-4, Rich Rodriguez has yet to register a signature win during his tenure.
After Saturday's 48-28 loss to Wisconsin, the Wolverines conclude the regular season at No. 8 Ohio State (noon, ABC). Despite Saturday's loss when Michigan's offense sputtered for two quarters and the defense couldn't stop the Badgers' ground attack, Rodriguez said his team will put the performance behind it, motivated by its biggest rivalry game.
All three talking points were part of Monday's weekly meeting with the media.
Injuries remain a part of Michigan's story. Counting the players that are out for the year, Rodriguez said he has 20 players that could miss practice Monday.
Rodriguez said he is optimistic that everyone who missed Saturday's game against Wisconsin or that left the game should be cleared to play against Ohio State. Nose tackle Mike Martin should be able to return while Jeremy Gallon (shoulder) and Darryl Stonum (ankle) could play, but will undergo further testing before practice on Monday.
At stake
While Ohio State can keep its Big Ten championship hopes alive with a win, Rodriguez said the Buckeyes don't have more interest in the annual rivalry than his team. Rodriguez said a win Saturday would be big for Michigan's fan base, its seniors and its coaching staff.
"They may have more to play for bowl-wise, championship-wise, maybe they do have more at stake," he said. But to say it's less important? No. Never. Not Michigan-Ohio State."
Taking the points
Rodriguez was asked about the Wolverines being an 18-point underdog in Saturday's game and quickly brushed the question off. He said he doesn't even think about point spreads.
"What do I think about it?" he said. "I don't."
Rodriguez said he hasn't concerned himself with point spreads since he arrived at Michigan, focusing more on trying to make Michigan a championship team.
"I hope some day we're an 18-point favorite against everyone we play - how's that?" Rodriguez said.
Under the microscope
Rodriguez was asked if he believes the scrutiny surrounding him or his job security has changed since the Wolverines became bowl eligible against Illinois.
He said he hasn't paid attention to outside opinion - not in the past weeks - and not since he arrived. He said he lives in a world where everyone's got an opinion and compared his job to that of a politician.
"Everyone's got an opinion on how you do your job," he said. "That's life."
Rodriguez said he has never allowed what people think of him dictate how he goes about his business. He said whether he was contending for Big East championships at West Virginia or struggling to get things rolling at Michigan, Rodriguez said his current standing has never been based on what people think of him.
"I didn't get this job at Michigan by getting a lottery ticket that said, 'Congratulations, you're the coach at Michigan,' Rodriguez said.
Part of the routine
Rodriguez said the Thanksgiving holiday doesn't have much of an impact on his team's preparations. He said his players will enjoy a big meal with coaches and their famililies Thursday afternoon.
With no class Thursday or Friday, Rodriguez said he will adjust the time of practice Thursday before leaving for Columbus on Friday.