Posted on
Mon, Oct 25, 2010 : 12:11 p.m.
Live updates from Michigan football coach Rich Rodriguez's Monday press conference
By Jeff Arnold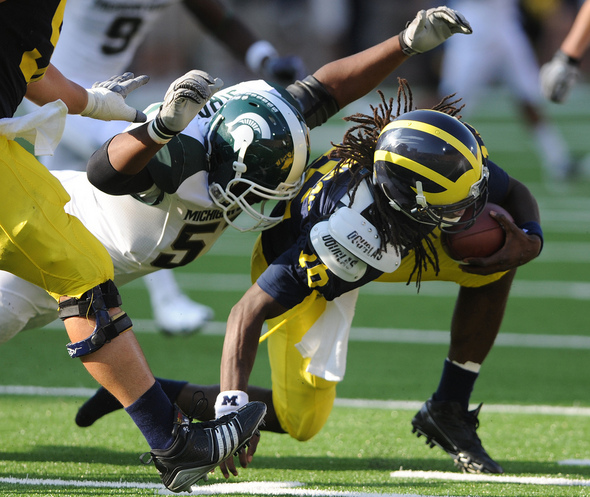 Lon Horwedel | AnnArbor.com
A week ago, Michigan football coach Rich Rodriguez said his team's off week came at a perfect time.
Quarterback Denard Robinson needed time to heal. The Wolverines' youngsters needed time to learn. Now, after two failed attempts to secure the season's sixth win, Michigan travels to Penn State Saturday (8 p.m./ESPN) trying to snap a two-game losing streak.
On Monday, Rodriguez sat down for his weekly press conference, talking about what the Wolverines accomplished in the off-week and what they'll need to do this weekend against the Nittany Lions.
Rodriguez said Robinson is fine "running-wise" and was limited in how much he threw over the three days Michigan practiced last week. Michigan's other injured players -- David Molk, Michael Shaw and Mike Martin -- also benefitted from the days off and should be fine for this weekend.
Will Campbell spent three days on Michigan's offensive line last week and "took to it fine." Rodriguez said Campbell will also spend time on the line this week and coaches will evaluate whether the move is permanent.
"When we recruited him, I thought this is a big guy that can move pretty well," Rodriguez said.
Rodriguez, who thought Campbell would make a good guard, approached the coaches about making the move to offense. He said the off week was a perfect time to try Campbell out at the new spot.
Talking about the Nittany Lions
Rodriguez said he thinks Penn State has grown up a lot since the start of the season. He believes the offense is better than it was. Quarterback Rob Bolden is a player Rodriguez said Michigan recruited. He was injured in last week's 33-21 win over Minnesota.

He believes with back-up Kevin Newsome in there, the Nittany Lions could run more, but he doesn't think who plays quarterback changes what Penn State does offensively.

Penn State's defense has shown only a shell of what its capable of doing. Rodriguez said he expects the Nittany Lions to be more healthy on that side of the ball, giving Penn State a full contingent of defenders.
Finally ready
Rodriguez said that running back Fitz Toussaint should be ready to go this week after dealing with a nagging shoulder injury. He said whether Toussaint plays Saturday will depend on what other backs show this week.
Fundamentally speaking

Rodriguez said "it certainly was our intent" to improve fundamentally but that he still didn't devote a lot of time to work on tackling. He said working on tackling during the season leaves the potential for injuries to sneak in. But, overall, he doesn't believe tackling is the biggest issue with Michigan's defense.
"Our tackling hasn't been great, but it hasn't been that bad," Rodriguez said. "I think we've had trouble getting off blocks - using our hands, getting off blocks - I know we worked quite a bit at last week."
Killing time
Rodriguez said he has a strategy for keeping his players busy Saturday while they wait for the 8 p.m. kickoff. While part of the day will be spent watching other games, Rodriguez said he wants his players to focus on their own game and will blend the day by keeping them engaged, but also allowing them to walk around and relax.

When asked if players would walk around State College, Rodriguez said they won't be out in public, but he'll find a place to keep them active.
"It's not like we're going down there and tailgating," Rodriguez said.
Sense of urgency
Rodriguez was mildly amused by a question about whether he considered Saturday's game as critical, considering the results of the past two weeks. He reiterated that his players play and coaches coach as hard as they can regardless of who the opponent is.
"They're all critical. Every one of them is critical. One thing we want to make sure is that we have consistency in our approach. You work on things you need to get better, but as far as the approach goes, it stays the same," he said. "I'm amused when people ask me if we're going to try harder.
"C'mon, we're going to try as hard as we can and we're going to coach as hard as we can. It's like we say, 'OK, boy, this is an important game.' They're keeping score and we're playing someone else. We're going to try as hard as we can irregardless of who we play or where we play."
QB Talk
Despite the fact that he didn't play in the second half of Michigan's loss to Iowa, Denard Robinson remains the starting quarterback. Rodriguez said Tate Forcier has played well at times, but that Robinson remains the best choice.
Although he struggled at times against Michigan State and Iowa, Rodriguez said Robinson needs to get better at decision-making rather than forcing the issue like he did at times in the past two weeks.
"Sometimes you feel pressure to make a big play rather than just letting the game come to you," Rodriguez said. "There were some moments when he could have taken care of the ball better. They make mistakes - he's going to make more mistakes going forward. What you want to do is minimizing the major mistakes."
Rodriguez said that freshman Devin Gardner continues to work hard in practice, but is still a true freshman. He said he wants to keep three quarterbacks available so that he has viable options at the position if injuries suddenly become an issue.
Props to Jo Pa
Rodriguez said he's always had great respect for Penn State coach Joe Paterno, who he has known for several years. The two coaches have crossed paths on trips and on the recruiting trail.
Rodriguez said he's amazed that Paterno is still active at his age and that he continues to do big things for his program. Paterno brings a career record of 398-132-3 into Saturday's game.
But there will come a time on Saturday when Rodriguez knows Paterno is the coach he's trying to beat.
"Joe Paterno has brought and continues to bring Penn State football into the limelight," he said. "But when we kick it off, it's our guys against their guys and we'll do our best to try and win the game."
Now at the podium...
Linebacker Craig Roh said he feels refreshed after the off week, adding, "It's nice to get out of the pressure cooker for a little while." He said the Wolverines made the most of the off week -- not only to heal up from bumps and bruises but to improve on fundamentals.
Although the improvements Roh and Michigan's coaches have seen haven't translated to a really solid defensive performance, he thinks it's coming. He said his teammates -- especially the inexperienced ones -- have taken steps in making better reads and breaking on the ball faster.
"We've been making steps. we've been improving. It's just how quickly does it show up on the field in a big way," Roh said. "You can see things that we're doing differently than we were doing at the beginning of the year. So it's getting better. We have a lot of guys that want to be really good."
Small steps
Running back Vincent Smith said while the off week provided the Wolverines a chance to rest up, he said it was also critical in offensive players work on technique and other aspects of taking care of the ball better. The Wolverines turned the ball over five times in losses to Michigan State and Iowa and Smith said eliminating those mistakes was a big part of the Wolverines' three days of practice during the off-week.
"The bye week helped us look at all the mistakes we had, to correct them and make sure we don't let them happen again," he said.
All smiles
Quarterback Denard Robinson brought his mega-watt smile to Monday's press conference and said he is fine health-wise. Robinson said he used the off week to relax, hang out and "sleep a lot." Robinson wouldn't use his injured shoulder as an excuse for the interceptions he has thrown in the past two games and said the injury didn't impact how hard he was able to throw.
He said he underwent treatment on his bruised shoulder almost every day and that he feels "100 percent" and is "ready to rock."
Robinson gave a passionate post-game speech to his teammates after the Michigan State game, but said he doesn't expect him being a vocal part of the locker room to become a regular part of his role. He said he spoke up because he doesn't want to see this year become a rerun of last season when the Wolverines finished 1-7 in Big Ten play.
"I don't like talking at all - I would rather lead by example," Robinson said. "I would rather show them -- and I don't want anybody to put their head down in the locker room and so that's why I said something."