Posted on
Mon, Nov 1, 2010 : 12:17 p.m.
Live updates from Michigan football coach Rich Rodriguez's Monday press conference
By Jeff Arnold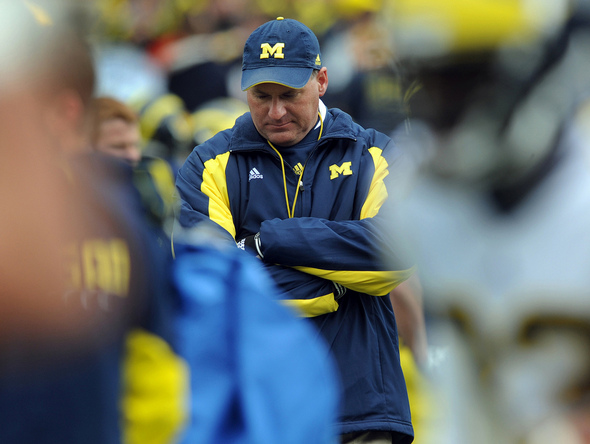 Lon Horwedel | AnnArbor.com
Another week. Another disappointing defensive showing and, more importantly for the Michigan football team, another step in the wrong direction.
The Wolverines' 5-0 start is a distant memory as they are left to regroup heading into Saturday's home date with Illinois (noon, ESPN). Despite another impressive individual performance from quarterback Denard Robinson, Michigan's defensive issues proved too taxing in the latest setback at Penn State, a 41-31 loss.
On Monday, coach Rich Rodriguez sat down with the media and as one could imagine, his team's defense was a popular topic of discussion.
Rodriguez said he felt the personnel changes he made last week defensively worked - both in the short-term and for the long-term. By moving Cam Gordon to the hybrid position and moving Ray Vinopal to the free safety spot, Rodriguez feels like he's got better people in place in those positions.
But as a whole, there is obviously plenty of work to do. He said while his defensive staff continues to work with young players, he said much of the improvement will happen in the off-season. He said there has been "spots" of improvement, but nothing that has helped the Wolverines as a unit on Saturdays.
"Everyone's frustrated on the defensive staff, but we'll work on our issues and keep working to get better," Rodriguez said.
"But it's it's always a collective effort when you win and it's always a collective effort when you lose. I've spent some more time (personally) with the defense, but I'm not going to be able to wave a magic wand and fix things."
Rodriguez dismissed rumors that changes are imminent with his defensive staff, but said he has a "critical view" of every aspect of his program every day. He said he met with the defensive staff Monday morning about some of the unit's issues and they have shifted their focus to prepare for Illinois.
Rodriguez said while injuries have dictated much of what he is able to to do, he is not considering making any more personnel moves defensively. He said as a whole, the Wolverines aren't fast enough or athletic enough.
He such much of that improvement comes in the off-season and through recruiting, but if he felt like he had players that would be better suited in different positions, he would have made those changes weeks ago.
Rodriguez said "it's hard to pin (the defensive struggles) on one particular thing" and that there is not one glaring issue or one player that hasn't performed well. He said at times, players have been "over-conscientious" and need to focus more on just getting into position and making plays.
The past is the past Rodriguez was asked if he worried about this season turning into a repeat of last year when the Wolverines finished 1-7 after winning four straight. Rodriguez, who has consistently said he isn't a revisionist, took a cut at the media, saying it was only intent on focusing on the negative. He compared the attention to reality TV, saying the ratings only go up when bad things happen. He said he doesn't expect his players to show up at Schembechler Hall stewing over ythe disappointments of the previous Saturday, but intent on preparing for what's upcoming. As for Rodriguez? He doesn't believe in dwelling on the past. "Last year is last year, last week was last week," he said. "Do y'all think about things you did a year ago? I don't have to think about it - everyone writes about it."
Denard healthy, other injury notes
Rodriguez said one of the positives from Saturday's loss was how well quarterback Denard Robinson played pretty well. He said Robinson was close to breaking a couple of long runs and that he left the game momentarily after landing on his hip on the sidelines. He said Robinson's knee bruise had bothered him in recent weeks adding to an injury with his throwing shoulder. Rodriguez said he believes Robinson is close to being back to 100 percent. Nose guard Mike Martin is expected to return practice this week and may be ready to go Saturday against Illinois. Rodriguez said running backs Michael Shaw and Fitz Toussaint may see more time in practice as they prepare for a hopeful return.
Back to defense
Asked if this year has been "eye-opening" as far as what he needs defensively, Rodriguez laughed, saying he knew what type of players he needs to be successful. He equated improving the defense to getting his offense where he needs it to be, repeating that some of the improvements are more long-term and won't be corrected this season. He said he didn't have a specific message to his defense when he pulled the entire unit over to the sidelines in the fourth quarter. He said he needed to "fire them up a little bit" and that he "was just being a coach."
Being a dad
Rodriguez said he doesn't try and shield his two kids from the fire he's been under, knowing that with all of the information that is available, his son and daughter understand that public criticism of their father goes along with the territory of being a coach at a nationally-recognized program. "They're more worldly than you would expect a 14 and 12 year old to be," Rodriguez said. "I've been a head coach pretty much their whole lives and so they've kind of grown up with this. They know what the deal is."
Sticking with the D
Defensive lineman Greg Banks said the time for talking has ended - we need to "be about it".
He said the defensive starters talked extensively about the improvements that need to be made. Banks said specifically, the Wolverines need to improve on tackling and third down efficiency and that the defense is working hard to solve some of their issues.
While the defense has been without nose guard Mike Martin each of the past two weeks, Banks said the unit as a whole is ready to finally make the changes. He said that defensive coordinator Greg Robinson's schemes work but that the defense needs to take more pride in their performance.
"He's putting us in position, but we're not executing," Banks said. "He's been around the game for years and he knows what he's doing. He's got the players to do it, but we need to do it."
Safety Jordan Kovacs said while the Wolverines practice daily on third-and-long situations, it's hard to simulate game-like situations in practice. The former walk-on said improvement in that regard will only come with game experience and that it remains a priority for Michigan's defense. As for the constant criticism of the defense, Kovacs said he doesn't pay any attention to any media - steering clear of newspapers and television coverage of Michigan's team. He said he and his teammates have enough incentive to get better without paying attention to what's being said or written about the Wolverines.