Posted on
Mon, Nov 8, 2010 : 12:32 p.m.
Live updates from Michigan football coach Rich Rodriguez's Monday press conference
By Jeff Arnold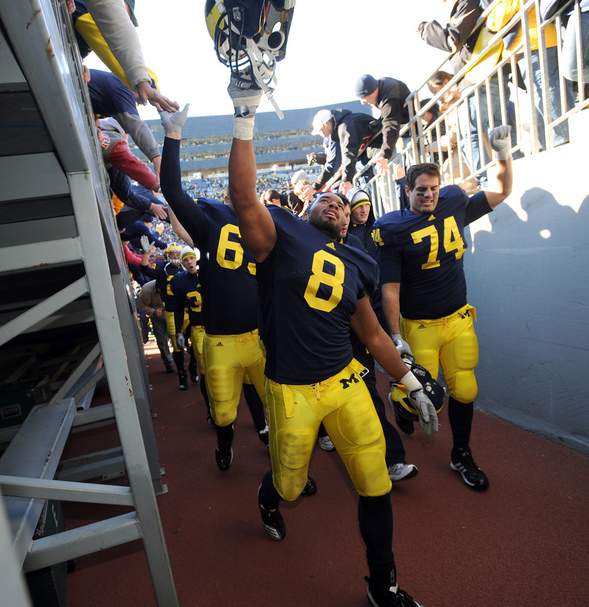 There was plenty to talk about Monday regarding Saturday's point-scoring-palooza when the Michigan football team became bowl eligible for the first time under coach Rich Rodriguez.
A 67-65 Wolverines' win provided plenty of storylines, whether it was Roy Roundtree's record-setting day, the Michigan defense's last stand and of course, everything that happened in between.
Rodriguez sat down for his weekly chat with reporters on Monday. And, oh yeah, there is still Saturday's game at Purdue to preview.
Rodriguez said that tests done on quarterback Denard Robinson, who left in the fourth quarter, came back negative and that the sophomore should be "good to go" as far as practicing goes.
Film did not clearly show when Robinson sustained the hit after which he experiencing dizziness and headaches. Rodriguez said there was signs that Robinson "wasn't all there" and that trainers made the decision to hold Robinson out.
Rodriguez said Robinson's knee and shoulder are doing better, and he saw evidence of both during Saturday's win. He said he noticed Robinson's throws were stronger than they had been and expects his quarterback to to be the healthiest he has been in weeks when Michigan faces Purdue on Saturday.
Rodriguez said when there's not much of a drop-off between starters and reserves, that's a sign of a good team. He said quarterback is one of those positions where he feels comfortable with who's out there and that the Wolverines are are getting there at running back.
Defensively, the Wolverines certainly aren't there, especially in the secondary, where Michigan continues to struggle with its youth. Rodriguez said Michigan simply blew coverages on the two scoring plays when Illinois quarterback Nathan Scheelhaase had open receivers on the same play.
"That's obviously something we need to continue to work on," he said.
On the injury front
Teric Jones sustained a torn ACL and will miss the remainder of the year. Jones suffered the knee injury on a first-quarter kickoff return. Nose guard Mike Martin, who limped off the field early Saturday before returning, will be fine.
Cornerback J.T. Floyd has undergone successful surgery and will begin rehabilitation as soon as he's able. Rodriguez said that defensive back Troy Woolfolk is out of his walking boot and although he hasn't begun working on his lower body, he is doing fine. Rodriguez isn't certain how ready his injured players will be for spring ball, but said all will be fine in the long run.

Going bowling
Michigan is bowl eligible with Saturday's win, reaching six wins for the first time under Rodriguez. Rodriguez said the bowl preparation time will be valuable for the future as well as returning the Wolverines to a postseason game for the first time since 2007.
Rodriguez characterized the locker room atmosphere on Saturday as exciting, not just because of the bowl-clinching victory, but because of the way the game played out in the end. But reaching the postseason, Rodriguez said, was a big moment.
"There's no question it's a sense of relief not only for our players and coaches, but especially for our seniors," Rodriguez said. "The chance to extend the season by one game is huge."
Growing pains

Saturday's win included a little of everything - including Michigan having to overcome five turnovers. Rodriguez said a couple of them may have been forced by Illinois' defense, but most were unforced. What impressed Rodriguez was his players didn't drop their heads.
"The biggest thing was that our kids kept competing," Rodriguez said. "From my vantage point, there was never a feeling of, 'Oh, we're in trouble'. So I think that's a sign that we're growing up."
Permanent moves
Rodriguez said Craig Roh's move from linebacker to defensive end will be permanent. The position is more of Roh's natural spot and where the sophomore played last year at 237 pounds. Roh is up to 250 pounds and is athletic enough to be effective at the end position.
Sticking with the defense, Rodriguez said tackling was "OK" but nothing better than that. He said Michigan's defenders - who gave up a record 65 points - struggled to get off blocks.
Extra time
Saturday's game was the third time Rodriguez has been involved in a triple overtime game. His teams improved to 3-0 in those games. Rodriguez said especially given the emotional way the game ended, he can't imagine trying to recover if the Wolverines would have fallen short.
"I cant imagine being on the other side of that," he said. "We have a hard enough time sleeping - I can't imagine how many plays you would be replaying in your head if you would have lost that game."
Moving on
Rodriguez echoed athletic director Dave Brandon's feeling that last week was a "good week" especially after the NCAA came back with its report, clearing Rodriguez of the most serious charge of its investigation
He said he and his staff are cognizant of timing in practice, especially as it reaches the daily four-hour daily limit.
"We have sirens going off and people are yelling, we have a countdown clock and when we get to 3:58 (of practice time), our coaches are running into the building," he said.
When reporters cracked up at Rodriguez's description of the end of practice, Rodriguez replied, "I'm serious."
On the defensive
Senior Ryan Van Bergen said he was exhausted after logging about 100 plays during Saturday's triple overtime thriller. He said he had nothing left, calling the moment surreal after the win.
He said although the defensive performance still wasn't where he wanted it, he said the defense "made tremendous strides". He said the defense finally feels like the unit has a swagger about it after finding ways to get off the field on third down on several occasions as well as winning a game that made the Wolverines bowl-eligible.
Illinois was 6-for-16 on third down conversions - a focal point Van Bergen said the Wolverines made a priority after feeling embarrassed about their third-down performance against Penn State.
Van Bergen said he hasn't been as excited to play a game as he is Saturday when Michigan's defense will look to build off of Saturday's win in West Lafayette.
Even so, there's still work to do.
"(Saturday) was a huge sigh of relief," Van Bergen said. "But we still have a lot of work we want to do. We're 2-3 in the Big Ten and that's not acceptable to us."
Just for kicks
Van Bergen was asked about Lions' defensive lineman Ndamukong Suh missing an extra point in the Lions' 23-20 overtime loss to the Jets on Sunday.
"Suh should be embarrassed for missing a 13-yard field goal," Van Bergen said.
He knows what he's talking about. Van Bergen was a kicker in high school at Whitehall and registered a career-high 46-yard field goal. He missed a 48-yard field goal that hit the crossbar.
He also kicked in the annual East-West All-Star game, but said he hasn't thrown his name into the ring to kick at Michigan, saying he can't kick off the ground.