Posted on
Sat, May 14, 2011 : 11:37 p.m.
Lloyd Carr's big Saturday night and $3.7 million for Mott Hospital nearly leaves him speechless
By Michael Rothstein
The cameras pointed at Lloyd Carr, flashing the old Michigan football coach's face on the big screen as the announcement came.
On a night where it was officially announced Carr would enter the College Football Hall of Fame, that wasn't even the biggest deal.
Nope, for Carr, the most important thing from Saturday came moments later. Carr's former players and current friends surprised him Saturday night by announcing Michigan booster Al Glick and his foundation had donated $3 million to Mott Children's Hospital to name the seventh floor in his honor.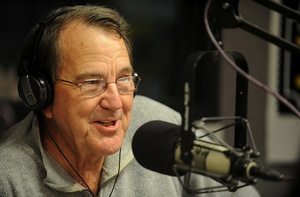 And then the players topped it by saying they had created a fund in Carr's honor — the Coach Carr Mountaintop Fund — and had already secured $750,000 in donations before Saturday's dinner.
"Oh, my God," Carr said, almost speechless as the announcements were read.
When he got up on stage at the Al Glick Fieldhouse soon after a standing ovation from the approximately 800 people in attendance Saturday, his emotions took over and Carr started to get choked up.
"I was really emotional, and when Steve (Hutchinson) read all those names, I thought it was over when they talked about the Hall of Fame," Carr said. "I knew about the Hall of Fame."
But the Mott Children's Hospital announcement shocked and touched him, especially as Hutchinson read off the lengthy list of names of players who contributed to the fund.
Champions for Children's Hearts Weekend
$3.7 million donated in Lloyd Carr's name
Carr's reaction: "I was really emotional"
Carr named to College Football Hall of Fame
WTKA Mott Takeover raises more than $100,000
Slideshow: The WTKA Mott Takeover
"Michigan Rivalry" package should draw big bids
Among them, Jake Long donated over $100,000 to the fund. Tom Brady and his wife, supermodel Gisele, donated over $50,000, as did current Michigan football coach Brady Hoke and his wife.
It left Carr almost speechless.
Carr and his wife, Laurie, had been instrumental in helping to have the new Mott hospital, which opens in November, built.
"All those car washes and the women's academy, I think they were positive not only for the hospital and the cancer, but it was positive for Michigan football," Carr said. "You let some people in the program and they got to get a good look, get exposed to the coaches and the players in a different, not after a game.
"So, I don't know. I think when you have an opportunity in a position like this, like the head football coach at Michigan, you have an opportunity to do some things outside."
Carr saw former Michigan coach Bo Schembechler raise money for the Millie Schembechler Professorship in Adrenal Cancer, and he remembered how Schembechler brought different people together for a cause.
Mott became Carr's cause.
"He was able to get people sold on (it) and that position is here at Michigan and will go on and on and on, so I think it is important," Carr said. "When you get involved in some of those things and you ask your players, the car wash was four or five hours on a Saturday and they came for the women's academy.
"Coaches gave up days off. You're asking people to do things."
Carr helped start all of it. Now, he'll also be a part of it forever.
Michael Rothstein covers University of Michigan basketball for AnnArbor.com. He can be reached at (734) 623-2558, by email at michaelrothstein@annarbor.com or follow along on Twitter @mikerothstein