Longtime U-M fan to have 'thrill of a lifetime' when great-grandson takes field for Air Force game
Posted on Fri, Sep 7, 2012 : 5:45 a.m.
Warren resident Stella Dreslinski attended her first Michigan football game in 1945, and has been a season ticket holder since the 1970s.
As her family grew through the years, she hoped to one day see one of her own down on the field.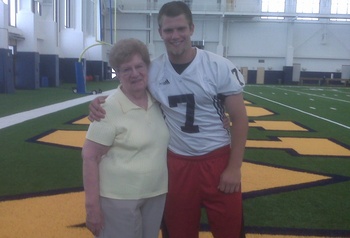 Photo courtesy of Ed Dreslinski
"One of her wishes, always, was to see the name 'Dreslinski' on the back of a football jersey in Michigan Stadium," said Clinton resident
Ed Dreslinski
, Stella's grandson.
That wish will come true on Saturday when Michigan takes on the Air Force Academy (3:30 p.m., ABC), though it won't be exactly how Stella envisioned it.
Stella's great grandson, Nate Dreslinski (Ed's son) is a sophomore tight end for the Falcons.
Stella's late husband took her to her first game when the two were still dating. Looking back, she believes it was an attempt to "brainwash" her.
"He took me to U of M, he took me to the Tigers games, he took me to the Red Wings games," said Stella, 88. "I think he just wanted to make sure if he wanted to go to the ball game I wouldn't object, like some wives do… He brainwashed me and then he married me."
Apparently, the brainwashing worked. As her family grew through the years, Dreslinski's children, grandchildren and even great-grandchildren have grown up cheering for the Maize and Blue.
But none has been a bigger fan than Stella.
Stella hasn't attended a game, she guessed, in nearly 20 years because her mobility isn't what it once was. She'll make an exception on Saturday and also make an exception on the team she'll be supporting.
"I'm so glad I've lived this long to see this happen," said Stella, who turns 89 next week. "If I had buttons on my blouse they'd be busting (on Saturday), but I'm not going to be wearing a blouse."
What Stella will be wearing is a "Grandmother of Cadet Dreslinski" T-shirt that Nate bought her after he committed to the school in 2011.
Nate being on the team was no guarantee that Stella's dream would come true, though. He didn't make the Falcons' 85-man travel roster at all during the regular season as a freshman. But he climbed his way up the depth chart this offseason and appears to be a permanent fixture on the travel roster.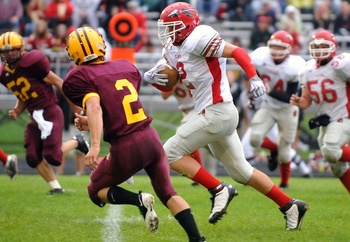 AnnArbor.com file photo
"I believe that this was a motivator for him (to make the travel roster), to come home and to play in front of his (family and friends)," said Ed, who will be at the game with more than 20 others on Saturday. "He's pretty amped up I would say."
Nate is well aware that Saturday won't just be another game for his great-grandmother.
"It's been her dream to see the 'Dreslinski' name run out there on the field," Nate said in a press conference earlier in the week.
When asked about her best Michigan football memory through the years, it wasn't an iconic play or game that stands out to Stella. It was during Nate's junior year at Clinton High School, when he was one of several Rich Rodriguez recruits to be invited to a camp at Al Glick Field House.
Family was allowed to attend the camp, and Stella got her picture with Nate on the practice field.
She had the picture made into a jigsaw puzzle that sits on her coffee table at home.
It's fair to say that memory will soon be trumped.
"It will be the thrill of a lifetime," Stella said.