Posted on
Thu, Oct 13, 2011 : 10:50 a.m.
Playing for Kirby: Mark Huyge wants win over MSU for deceased friend
By Kyle Meinke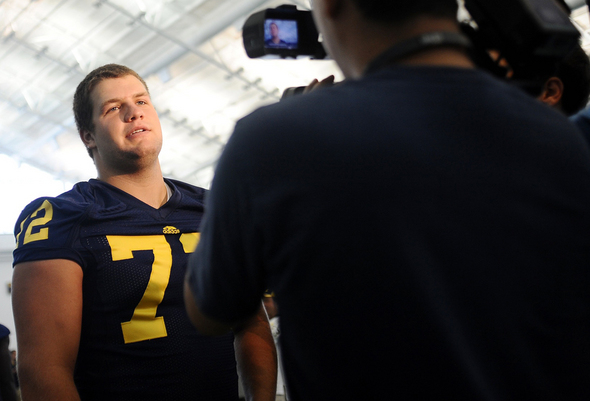 Melanie Maxwell | AnnArbor.com
Mark Huyge
proposed to his girlfriend the only way a navy architecture and marine engineering major can.
On a boat, as a summer sun set over the Lake Michigan horizon.
As they approached shore, a diamond glistening on the finger of Rachael Hollern, Huyge's good friend Mike Kirby was waiting for them. Kirby helped them dock, snapped photos and shared hugs in a moment Mark and Rachael will forever remember.
Kirby drowned just off that dock two months later.
For Huyge, the stout Michigan offensive linemen who hopes to one day build yachts, the loss of Kirby was a defining moment.
He has dedicated his senior season to his friend -- and it's weighing on him as his No. 11 Wolverines (6-0, 2-0 Big Ten) prepare to play Michigan State on Saturday (noon, ESPN).
****
Huyge met Kirby three-and-a-half years ago when his family moved their boat to Village Cove Marina in Spring Lake, Mich. It's a small marina, but a nice spot on the Grand River near the mouth to Lake Michigan.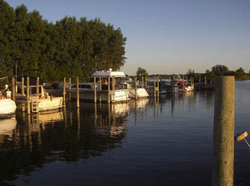 Grand Rapids Press
They instantly bonded over a shared passion: Their love of the University of Michigan.
"There were two sides to the marina," Huyge said. "Our side, all the boats, all the people either graduated from Michigan State or were State fans. So, they were giving my dad a lot of harassment, giving me a little, and then sure enough, (Kirby) comes over here and was like, 'Don't let those Sparties get to ya!'
"He went nuts on them."
A close friendship founded on boats and Michigan football blossomed thereafter.
Through the years, Huyge would invite teammates to Lake Michigan for a ride on his cabin cruiser. He'd introduce them to Kirby, a 51-year-old Siemens manager who loved Michigan nearly as much as they did.
Of course, Huyge almost never became a Wolverine in the first place.
****
Huyge is from Wyoming, Mich. He was a standout football player at Grand Rapids Catholic Central, but a marginal Division I prospect, and at first drew interest only from Mid-American Conference schools, including Ball State.
AP Photo
It's a relatively obscure football school, but the Huyge family was intrigued by it because of its charismatic coach,
Brady Hoke
.
Kim Huyge, Mark's mother, said they were impressed by Hoke from the start because of his honesty and approachability.
Eventually, Hoke offered Mark Huyge a scholarship to play at Ball State, something he seriously weighed.
But when Michigan came calling, offering him a scholarship after he performed well at a high school camp, the decision became a no-brainer. Hoke, a former Wolverines assistant with a burning passion for the school, understood.
Did Michigan State ever show interest?
"Uh, no," Huyge said with a note of bitterness. "I don't even think they knew who I was."
They will now.
After bouncing in and out of the starting lineup and being shuffled between various positions, Huyge has found a home at right tackle this year. The 6-foot-6, 302-pound senior has started there every game this season and played well.
"Mark has been as consistent as any offensive lineman we've had," Michigan offensive coordinator Al Borges said. "He's smart. He doesn't make a lot of mistakes. He's got good range, he's a good pass protector. Few to none mental errors.
"You count on him. As a football coach, I just appreciate guys who do what you tell them to do and they're consistent in doing it."
****
It's Huyge's cerebral nature that landed him at Michigan in the first place, as he settled on studying naval architecture and marine engineering.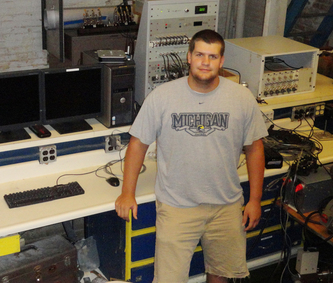 Courtesy Michigan athletics
That's not exactly a football-friendly pursuit.
Michigan is one of just 15 schools in the country to offer the program, which is housed in the College of Engineering. It is considered the preeminent school of its kind in the country, and one of best in the world.
Huyge is believed to be the only football player in Michigan history to pursue the rigorous major, which dates to the 1800s. Considering the course load, that's understandable.
He currently is designing a cargo ship from start to finish. He's taking courses and labs covering weight calculations, hydrostatic calculations, hydrodynamics and propeller dimensions.
He completes a lab every two weeks. The last one took him 35 hours.
How does he do it all? The first thing to go was sleep.
The week of the San Diego State game, Huyge slept about five hours a night. On Thursday night, he never went to bed, instead spending the night in a lab on North Campus finishing a lab report.
"I really worry about him sometimes," Kim Huyge said. "This year is just so hard for him, and he's such a perfectionist. He never quits."
Huyge still made Michigan's Friday practice, though, and played well against the Aztecs. The Wolverines won 28-7.
Just another week in the life of Mark Huyge.
This one is not.
****
Michigan State week holds special significance for Huyge because he has never beaten the in-state rival that never recruited him. As a senior, this is his last shot.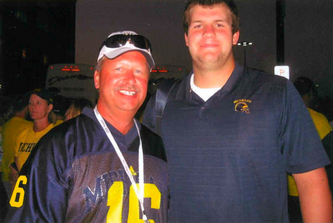 Courtesy of Cathy Kirby
Huyge said he is feeling sentimental this week not only because of his disdain for the Spartans, but also because of Kirby. The final game he ever saw in person was last year's Michigan-Michigan State game, when Huyge took him into the locker room at Michigan Stadium to introduce him to players who hadn't met him at the marina.
Kirby died Aug. 20 in an accident at the marina. At the time, authorities said it was not clear what caused him to fall into the water.
Huyge couldn't attend the funeral because he was in the midst of fall football camp in Ann Arbor.
"It was devastating," he said. "Although, I'm sure I was where he would have wanted me to be."
Instead, Huyge had a football signed by the team for Kirby's 10-year-old son, Joe, who now wants to be a Michigan football player when he grows up.
Huyge spoke to Hoke, with whom he had reunited in Ann Arbor after their courtship at Ball State. Hoke sent a personalized letter to Kirby's wife, Cathy, offering his condolences. It called Mike "a great Michigan Man."
Both were displayed at Mike's funeral, where a Denard Robinson-signed jersey rested at the foot of the casket.
The funeral was conducted in the Catholic tradition, except for the recessional.
"I asked the organist, 'Do you know how to play the Michigan fight song?' and he said, 'I do, I'm a Michigan fan, too,'" said Cathy Kirby, Mike's wife. "Everybody just smiled and put their fists in the air."
As for Mark, he sent along a letter that his mother, Kim, delivered to the congregation. It dedicated the Michigan football season -- which has begun in grand, undefeated fashion -- to Kirby, and closed like this:
"Every year, Mike would say to me, 'Mark, this year we have to do whatever it takes to beat Michigan State, even if it means that I have to go down on that field myself to get the job done,'" Cathy Kirby read over the phone, choking up with tears.
"Well, Kirby, this is the year that we will get it done because I know you will be right there with me."
Mark Huyge is playing for Mike Kirby this season. Especially this week.
Kyle Meinke covers Michigan football for AnnArbor.com. He can be reached at 734-623-2588, by email at kylemeinke@annarbor.com and followed on Twitter @kmeinke.