Posted on
Sat, Nov 6, 2010 : 7:14 p.m.
Michigan beats Illinois in 3rd overtime, enters bowl picture with eyes wide open
By Pete Bigelow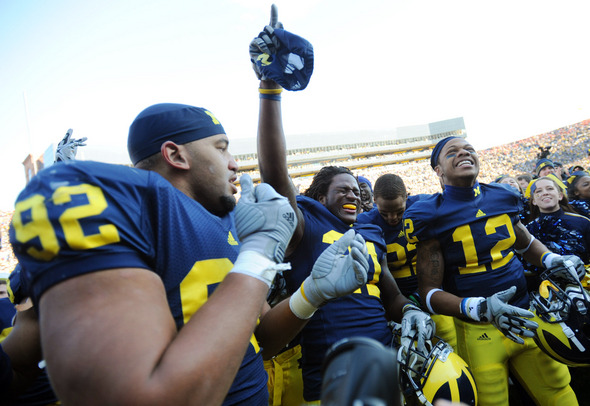 Melanie Maxwell | AnnArbor.com
On the final play of a crazy game, Steve Schilling couldn't bear to watch the outcome.
The senior captain had endured plenty over the past three years with the Michigan football team - two rebuilding years, a postseason drought, an NCAA investigation.
Could the snake-bit Wolverines really catch a break?
"The last defensive play, I just closed my eyes right before and just listened for it," Schilling said. "When the crowd kind of exploded, I opened my eyes and everyone was just running on the field."
A butt of jokes all season, Michigan's beleaguered defense came alive and blitzed Illinois quarterback Nathan Scheelhaasse on a failed two-point conversion attempt to end the game.
Four Wolverines converged on him as he flung a pass toward no one in particular. The defensive stand clinched a 67-65 win in the highest-scoring game ever in a Big Ten conference game.
"Both Coach Robinson and Coach Gibson on the sideline said, 'We're bringing the house.' And I'm like, 'That's good,'" Michigan coach Rich Rodriguez said.
"Earlier blitzes we weren't able to get enough pressure on him, but on that one we sold out. It was a complete sell-out and we got some pressure," he said.
The win ended a three-game losing streak and, more importantly, a two-year postseason drought. With the win, Michigan (6-3 overall, 2-3 Big Ten) becomes bowl eligible for the first time in the Rodriguez era.
The Wolverines sniffed the postseason last year, but closed the season on a five-game losing streak that left them one win shy of eligibility. Fears of a repeat collapse reverberated the past few weeks.
But a win that re-wrote the yellowed portions of the record books ended those concerns.
The 132 combined points are the most in a Big Ten conference game, surpassing the 119 scored on Oct. 8, 1902, in a game between Michigan and the Michigan Agricultural School.
(The Wolverines won, 119-0, against soon-to-be Michigan State). It was the second-most points in a game involving a Big Ten team. Minnesota and Grinnell combined for 146 points in a 1904 game.
Michigan receiver Roy Roundtree broke the school record for single-game receiving yards, catching nine passes for 246 yards and two touchdowns.
Thing is, he had broken the previous record ¬- Jack Clancy's 197 on Sept. 17, 1966 versus Oregon State - by halftime. Roundtree's first touchdown came on Michigan's first play from scrimmage, a 75-yard TD that caught Illinois' safeties cheating toward the line of scrimmage.
All of the excitement left Michigan athletic director Dave Brandon struggling to find the right words to summarize the topsy-turvy game.
"Six hundred thirty yards, and five turnovers, one on special teams and four on offense," he said, noting Michigan's offensive struggles. "I mean, how does that happen? How do you do that?
"But it was wide open, full-bore football, and it was exciting."
Michigan actually had 676 yards of total offense, but the Illini compiled 561 of their own in a game that featured nine lead changes and eight ties. The combined yards (1,237) is a new Michigan single-game record.
The overtime sequence alone was difficult to comprehend.
It appeared Illinois (5-4, 3-3), ahead 59-52, had finally emerged with the win when a defender batted down a Tate Forcier pass intended for Junior Hemingway on a third-and-nine play near the goal line.
But the ball spun off another Illini defender's helmet. Hemingway scooped the ball off, and fell into the end zone.
"That was lucky," said Hemingway, who finished with six catches for 104 yards and two TDs. "He got in front. I wasn't expecting the ball to get batted in the air because he swung down. But it just popped in the air, I stayed with the ball and caught it."
On the ensuing possession that started the third overtime, Illinois received two personal foul penalties that moved the ball to the 1-yard line. In a series reminiscent of last year's season-defining stand against Michigan, the Illini stopped Michael Shaw and Forcier on consecutive plays for no gain.
This time, though, the Wolverines responded.
Shaw plunged into the end zone on third-and-one, and then the Wolverines a pass to Hemingway on the rulebook-mandated two-point conversion attempt.
It wasn't over. Illinois went right back to Mikel Leshoure, who had five touchdowns on the day, the last of which was a 3-yard run that brought the Illini to within two.
Then Michigan's defense stopped the conversion attempt, Schilling opened his eyes and saw players and fans spilling onto the field and the Wolverines gathered to sing The Victors in front of a rabid student section.
"We turned the corner," defensive tackle Mike Martin said. "We have six wins, we're going to a bowl game. We've got Purdue, we'll be ready and healthy. This is huge. We've turned the corner. It's huge for Coach Rod, and it's huge for everyone."
Pete Bigelow covers Michigan football for AnnArbor.com. He can be reached at (734) 623-2556, via email at petebigelow@annarbor.com and followed on Twitter @PeterCBigelow.