Posted on
Wed, May 23, 2012 : 5:58 a.m.
Michigan AD Dave Brandon against hosting playoffs at indoor Midwest sites; backs bowl inclusion amid criticism
By Kyle Meinke
University of Michigan athletic director Dave Brandon has heard the criticism regarding his league's plan to include the bowls in its college football playoff model. But he's not backing down.
In fact, he's taking it a step further.
Brandon has cited cold weather as a principal reason he doesn't favor on-campus semifinals. Now, he says he also won't support playing a semifinal at an indoor Midwest site such as Ford Field in Detroit or Lucas Oil Stadium in Indianapolis, which would take the weather out of the equation.
"The one thing that kind of gets left out of this discussion that maybe ought to get some weight are the kids," he said Friday during WTKA's Mott Takeover. "Now, I know a lot of people don't really care about that part, but I do, and if you polled our players and said, 'If you played a really tough, successful, long regular season, the award you're going to get is to travel to Ford Field or Lucas Oil Stadium,' they would look at you and say, 'Huh?'
"They love going to warm weather. They love going to some of these locations they, in some cases, have never visited."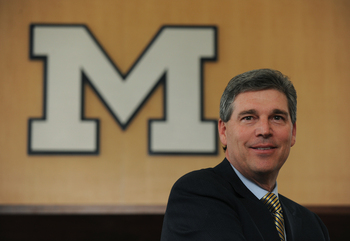 AnnArbor.com file photo
The Big Ten's athletic directors, as well as conference commissioner Jim Delany, announced last week in Chicago they back installing a four-team playoff to replace the BCS system.
The league has drawn some criticism, though, for its push to include the bowls -- specifically the Rose Bowl -- in the playoff structure.
Big Ten member schools are located thousands of miles from bowl sites such as Padadena, Calif.; Miami Gardens, Fla.; Glendale, Ariz.; and New Orleans. That is a perceived disadvantage, when the Big Ten takes on SEC and Pac-12 teams that are located much closer to those locales.
Why not push for on-campus semifinals, which would force those teams above the Mason-Dixon Line? Or at least neutral-site games, which could be played closer to home and offer a relief on travel constraints?
"My sense is that it really was kind of determined pretty early on that that just wasn't salable -- that you were going to have all kinds of arguments to define who the champion is, and you start to create a home-field advantage, that's an issue," Brandon said.
"I also believe that we came to the conclusion that if we were to take these games, these three games, and push them outside the bowl system, we could very easily start to diminish the prestige and the value of the bowls."
Brandon also said on-site semifinals aren't worth pursuing because Southern schools would balk at the prospects of playing outdoor games in the Midwest anyway.
The Big Ten will present its model when the league commissioners meet next month.
"What everybody needs to understand is to get any change enacted, you have to get a consensus," he said. "If you think you're going to get those Southern conferences to believe it would be really fair and fun to come play outdoors in January in the North, you're kidding yourself."
Kyle Meinke covers Michigan football for AnnArbor.com. He can be reached at 734-623-2588, by email at kylemeinke@annarbor.com and followed on Twitter @kmeinke.