Posted on
Mon, Apr 23, 2012 : 1:53 p.m.
Michigan AD Dave Brandon hopeful the marching band can make Texas trip
By Nick Baumgardner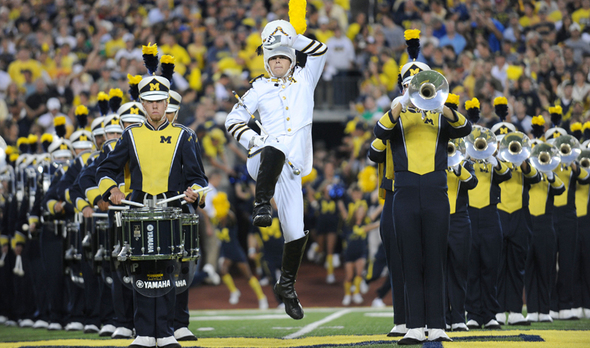 Angela J. Cesere | AnnArbor.com
As of now, the Michigan athletic department has no plans for its marching band to accompany the Michigan football team to Texas for its 2012 season opener.
But that doesn't mean they're not working on it.
Michigan athletic director Dave Brandon told reporters Monday that the department's goal is to figure out a way to take the band to Arlington, Texas for the 2012 season-opener against Alabama in the "Cowboys Classic." And, presently, he and his staff are "working on it."
"We're spending some time trying to figure out the problem. We're working on it," Brandon said. "There was always an opportunity for them to go, we just had to figure our way through some rather significant issues.
"We're making some progress. So we'll see."
The news of the marching band's absence from the 2012 opener made headlines last week, and drew sharp criticism from hundreds of fans and former athletes on various social media platforms.
In an interview with the Detroit News last Thursday, Brandon said the cost of sending the band to Texas would be roughly $400,000 -- a figure he said the athletic department simply couldn't swing.
Michigan will earn $4.7 million for its participation in the event, but Brandon said that's money that has to be reinvested into the general athletic budget for the school's 29 varsity sports.
Otherwise, he says, "we don't have an athletic department."
"We bring in $4.7 million for this game, and that's how we pay for 29 sports at the University of Michigan," Brandon said. "People don't need to understand how this business works, but how this works is football and to a much, much, much lesser degree, men's basketball, pays the cost of 27 other sports.
"The resources brought in are not profit or extra resources, those are dollars (we need) to spend on other student-athletes, other coaches, other programs. My job is to make sure the resources we bring in are adequate to take care of all of our 865 student-athletes, all of our 29 sports and all of the things that are part of that. That's my job."
Brandon wouldn't get into specifics on what the plan is for the marching band issue, but did say he's heard from various donors offering support.
In the end, he says he's hopeful the band will be with the team in Texas on Sept. 1.
He just has to figure out a way to get them there.
"The band wants to go to Dallas, and so does everybody that loves the band," he said. "And I love the band, I want them to go to Dallas, too. It was just a function, and has been all the way along, for us to figure out how to make that work."
Nick Baumgardner covers Michigan sports for AnnArbor.com. He can be reached at 734-623-2514, by email at nickbaumgardner@annarbor.com and followed on Twitter @nickbaumgardner.