Posted on
Tue, Jun 5, 2012 : 3:30 p.m.
Michigan AD Dave Brandon reshapes athletic department to instill change
By Kyle Meinke
LANSING -- When Dave Brandon took over as the University of Michigan's athletic director almost two years ago, he commissioned a "culture study" to determine exactly what he was inheriting.
Two months later, he realized his 275-person athletic department was an "inward-focused organization" that was resistant to change.
"Why? Because we're Michigan. We didn't want to change," Brandon said during a 45-minute talk at the Wolverine Caucus in Lansing. "We were stuck in, 'This is the way we do things at Michigan.' If we didn't like the way things were going, we would just sing the fight song.
"If it looked like Texas was growing faster than us, if Ohio State kept beating us, if Florida was zooming past us, we'd just sing the fight song. And the reality is, we just didn't want to change."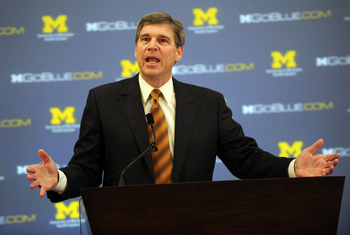 AnnArbor.com file photo
So, he took action.
Brandon said 85 people have "exited" the program since he took over in 2010 -- that's 30.9 percent of his original staff.
Some of the departures were the result of changing football coaching staffs. The only assistant who remains from the Rich Rodriguez era is running backs coach Fred Jackson.
Michigan also lost other head coaches in the past year, including baseball's Rich Maloney, women's basketball's Kevin Borseth, women's swimming's Jim Richardson and men's soccer's Steve Burns.
There was administration-level turnover as well.
"Some of them have been natural retirements, some of them have self-selected to other places because maybe they resist change. That's not good," Brandon said. "We had other people that couldn't perform at the level we needed. The skill level was not there to be able to carry out the change and the aspirations and expectations of our department.
"We've gone through a period of change that certainly results in a completely different organizational structure. We are much stronger."
Brandon used those openings to bolster areas such as marketing, event execution, sports administration and information technology. He's also expanded the staff to 308, and created positions such as chief marketing officer, chief talent officer and chief information officer that didn't previously exist.
"We invested in those areas where, in my humble opinion, we were underinvested (when I arrived) and it was limiting our ability to do the things we wanted to do," he said.
Brandon said one of his goals in the restructuring was to create more oversight of his sports programs, after the football team was hit with major NCAA violations under Rodriguez.
"One of the problems we had with the NCAA violations was we did not have the right chain of command to really be watching what was happening in some of our programs," he said.
Brandon also fortified information technology resources to the point where "it's the best in the country."
Brandon has instilled change throughout the athletic department, and it has impacted the football program. He pointed to his hiring of football coach Brady Hoke, the addition of permanent lighting at Michigan Stadium, the unveiling of alternate uniforms and the night game last year against Notre Dame.
None of that came easy.
"Every change I have ever proposed has been met with resistance" Brandon said. "'You're going to put lights in Michigan Stadium? You're going to play a night game? You're going to put the kids in a vintage uniform? Oh my God, you're going to put numbers on the helmets? How can you do this?'
"I don't care what it is, any change that's been proposed, this has been a culture that wants to resist it, because we all want to go back to the way it was when we were there, because that's friendly and that's comfortable.
"Every change I have proposed has been met with resistance. But you know what? I don't care."
Kyle Meinke covers Michigan football for AnnArbor.com. He can be reached at 734-623-2588, by email at kylemeinke@annarbor.com and followed on Twitter @kmeinke.