Posted on
Fri, Oct 15, 2010 : 9:58 a.m.
Michigan AD Dave Brandon says facing Alabama on a Texas-sized stage is a terrific opportunity
By Jeff Arnold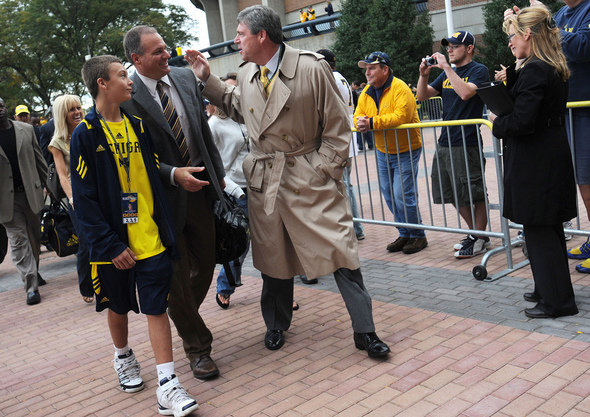 Dave Brandon has closed plenty of business deals, but putting the Michigan football team in a prime-time showdown with Alabama at Cowboys Stadium in 2012 wasn't among the easiest.
Brandon said Friday morning on WTKA that the logistics and details of a one-time shot with the Crimson Tide made the deal complicated. But ultimately, given the exposure it provided the program was worth it.
Michigan will face Alabama on Sept. 1, 2012 in the annual Cowboys Stadium Showcase.
"I just thought it was a terrific opportunity for our team, our coaches and our fans," Brandon said. "But we got the numbers right, we worked really hard to make sure there was plentiful availability of tickets, because we wanted to get that right for our fans. We hope to think of this as a preseason bowl trip where we can bring lots of people and really make it a special Labor Day weekend."
Brandon, who also is responsible for lining up Michigan Stadium's first night game next season against Notre Dame, said he had been working on a neutral site game since early in his tenure as Michigan's athletic director.
Brandon said Friday he began having discussions with university officials and the school's boards of advisors about a "very rare, but exceptional and special basis" that would land the Wolverines in a prime-time environment. Such an opportunity, Brandon said, afforded the chance to create big match-ups in "real and very interesting venues."
He said initial possibilities included a trip to New Meadowlands Stadium in New Jersey, an idea that never developed. Brandon said he was contacted by ESPN, which along with Dallas Cowboys' owner Jerry Jones, initiated the idea of bringing Michigan to Jones' 80,000-seat football palace.
"I had an availability and an interest, and things started to bubble," Brandon said. "The next thing you know, we got it done."
In a phone interview Friday afternoon, Brandon said the deal included a number of moving part involving interests representing both schools, both conferences, two television networks and Jones himself.
The deal also included negotiating a dollar amount that made it worth surrendering a home game in exchange for traveling to Dallas to face the Crimson Tide. Brandon declined to specify what number was given to ESPN when discussions reached the point of talking money, but said he wouldn't have done the deal unless it made financial sense.
"The numbers had to work," Brandon said. "We were not going to be penalized (for giving up the home opener) and that was something that was communicated to ESPN when they called."
Brandon said the university alumni association has begun working on travel packages for fans that will be comparable to those offered for post-season bowl appearances. He said officials have already began planning out tailgating and entertainment space around the venue that will help make the fan experience as enjoyable as possible.
That information, along with ticketing plans, will be announced in the future, Brandon said.
On Thursday night, Michigan football coach Rich Rodriguez said the deal was welcom news to his coaches and players, saying facing Alabama was "a great opener."
Brandon said adding Alabama created interesting scheduling scenarios, especially with the Big Ten adding Nebraska next season. But he said taking Notre Dame off the 2012 slate was never an option. In 2012, the Wolverines will face the Irish, Nebraska, Purdue, Minnesota and Ohio State - all on the road.
Brandon said he didn't feel it was right to back out of a deal with Notre Dame. He said he continues to work on a long-term schedule with Notre Dame athletic director Jack Swarbrick.
"What I'm really focused on is that in that point in time that we go to a nine-game conference schedule," Brandon said. "It's going to be even more limiting in terms of who and how we schedule our non-conference games."
Brandon said the flexibility in scheduling would allow Michigan to occasionally play schools like Alabama, which are traditionally tough to sign to a home-and-home contract.
In other news:
Brandon said Friday that installation of permanent lighting at Michigan Stadium will begin Nov. 21, the day after Michigan completes its home schedule against Wisconsin. The lighting are planned to be installed in time for the Michigan hockey team's outdoor game Dec. 11 against Michigan State.
Brandon also said he continues to work diligently on improving the scoreboards inside Michigan Stadium. He said experts in that area were in town last weekend for the Michigan State game. He said school officials are looking at enhancing scoreboard technology not only inside the stadium, but inside Crisler Arena and Yost Ice Arena. "Part of what you have to do is you have to put in a whole new backbone in terms of the infrastructure and I'm passionately committed to making that happen."
Brandon also described what a typical football Saturday involves for him personally. He said he arrives at the stadium several hours before kickoff and has a pre-set slate of people to see and places to visit. He said those meetings take place right up until game time when he will spend typically the first quarter on the field. He normally situates himself close to the bench which gives him a feel for "what's going on with the players and it gives me up up close, personal view to how the players are reacting to different situations and to see how the coaches are coaching." Brandon said he then moves up to the luxury box area where he host a number of donors and other friends before returning to the field near the end of the game. Brandon also typically attends Rodriguez's post-game press conference.
Jeff Arnold covers sports for AnnArbor.com and can be reached at (734) 623-2554 or by e-mail at jeffarnold@annarbor.com. Follow him on Twitter @jeffreyparnold.