Posted on
Wed, Jun 27, 2012 : 4:23 p.m.
Who fills Notre Dame's spot on 2018-19 Michigan football schedules? AD Dave Brandon says 'stay tuned'
By Nick Baumgardner
Related story: Michigan football won't play Notre Dame in 2018-19, announces future games with Utah, Colorado, Oregon State, UNLV

As planned, the Michigan football program will take a two-year break from its long-time series with Notre Dame.
Michigan reaffirmed Wednesday that it will take a two-year hiatus from playing the Fighting Irish in 2018 and 2019, and fully intends to renew the series in 2020.
But what does Michigan athletic director Dave Brandon intend to do with those two open dates on the schedule?
"Stay tuned," he told AnnArbor.com by phone on Wednesday.
In 2010, Brandon explained how the two schools had never actually signed a previously drawn-up, 20-year contract that would have made Michigan-Notre Dame an annual event through the 2030 campaign.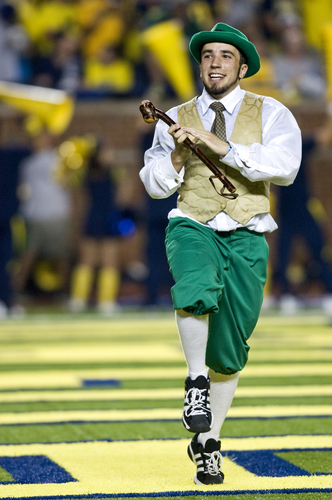 AnnArbor.com file photo
Instead, he spoke about the plan to keep Notre Dame on Michigan's schedule through 2017 before taking a two-year hiatus in 2018-19.
During that time, Michigan will be free to do just about anything in terms of high-level scheduling.
The Wolverines could schedule a home-and-home series against an elite-level opponent or, perhaps, tinker with another idea similar to this year's "Cowboys Classic" season-opener against Alabama in Arlington, Texas.
"We're always looking at opportunities," Brandon said. "We don't have anything to announce.
"(But) we're working on it."
As for Notre Dame, Brandon says Michigan will continue to operate under the same agreement it's been under since he took over as Michigan's athletic director.
Once the two-year hiatus ends, Michigan and Notre Dame still fully intend to maintain a football rivalry.
"The plan always was to do the hiatus for '18 and '19 and then resume the rivalry," Brandon said. "That's our plan."
Michigan and Notre Dame took two-year breaks in annual scheduling in 1983-84, 1995-96 and 2000-01.
Brandon says he has no issue with continuing to take periodic breaks from the Notre Dame series down the road, even if he might miss seeing the Fighting Irish on the schedule.
"I think some people will miss the rivalry, and I will, too, because it's such a great game," he said. "But on the other hand, we've done this before. And this gives us an opportunity to look at some other scheduling flexibilities that we wouldn't otherwise be able to look at.
"I'm fine with holding to the spirit of the agreement that was struck before I arrived and we'll try to take those two years and make them special for our fans, and do something unique."
Nick Baumgardner covers Michigan sports for AnnArbor.com. He can be reached at 734-623-2514, by email at nickbaumgardner@annarbor.com and followed on Twitter @nickbaumgardner.