Posted on
Tue, May 18, 2010 : 3:25 p.m.
Michigan adds San Diego State to 2011 football schedule, neutral-site game a future possibility
By Dave Birkett
CHICAGO - Michigan's plans to schedule future football games haven't been paralyzed by the possibility of expansion.
The Wolverines put the finishing touches on their 2011 football schedule Tuesday, adding San Diego State for a Sept. 24 game at Michigan Stadium, and athletic director Dave Brandon said he's "having lots of conversations" about future years.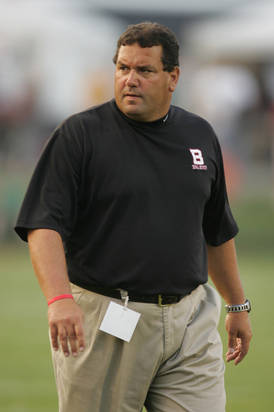 "When you start looking out at 2012 and 2013, I think probably the best way to say it is we're just not in a big hurry because the world's changing," Brandon said Monday from the Big Ten's spring meetings. "And so we're talking to people, we're having conversations. If something really strikes us as being good and appropriate we'll dive on it, but I just think we're not maybe necessarily as interested in getting way out there just in the event that something does change."
Michigan has been approached about playing a neutral-site game against a major-conference opponent, but so far there are no plans for that happen. One possibility could be defending national champion Alabama, perhaps in Atlanta around a future induction ceremony at the new College Football Hall of Fame.
"I like to look at all kinds of new, different stuff," Brandon said. "Remember, I'm a change-is-good guy, so I'll listen to whatever anybody wants to propose. But just because I'm listening doesn't mean it's going to happen. Too early to tell."
Along with San Diego State, Michigan plays non-conference games against Notre Dame, Eastern Michigan and Western Michigan in 2011. Former Michigan assistant Brady Hoke coaches the Aztecs.
Michigan coach Rich Rodriguez said the Wolverines will not return the trip to San Diego State.
"We had been looking for an FBS school really for the last couple of years," Rodriguez said. "We were able to get UConn (for 2010), but we have to return the date. We really needed one to come in and not return it and there was only a small handful of schools that we were able to fit in that and San Diego State was one of them. The Notre Dame non-conference games are tentatively scheduled, but beyond that in the future, let's wait and see."
Dave Birkett covers University of Michigan football for AnnArbor.com. He can be reached by phone at 734-623-2552 or by e-mail at davidbirkett@annarbor.com. Follow him on Twitter @davebirkett.