Posted on
Tue, May 25, 2010 : 9:08 a.m.
Michigan admits to violations, self-imposes probation, practice restrictions
By Dave Birkett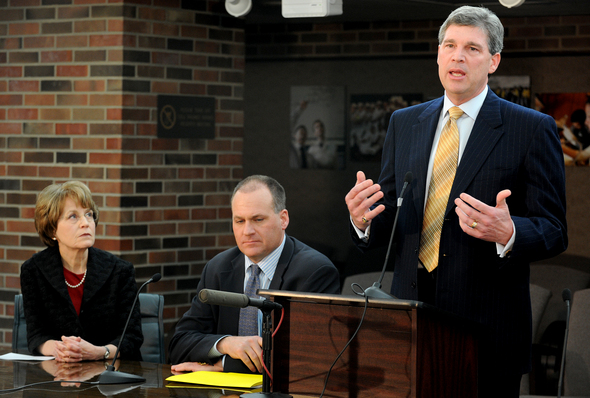 The winningest program in college football history is going on probation.
Nine months after allegations of improprieties in its football program first surfaced, Michigan admitted to four major violations in a 79-page response sent to the NCAA on Monday.
The university acknowledged it exceeded NCAA limits on practice time and staff size; that it failed to properly monitor its football program; and that former graduate assistant coach Alex Herron lied to NCAA investigators.
Michigan disputed part of a fifth allegation against coach Rich Rodriguez - that he failed to promote an atmosphere of compliance, while acknowledging that he failed to properly monitor the duties of his staff - but still self-imposed a series of sanctions that follow past NCAA precedent.
(Click here for link to Michigan's official web site that details the university's response).
"Nobody wants to be investigated, nobody wants to be found guilty of committing infractions, nobody wants to be found guilty as a result of those kinds of activities," Michigan athletic director Dave Brandon said late Monday night. "So we don't like this, I don't like this. This is an unfortunate outcome for our university and our program.
"We've worked hard to correct some things and we feel that we've appropriately come up with a list of ways to punish ourselves and remedy the fact that we've made those mistakes. And I don't know what else we do at that point other than to move on and learn from it and make sure it doesn't happen again."
Michigan's ultimate punishment won't be decided until after an August hearing before the NCAA Committee on Infractions, but the university self-imposed several corrective and punitive measures Monday.
Along with two years of probation, the minimum term according to NCAA bylaws, Michigan:
• Docked itself 130 hours of practice time, double the 65 hours it exceeded NCAA limits by from January of 2008 through September of 2009. The reduction will take place between June 1 and the end of the 2011-12 academic year.
• Cut its number of quality-control assistants, the support-staff members who overstepped their duties by engaging in coaching activities, from five to three for the next two seasons. Quality-control assistants, now called staff interns, also are restricted from attending practices this season and barred from normal game-day activities such as traveling to road contests or being on the sidelines for home games.
• Changed the way its compliance department reports and monitors a student-athlete's countable athletically related hours.
• Disassociated itself from Herron, who was fired March 6.
• Issued letters of reprimand to seven people named in the allegations: Rodriguez; director of strength and conditioning Mike Barwis; assistant athletic director for football Scott Draper; director of football operations Brad Labadie; senior associate athletic director Joe Parker; associate athletic director for compliance Judy Van Horn; and assistant athletic director for compliance Ann Vollano.
Rodriguez answered the allegations against him with his own 89-page response. In it, he acknowledged that violations occurred and that "he could have done a better job of monitoring the activities of some members of his staff." But he stressed he did not fail to promote an atmosphere of compliance.
"Rodriguez and his staff are not rogues, renegades or cheaters," his response said. "Yes, there were violations. But they were not done deliberately or knowingly. Rather, they were inadvertent and in many cases isolated. The underlying activities were done openly and transparently. Finally, the violations did not result in a significant competitive advantage for Michigan's football program."
Despite a provision in Rodriguez's contract that allows Michigan to fire him for committing a major violation, Brandon said there are no plans for that to happen now or in the future.
"We've been very public and very open over the fact that we do not believe, based on the circumstances that are before us, that it would be appropriate to have it impact the employment status of our coach," Brandon said. "We've made it real clear that he's going to be our coach in the fall. We made it real clear that these problems, although unfortunate, don't rise to the level of triggering termination."
Brandon, who'll address the media along with Rodriguez via teleconference today, called Monday a "day of relief," though Michigan's ordeal is not yet over.
The NCAA enforcement staff still must turn its case summary over to the Committee on Infractions, and the committee will use that, responses by Michigan, Rodriguez and Herron, plus information gleaned at its August hearing to render a final decision.
Brandon, Rodriguez, Michigan president Mary Sue Coleman and seven others have been asked to appear at the Aug. 13-14 hearing in Seattle.
"The best outcome would be we go and appear before the infractions committee in August and they believe that we did a responsible job of matching up our penalties and sanctions with things that were uncovered in parts of the investigation, both theirs and ours," Brandon said. "And then we move on."
Dave Birkett covers University of Michigan football for AnnArbor.com. He can be reached by phone at 734-623-2552 or by e-mail at davidbirkett@annarbor.com. Follow him on Twitter @davebirkett.