Posted on
Mon, May 17, 2010 : 2:46 p.m.
Michigan athletic director Dave Brandon: 'Change is in the wind'
By Dave Birkett
CHICAGO - The expansion rumor mill has been running rampant for months, ever since the Big Ten announced in December it was looking into adding additional teams.
But what if the conference doesn't expand?
It seems unlikely, but Michigan athletic director Dave Brandon left open that possibility Monday when talking to reporters at the Big Ten's spring meetings.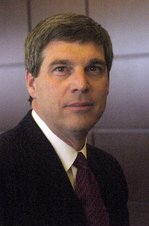 "I have no idea what kind of timetable to put on this and again one of the possible outcomes is nothing, so it's hard to put a timetable on something when you don't even know for sure it's going to happen," Brandon said. Expansion talk has been driving the college football news cycle almost since the season ended, but Robert Tuchman, the founder of sports marketing firm TSE Sports and Entertainment and executive vice president of SportsTravel.com, said the Big Ten won't suffer any appreciable damage if it decides to stay at 11 schools.
The conference could add one, three or five new members, with Rutgers, Missouri, Nebraska, Syracuse, Pittsburgh and Notre Dame most prominently mentioned as possibilities.
"If they don't expand they're not going to grow their revenue base and they're going to give an opportunity to a lot of other schools to join other conferences and really create more strength for them," Tuchman said. "I think the damage comes from other conferences getting stronger, not so much from them losing anything."
In its current incarnation, the Big Ten already stands as the envy of most conferences. The league distributed an estimated $22 million in rights fees to each member school last year, a number that dwarfs most of its rivals.
With the potential to grow its revenue streams on the powerhouse Big Ten Network, of which the conference owns 51 percent, most think expansion is inevitable.
Neil Pilson, the ex-president of CBS Sports who now runs the consulting firm Pilson Communications, said the Big Ten Network will become considerably more prosperous if the conference expands its traditional Midwestern footprint to include a school like Rutgers in New Jersey.
That, Pilson said, would almost guarantee the Big Ten Network a spot on basic cable packages in the saturated New York and Philadelphia television markets.
With the network pulling in an estimated 87 cents per subscriber per month in its current eight-state footprint according to research firm SNL Kagan, that could be an enormous windfall for the conference.
"New York has 7.5 million homes, Philadelphia has close to 3 million homes," Nilson said. "So if you add over 10 million homes, times 80 cents a home, times 12, you get to some real numbers."
Brandon said he's heard nothing firm on expansion and has had only a few conversations with Big Ten commissioner Jim Delany about the topic and one orientation meeting in March when he saw "some very, very general data."
Still, his sense is more teams are coming.
"I think there's a general feeling that change is in the wind," Brandon said. "And obviously the prospects for change are out there or there wouldn't so much time spent (discussing) it. There's clearly energy around change, but that doesn't mean it's going to manifest itself in an outcome that's either immediate or as significant as some of the things that are being rumored. We'll see."
Dave Birkett covers University of Michigan football for AnnArbor.com. He can be reached by phone at 734-623-2552 or by e-mail at davidbirkett@annarbor.com. Follow him on Twitter @davebirkett.