Michigan athletic director Dave Brandon: Football must lead department's success
Posted on Sun, Nov 21, 2010 : 2:21 p.m.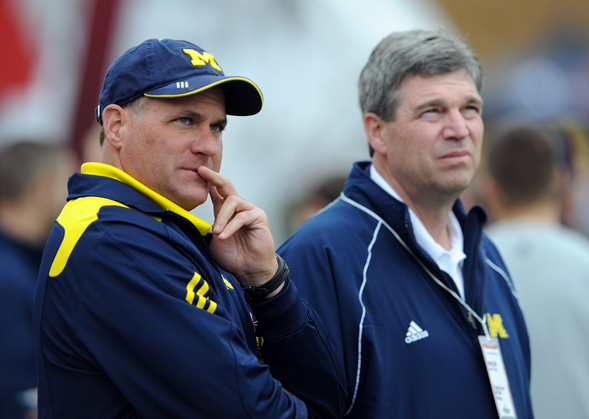 Lon Horwedel | AnnArbor.com
Michigan athletic director Dave Brandon has three Big Ten championship rings from his days as a football player under Bo Schembechler.
If things go his way, every Michigan athlete would graduate with at least one.
"We want them to have a degree, and we want them to have a ring," Brandon said. "We're not going to win them all the time, but we want to compete for championships."
That's one key benchmark he will examine in his review of the Michigan football program at the end of the season.
The Wolverines haven't won an outright Big Ten title since 2003, nor a share of one since 2004 - not exactly a new revelation for frustrated fans. But Rich Rodriguez's job stability could depend on whether Brandon believes the program is progressing toward that goal.
After winning one conference game a year ago, the Wolverines sit at 3-4 in Big Ten play entering next weekend's regular-season finale against Ohio State (noon, ABC). A .500 conference finish would be a big step toward respectability. (The win that got them there, of course, would be even bigger).
Regardless of the outcome against the Buckeyes (10-1, 6-1), Brandon will take a hands-on approach in evaluating the program this off-season.
"Michigan athletics cannot be successful if football doesn't lead our success," he said. "It's way too important in terms of its economic capability and being the and being the engine for revenue it represents and the passion our fans have for the sport."
Michigan's home attendance total for seven season home games reached 783,276, an average of 111,897 fans per game. That average is an NCAA record.
So it's not like fans have deserted the program during its malaise and cost the athletic department needed ticket revenue.
Nonetheless, Brandon is intent on fixing any problems before they progress to that point.
"It's just incredibly important that we have a successful football program. I don't care who the coach is. As long as I'm athletic director at Michigan, I'm going to keep a careful eye on Michigan football."