Posted on
Sat, May 22, 2010 : 1:38 p.m.
Michigan athletic director Dave Brandon listens, learns at Big Ten meetings
By Dave Birkett
CHICAGO - Gene Smith was athletic director at Eastern Michigan in the mid-1980s when he first heard the name Dave Brandon. But it wasn't until this week that Smith spent any real time with his new counterpart.
His first impression?
"Smart guy," said Smith, now athletic director at Ohio State. "I think he's like all of us when he's new. He's being smart, listening, learning and trying to understand the culture and reading the room.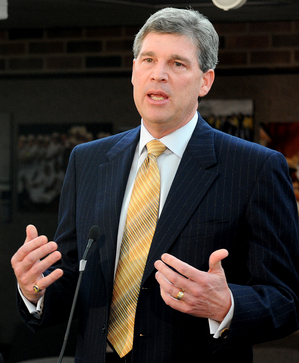 AnnArbor.com file photo
"He's been very much a part of the conversation when he has thoughts. I think he's like you always do your first meeting, kind of make sure you understand the lay of the land."
Brandon, who replaced Bill Martin as Michigan athletic director in March, spent three days this week immersed in his first Big Ten spring meetings at Chicago's swanky Sofitel Hotel.
He took part in policy discussions about scheduling and academics. He listened to Big Ten commissioner Jim Delany's update on expansion (though that wasn't formally on the agenda). And he studied his peers as they went about their jobs.
"I'm learning," Brandon said. "I still haven't run into issues that are completely foreign to me, but I respect the position that you have when you're new. So I come in and I'm in listen mode and ask a lot of questions, and I certainly have opinions, and when I do, I state them.
"But particularly coming to the first meeting, this was more of a selfish act on my part because I get to learn from a lot of people who have been to a lot more of these meetings than I have."
Though Brandon met most of his colleagues at the Big Ten basketball tournament in March and knew Delany from his days on Michigan's Board of Regents - Delany used Brandon as a sounding board when the Big Ten Network was still in the discussion stage - he said he made a point to have sidebar conversations with as many people as possible this week.
Smith said he and Brandon talked about the minutia of the job, as they did during a 15-minute welcome-to-the-club phone call last month.
"He's a football guy like me so at the end of the day we hit it off," said Smith, who played football at Notre Dame about the same time Brandon played at Michigan.
Brandon, who spent the last 11 years as CEO of Domino's Pizza, said the Big Ten meetings were different from his usual boardroom experience.
"One of the reasons I took this job, I thought it would be multi-faceted and interesting and there would be always a set of issues and opportunities, and this meeting confirmed in my mind that there's always new issues, new opportunities, new challenges associated with big-time college athletics," Brandon said. "Thankfully, we've got a lot of smart people."
Dave Birkett covers University of Michigan football for AnnArbor.com. He can be reached by phone at 734-623-2552 or by e-mail at davidbirkett@annarbor.com. Follow him on Twitter @davebirkett.