Posted on
Wed, Jan 12, 2011 : 5:23 p.m.
Michigan athletic director Dave Brandon outlines how his process led him to Brady Hoke
By Michael Rothstein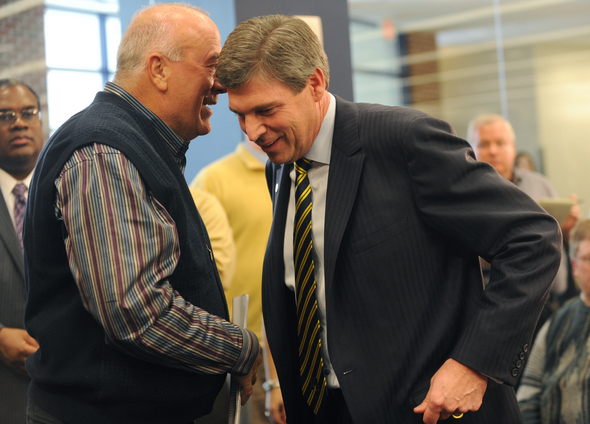 Melanie Maxwell | AnnArbor.com
He stood at the lectern, genuinely excited about getting more than three hours of sleep for the first time in a week.
Michigan athletic director Dave Brandon was on the road - five cities in six days, by his count - hunting for the Michigan football team's new head coach after he fired Rich Rodriguez on Jan. 5.
Brandon declined to be specific about the six-day process that resulted in hiring Brady Hoke away from San Diego State.
Brandon did say before the search started that he expected to have conversations with former Stanford coach Jim Harbaugh and he met with LSU coach and Michigan alum Les Miles. He used a corporate jet from Domino's Pizza for one trip.
"Well, we did our best to hide," Brandon said.
For the most part, he did a good job. Besides being able to track the plane and his known whereabouts in Baton Rouge, La., on Monday, Brandon mostly hid out so he could have meetings and conversations with as many of the candidates on his list as possible.
The insanity of it all — from reporters tracking where he might be using the plane Website FlightAware to reports Harbaugh and Miles were both taking and rejecting the job — surprised Brandon, who has been Michigan's athletic director for 10 months.
Brandon, though, sidestepped the question about whether Hoke was his top choice all along and, if so, why he waited until January to make the move.
"The biggest surprise was the circus, the misinformation," Brandon said. "There's an airplane in California right now with three cameramen parked outside of it that thinks it's going to bring Brady Hoke back to Michigan. Just think of that. It's being reported.
"It was being reported that I was on some maize-and-blue airplane with a block 'M,' and it's being reported like it's fact, like people are talking like they know what they're talking about. And it's inconceivable to me the amount of misinformation that is spewed out, and some of it is fun and maybe it is sport for some people."
He acknowledged, too, that the interest in his every move was different than when he led two initial public offerings in the financial sector as a CEO or when he had to hire high-level employees in the private sector.
He handled the search the way he dealt with many of the others when he was in the corporate world. He analyzed data.
Part of that, he said, was looking at success and failure rates of all the coaching hires from the past 25 years that was shared by an employee of a school he declined to name. What he found was failure rates were much higher when a coach was hired without a prior connection to that area of the country.
"It was really interesting," Brandon said. "I like data, and I like making decisions based off of objective data."
He was impressed with Hoke, who told him almost immediately that Michigan was his dream job.
Then, Tuesday morning, Brandon said he made a decision.
"I called him yesterday morning, really early, and kind of forgot there was a three-hour time difference and spent the better part of an hour-and-a-half playing 'Where's Brady,'" Brandon said. "That's when I officially extended the offer to Brady Hoke.
"It's when I asked Brady Hoke to be the coach at Michigan."
At that point, Hoke started packing — he said he will stay in Ann Arbor while his wife and daughter head back to California — showered and prepared to jump on the plane to take the ride that would change his life.
Michael Rothstein covers University of Michigan basketball for AnnArbor.com. He can be reached at (734) 623-2558, by e-mail at michaelrothstein@annarbor.com or follow along on Twitter @mikerothstein