Posted on
Mon, Jan 10, 2011 : 10:47 p.m.
Michigan athletic director Dave Brandon returns from Louisiana; LSU officials confirm Les Miles met with Michigan officials
By Pete Bigelow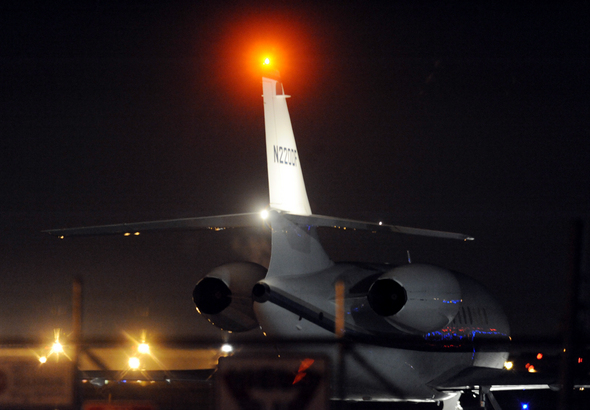 Melanie Maxwell | AnnArbor.com
At least athletic director Dave Brandon is keeping a sense of humor about his search for the next Michigan football coach.
Stepping off a business jet late Monday night at Willow Run Airport, he said, "Hawaii was terrific," as he sped away from a group of reporters who awaited his arrival. Flight records indicated his flight originated in Baton Rouge, La.
Brandon arrived with three other passengers on the plane - but LSU head coach Les Miles was not among them.
Miles, a top candidate for Michigan's vacant coaching position, had said earlier Monday that he anticipated a meeting with Michigan officials. LSU officials confirmed Monday night that Miles met with officials from Michigan.
LSU athletic director Joe Alleva released a statement Monday night that said, "We continue to work with Coach Miles and we remain committed to keeping him as the head coach of LSU football."
Miles' contract with LSU goes through the 2014 season, and he makes $3.7 million per season. He will owe LSU a $1.25 million buyout if he leaves early.
Two Baton Rouge television stations reported Monday evening that Miles and Brandon met at Miles' house, but that the coach with ties to Michigan stayed in Louisiana.
Miles is scheduled to speak Tuesday at a national coaches' conference in Dallas.
The Michigan job has been open since Wednesday, when Michigan fired Rich Rodriguez after three seasons with the Wolverines.
Michigan cornerback Troy Woolfolk used his Twitter account to say that Michigan has called a 4 p.m. players meeting on Tuesday.
Michigan has not said when it will name a coach, but it is offering fans a chance to win two seats to the introductory press conference on its athletic website.
- David Jesse and Michael Rothstein contributed to this report.