Posted on
Tue, Feb 23, 2010 : 8:46 p.m.
Michigan athletic director Dave Brandon: 'Rich Rodriguez is our football coach'
By Dave Birkett
Rich Rodriguez's job as Michigan football coach is safe for now.
Incoming Michigan athletic director Dave Brandon said Tuesday at a press conference to announce allegations of NCAA wrongdoing that Rodriguez will return for his third season as coach.
"Rich Rodriguez is our football coach," Brandon said. "And he'll be our football coach next year. There's nothing that I see in what has come out from the notice of allegations or our internal investigation that leads me to believe there should be any change in the status of our football coach."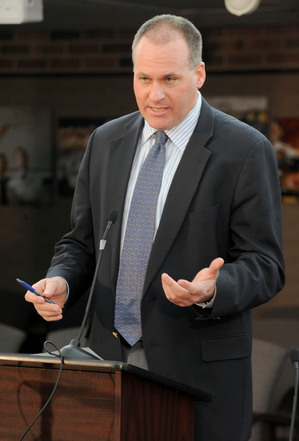 In a letter to Michigan president
Mary Sue Coleman
, the NCAA accused Rodriguez of failing "to promote an atmosphere of compliance within the football program" as one of five potentially major violations.
Other allegations include quality-control assistants improperly monitoring offseason workouts and exceeding NCAA mandates on in- and out-of-season practice time.
Brandon said the violations stem from "internal confusion" over certain NCAA rules, not a wanton disregard for authority.
"What I have to do as the leader of the program is make sure we get the proper interpretations and follow the rules the way they're supposed to be interpreted, and that it's communicated among the whole staff," Rodriguez said. "We've already begun that process, and I know there won't be any issues in regards to that in the future."
Rodriguez has been a polarizing figure as coach since he left West Virginia following the 2007 season.
Michigan is 8-16 under his command and coming off a last-place finish in the Big Ten. Last year, the Wolverines started 4-0 but lost seven of their final eight games with the specter of an NCAA investigation hanging overhead.
That cloud will continue to hover into this fall for what could be a make-or-break season.
Michigan has 90 days to respond to the allegations and is scheduled to appear before the NCAA Committee on Infractions Aug. 13-14. Typically, punishment is handed out six to eight weeks later.
The Wolverines open the 2010 season Sept. 4 against UConn.
Michigan could self-impose sanctions, including a loss of practice time, that might adversely impact its performance on the field.
Rodriguez, whose presence is requested at the NCAA hearing, said another side effect already has been felt. Michigan's compliance department has reached out to the NCAA in recent weeks to determine how coaches can assist players seeking extra help within NCAA guidelines.
"These guys have questions and these guys want to know what the rules are and what they can and cannot do, and how we can help them in the future," Rodriguez said. "We're actually looking into that daily and talking with our compliance office in conjunction with the NCAA."
Former Wolverine Brandon Graham said he didn't experience any of the alleged violations during his time at Michigan and that the NCAA report shouldn't sour anyone's view on Rodriguez.
"Coach Rod's a good coach, and people are just trying to get him in trouble to me," Graham said.
Dave Birkett covers University of Michigan football for AnnArbor.com. He can be reached by phone at 734-623-2552 or by e-mail at davidbirkett@annarbor.com. Follow him on Twitter @davebirkett.