Posted on
Tue, May 17, 2011 : 2:40 p.m.
Michigan athletic director Dave Brandon wants a 9-game Big Ten Conference football schedule sooner rather than later
By Michael Rothstein
CHICAGO — Among the topics up for discussion at this week's Big Ten spring meetings is whether or not the league will go to a nine-game conference football schedule.
At least one athletic director, Dave Brandon, wants to see it happen.
"I wish it could happen sooner because I believe it is a positive thing," Brandon said while at a meeting of league athletic directors. "Fans love to see conference competition, and you have so many great rivalries and traditions and histories around Big Ten football.
"The more we get to play, the better."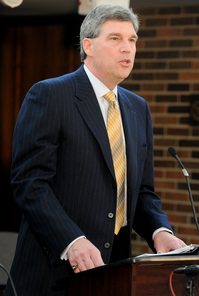 Since the Big Ten went to 12 teams and moved into two six-team divisions, the topic of more conference games has been a hot one. It would create potentially more revenue for the league and give the conference's main TV affiliate, the Big Ten Network, potentially more games.
One of the biggest issues surrounding the schedule movement is existing contracts. Many Big Ten teams already have non-conference games scheduled out into 2015 or 2016 — which makes Brandon think it is unlikely the league would move to nine games that quickly.
"I fully recognize the complexities of trying to change those schedules once those contracts have been signed and commitments have been made," Brandon said. "So the practical reality is we're going to have to wait a period of years until we can make a transition."
The next possible year would be 2017 — six years away.
"There's pros and cons going both ways," Michigan State athletic director Mark Hollis said. "Obviously any time you can play more games within a conference like the Big Ten, there are positives to that. It creates great games for the fans, great games for the student-athletes.
"I have some concerns and reservations with nine games on equity in the championship race, five versus four home games. You look at this year, three teams tied for the championship and each one lost a game on the road."
As far as that championship game — future sites are also in the discussion over the next two days.
Brandon said he doesn't have a strong feeling about where the game is played. Detroit is one of the cities considered, however he thinks it is better that those decisions are primarily made by the Big Ten office.
This year's title game — the first in Big Ten football history — is at Lucas Oil Stadium in Indianapolis.
"Well, I love Detroit, but that's one of the reasons we have a conference office, because they can approach this a lot more objectively and directly with competing cities," Brandon said. "Detroit's always been mentioned as one of the possibilities, but the conference office really has to drive this process because we all have conflicted ideas where we'd like to see it go."
Michael Rothstein covers University of Michigan basketball for AnnArbor.com. He can be reached at (734) 623-2558, by email at michaelrothstein@annarbor.com or follow along on Twitter @mikerothstein